Spotlighting the University's very own Queen's Gambit
A universal language with endless combinations but different modes of strategy, challenging each individual that comes in its wake to push their logistical creativity to the forefront. Simply put, there is much more to the game of chess than what meets the eye.
University junior Abdul Abeshinbioke has made it his latest mission to evince the art of chess and the community it fosters by producing a documentary that will delineate New York City's ill-acknowledged chess players. Specifically, players in Washington Square Park, or "the chess hustlers," as they are known. 
"The chess community over there is awesome," Abeshinbioke shared. "People from all over the world are there – Russians, East Asians, Black, American, Hispanic and Latino, African and Caribbean – people from all over are playing chess there. It really shows how chess is a universal language."
Abeshinbioke was born in Nigeria and moved to Brixton, London when he was four years old and now attends the University studying Political Science and Government. First learning to play in 2016 while living in London, there were a few brief years when Abeshinbioke stopped playing chess—that is until he came to the Big Apple. 
Joining as a freshman, Abeshinbioke is now Vice President of the Pace Chess Club whose intentions are "…to have relationships with other colleges and to create a chess league where we will be competing in every semester. This will also allow the Pace community to have more of an interest in the game, hence why we teach and invite all levels to come to our meetings," he shared. 
When the pandemic hit in March 2020, Abeshinbioke returned to London with a yearning to continue playing chess, leading him to the London Eye—an observational wheel that provides tourists a view of the South Bank of the River Thames in London—to face people in chess matches.  
"I loved the interaction I had with people and the conversations I was involved with," said Abeshinbioke. "I remember the wise words someone told me, 'always play the board and not the player.'" 
Upon returning to the City in Summer 2021, Abeshinbioke started playing chess in Prospect Park in Brooklyn before stumbling upon the most influential community of his chess career in Washington Square Park. Not yet as experienced as his fellow competitors, Abeshinbioke challenged his craft by charging $5 for a five-minute game or $10 dollars for a lesson. 
"In the chess park, I am known as Mr. 95 percent because that was my tag line to get people's attention when I was at the park. I would say 'you have a 95 percent chance of beating me.' I would spend hours at the park from morning to evening playing chess, interacting with people and getting better at the game," he wittingly shared. 
His involvement within the Washington Square Park chess community fueled Abeshinbioke's desire to create Chess.Ring, a chess club and community where he organizes tournaments. The chess connoisseur also teaches private lessons for $20, which include games, puzzles and tips about how to get better at chess. You can follow Abeshinbioke's journey on Instagram at @chess.ring or direct message him if you're interested in a lesson!
"The human interaction in-person gives a different experience of playing chess rather than online. Hence why I run my own chess club in Park Slope, Brooklyn at a game board store called Sip and Play on Saturdays from 11 a.m. to 1 p.m. and one in Manhattan at CellarDog, 75th Christopher Street, every Friday from 6 p.m. to whenever," Abeshinbioke advertised. "I even managed to organize two chess tournaments this past summer which was awesome. It was right next to the Brooklyn Museum."
In February, Abeshinbioke had the peculiar experience of playing six games of chess with rapper and record producer Sir Robert Bryson Hall II, professionally known as Logic, in Washington Square Park. Completely concealed in a mask, hat and hoodie, Logic went undetected while versing Abeshinbioke and even followed his Instagram account after their final match.
"I didn't even know it was him when I was playing him, as I wasn't familiar with his work. His security guard gave me a $100 bill and told me to be silent about it, which I thought was weird because I was still unaware of who I was playing with. After beating him five times and losing the last game, it was great fun. He recorded our games and I messaged him on Instagram to see if he could send them to me so I can upload them to YouTube and start a chess channel. He still has not replied but hopefully one day he will." 
As the pandemic surged on, the chess community did not waver. New players joined the board virtually, practicing the game before bringing their new learned craft to in-person competitions once restrictions were lifted. But why the sudden infatuation with the game of chess?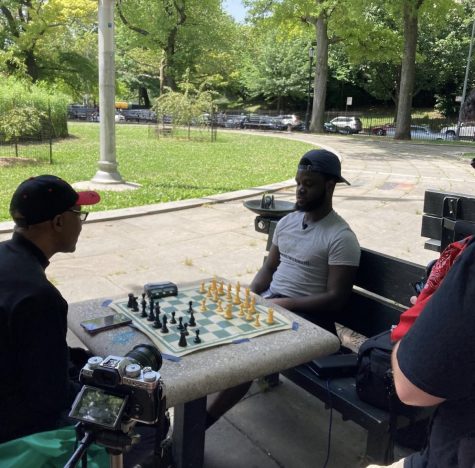 If you haven't been living under a rock, you may have heard of the popular Netflix Original, The Queen's Gambit. In this seven-episode, bespoke coming of age tale, Beth Harmon, played by Anya Taylor-Joy—who won several awards for her performance including the Golden Globe Award and Critic's Choice Television Award for Best Actress—is an orphan turned chess prodigy who changes the women's narrative in the male-dominated game of chess amid the Cold War era. Struggling with addiction, Harmon becomes one of the world's greatest chess players–encouraging even those who knew nothing about chess before watching the show, to master the game's artistry. 
"The pandemic sparked an interest in chess with those who are not familiar with it. Still, to this day when I face people at the park, they say The Queen's Gambit is the reason why they play chess," said Abeshinbioke.
After hearing about the remarkable stories from his fellow chess peers, Abeshinbioke was determined to share their experiences with larger audiences so others could join the conversation. While recovering from contracting covid in January, Abeshinbioke called a number of production companies "…to see if anyone would be interested in doing a chess documentary focusing on the chess community at Washington Square Park." 
"That's when I came across Simba Productions who were very interested in the idea of it. They also gave me the idea of fundraising for the production. The plan is to film a reel of it and present it to a bigger production company like Netflix and HBO for a series," he excitedly shared. 
You can contribute to his fundraiser on GoFundMe to support Abeshinbioke's dream to make the documentary a reality by visiting www.gofundme.com/f/chess-documentary.
A game of pure tactical thinking that eliminates the biases of gender, race, class and even age, "…as there are some young people who are really good at the game. You can never underestimate your opponent."
A game requiring nothing more than two individuals, a board, a timer, a 32-piece set and "almost no communication." However, Abeshinbioke shared, "After a game, there is so much to talk about. The human interaction each person gives is a different experience of playing chess."
In a game of precision played with black and white pieces, the players themselves create a beautiful gray nuance of cultural exchange, diversity and intersectionality; to which Abeshinbioke hopes to encompass in his new documentary. If The Queen's Gambit didn't convince you, perhaps his film could potentially give you the fire you need to learn the incredibly strategic game of chess. Who knows? Maybe the next Beth Harmon lies in the midst of our very own University.