What's the story with WhatsApp?
WhatsApp, a Facebook-owned messaging application, launched Status on Feb. 20 as a new addition to their app. Less than a month later, after facing backlash from their users, WhatsApp released another update. The Status feature replaced a text-based update component that was widely used on people's profiles in the app. Instead, users could now upload pictures to a story, only for them to disappear after 24 hours. Status let users draw on their pictures, privately reply to friends' Status updates, and specify which users can view their stories. These same features were first popularized by Snapchat Stories and have been copied by other apps like Instagram. WhatsApp's Status was the most recent copycat of Snapchat's feature until the company received backlash from users. Though they have not removed the photo-based Status feature, WhatsApp did restore the text-based component for Android users.
Beta users were able to test the new feature in November, and then it was made available for iOS, Android, and Windows Phone users in February. This was relatively soon after Instagram released their stories feature this past August. Instagram CEO Kevin Systrom told Variety that he gives Snapchat full credit for Instagram stories. "Stories is going to be a format that a lot of experiences are going to adopt over time," Systrom said.
Both features are blatant rip-offs of Snapchat's signature feature, but legal cases against them would not have held water.  Intellectual property lawyer Jeremy Harris told TechWorld that Snapchat wouldn't have a case against Instagram or WhatsApp "unless they are copying the underlying source code, or perhaps the exact way it looks." Copyright and trademark laws do not protect Snapchat in these cases because of the different interfaces WhatsApp and Instagram use, meaning many other apps may follow in Snapchat's footsteps and introduce story features of their own. Facebook's main app has already begun beta-testing stories this past January, so Facebook stories are on their way. Randall Sarafa, the project manager for WhatsApp Status, told Buzzfeed News, "I don't think the format exists in just one app at this point. This is a model that others have contributed to and has been widely adopted, and we adopted it ourselves. It's groundwork for the things we want people to be able to share." Though stories can be a prime place for advertising, placing commercials in-between users stories, WhatsApp has revealed that it has no plans to put ads in their Status updates.
WhatsApp has never been as largely popular as other social media tools, but it still garners 1.2 billion monthly users. It allows users to send messages for free in any environment, making it popular for people traveling abroad or for friends in different countries without international plans for their cell phones. Only time can tell whether Status will make WhatsApp a more popular social media tool over time, or if people will simply opt for Snapchat and Instagram stories to share their photos.
The growth of the stories feature in social media apps is, from Facebook's perspective, a way to stunt Snapchat's international growth. Adding stories to WhatsApp and Instagram makes Snapchat less unique. The company will have to invent new ways to increase the number of users and create features that are unique to Snapchat alone.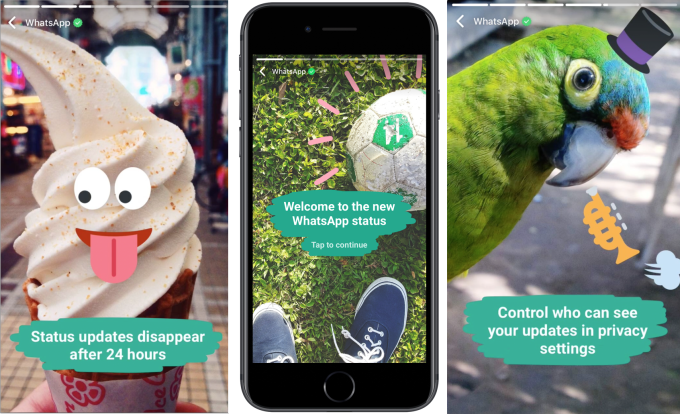 WhatApp's new Status feature. Photo courtesy of TechCrunch.com.