KKK at UVA: White Supremacy will not hide during Trump's administration
Several hundred white supremacists gathered for what they called a "Unite the Right" rally, which preached against different races as well as sexual orientations. The march took place on the campus of the University of Virginia in Charlottesville, on Aug. 11 due to UVA's planned removal of a statue of Confederate general Robert E. Lee. 
City spokeswoman Miriam Dicker has said that an estimated 1,000 counter protesters also arrived at the scene, shouting things like, "Racists go home!" which was partially effective in drowning out the Klansmen's shouts of "White power!"  Police had escorted Klansmen to Justice Park, where the march was set to begin. After about 40 minutes, police helped escort the Klansmen back to their vehicles amid protesters, who were blocking them. Police remain on the UVA campus in full force, carrying pepper spray and tear gas, both of which have been used on protesters.  
As of 3:14 A.M. on the following morning, 22 people have been arrested and three taken to the hospital, two on heat-related issues and one due to alcohol usage. 
UVA has since condemned the white supremacist marches, publicly declaring their separation from the event. The school issued a statement on Saturday, mentioning how University President Teresa A. Sullivan was strongly against the march. The statement is quoted saying, "the intimidating and abhorrent behavior displayed by the alt-right protestors was wrong. Those who gather with the intent to strike fear and sow division do not reflect the University's values and will not influence or diminish the University's commitment to inclusion, diversity and mutual respect." 
Both the city of Charlottesville and the UVA campus have urged people not to attend any march or protest, offering up alternative activities such as a unity concert hosted by the school. Even with the school's discouragement, clashes at the protests and marches have become violent enough that Charlottesville police have declared a local state of emergency.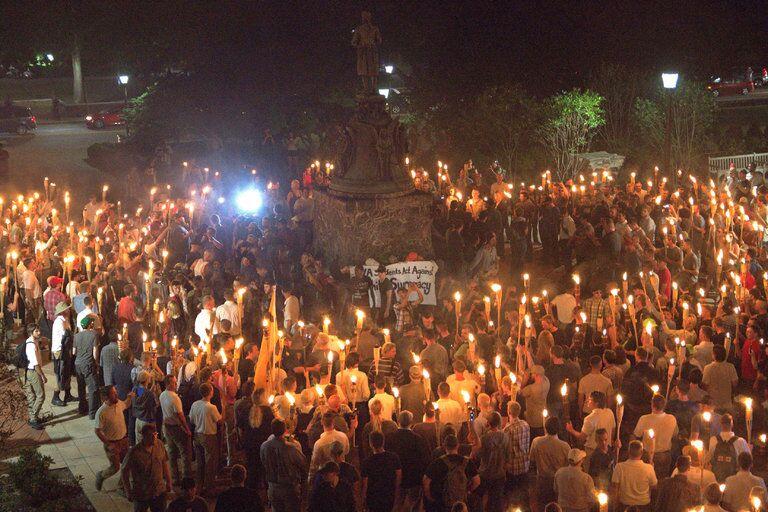 Photo courtesy of NYTimes.com