What you need to know about the US and North Korea
Tensions between the international community, particularly the United States, and North Korea have seldom been more severe, as nothing seems to off the table for either party, including potential nuclear engagement. Following the DPK's nuclear tests in July, the UN Security Council passed a resolution on August 5, 2017 to escalate sanctions, including a near total ban on imports from North Korea and a cap on the employment of North Korean workers worldwide. Earlier this month however after another DPK test launch, this time of its sixth and most powerful nuclear weapon to date, the United Nations Security Council met yet again to discuss measures intended to deter further nuclear armament in Pyongyang.
The US, prompted by President Donald Trump's harsh criticism of appeasement policies, demanded an debilitating escalation of sanctions against North Korea including the use of force against ships entering North Korean ports, a near-total halt in trade of any kind with the nation, and a freezing of North Korean leader Kim Jun-Un's foreign bank accounts, as well as other accounts associated with the East Asian dictatorship. China and Russia however harshly opposed these US proposals, suggesting that they would be ineffective and only serve to escalate tensions. It was suggested by both of the former parties that the US and South Korea should in fact themselves cease military demonstrations against the DPK.
On the disagreements between these superpowers over how to handle North Korean armament, Secretary of State Rex Tillerson explained that China is the DPK's largest supplier of oil and Russia is, "is the largest employer of North Korean forced labor." While these true assertions reveal a clear bias on the parts of Russia and China, British officials were reported to have emphasized the fact that the US proposals would lead to "photographs of frozen North Korean children" this coming winter and a mass humanitarian crisis. In the end, a middle-of-the-road escalation of existing sanctions against North Korea was passed.
Unfortunately these measures have in fact proven to be ineffective since their passage as North Korea has launched yet another missile on September 14, this time over the Japanese island of Hokkaido. According the South Korean Joint Chiefs of Staff, the missile reached a maximum height of 478 miles and traveled a total distance of 2300 miles. The missile, launched from Pyongyang's international airport Sunan, was the nation's 19th ballistic missile tested this year alone and was its most far-ranging to date. Analysts claim that the DPK's decision to angle their most recent missile launch for maximum distance as opposed to height was intended to demonstrate their capability to enact far reaching devastation and to test whether their warheads could survive the harsh conditions of atmospheric re-entry and still detonate properly.
In response, President Donald Trump spoke at the UN saying, "If the righteous many do not confront the wicked few, then evil will triumph." In likely his most direct and aggressive statement against North Korea thus far, Donald Trump went on to say, "The United States has great strength and patience, but if it is forced to defend itself or its allies, we will have no choice but to totally destroy North Korea." Whether or not this egregious rhetoric will prove fruitful in disarmament efforts in unclear, though likely the latter given recent events. Either way, North Korea now has one of their most valuable propaganda sound-bites to date, as it confirms, with or without context, the DPK's fallacious claims that the United States is an evil entity bent on their total destruction. Where this escalation will lead has become a very serious concern for both government and citizens worldwide.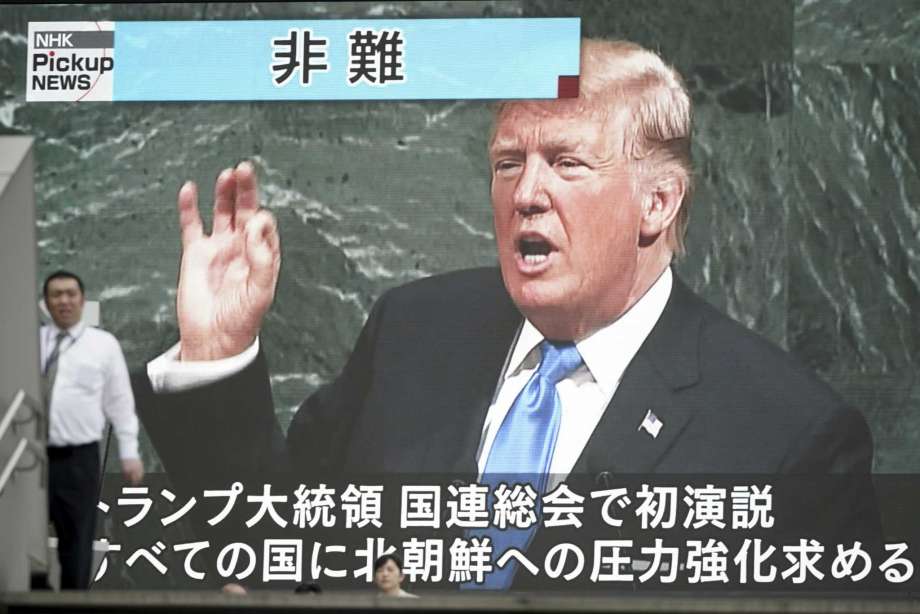 Courtesy of AP