Listen Up: September's Best New Albums
By Rachel Beals and Sophia Tan
As summer winds down and a new school year begins, so does the battle for the top of the charts. September is a month that marks new beginnings for some artists, while others are saving their best for last.
Antisocialites x Alvvays
            Dreamy, jangly, and ethereal indie pop band Alvvays has returned to the scene this month with their sophomore album, Antisocialites. This light-hearted, melancholy LP may just be the record that the indie sphere has been longing for; in its brief 34 minutes, listeners are transported into a world of sweet, blissful, beachy vibes, that cast nothing less than feelings of nostalgia and carefree youth. The album encompasses both heavenly, ambient tracks, juxtaposed with elements of post-punk and an almost garage rock taste. Lead singer Molly Rankin's vocals are beautiful and angelic, while she speaks mainly of relationships and dating, specifically on the aspect of moving on and embracing independence, with songs like [I'll never be] "Your Type," and "Not Your Baby." It can definitely been seen as a breakup album, but the instrumentals are so quirky and charming that the notion could be easily overlooked. This album's sound could be comparable to the shoegaze-y essence of Beach House, combined with the beachy, surfy sounds of acts like Best Coast, and the jangly guitars of Mac Demarco.
Release date: September 1
American Dream x LCD Soundsystem
            It's true, they're back; after supposedly retiring the band back in 2010, American rock band LCD Soundsystem has released their first album in seven years. To kick off the month, LCD Soundsystem released the critically acclaimed album American Dream on Sept. 1. This is the fourth full-length studio release for the rock band led by James Murphy is its first in five years. This hour-length LP comprises this group's quirky, eclectic, indie-electronic and dance-punk sound. It's no question that this album was heavily anticipated after the band had demonstrated such a grand departure, and no one knew exactly what to expect from its reformed existence. Right from the get-go of this album, the band seemingly exemplifies nothing but their signature sound, reminiscent of their last project, This Is Happening. Murphy displays his goofy, satirical commentary over steady, pulsing synths; however, he speaks of new topics on this project, many of which have to do with universal experiences like friendships and relationships coming to an end; as Murphy grows older, he reflects on his withered connections, his career, and the overall fleetingness of life. With such heavy topics, however, Murphy does not fail to add his comical and facetious flare to the narrative. This may be seen as his most vulnerable, confessional album to date. Along with Murphy's new dialogue comes new sounds as well, that come off as much more hard-hitting than tracks on past records, with intense, epic synths and thundering bass lines that account for many bangers on this record, one of which being the 9-minute number, "how do you sleep?" Many are thinking that this is LCD Soundsystem's best album yet, and wonder if they are truly finished this time, or will only continue to surprise us with more in the future.
Release Date: Sept. 1
Sleep Well Beast x The National
            The title of this American indie rock band's seventh album release paints a haunting image in one's mind, and that is exactly what is delivered through its tracklist. The National's Sleep Well Beast encompasses a myriad of lo-fi, atmospheric, and chilling numbers. In the earlier parts of the album, listeners may be led to believe that it is merely a collection of somber, mournful ballads, but things pick up when aggressive, electronic pieces are thrown in the mix, incorporating eccentric guitars and drums, turning the record into an intense and electrifying experience at certain points. Lead singer Matt Berninger's deep, brooding voice speaks on going through the motions of trying to hopelessly salvage relationships, and the tiring, routine endurance of life. The sounds play back and forth from subtle, dreary slow-burners to angry, hard-hitting tracks; the album overall is an introspective, hypnotizing one, foreseeably enjoyable by those in an angsty or sulking state of life. A handful of songs on here sound uncannily similar to those of The XX, and others that sound like they've taken inspiration from the computerized, digital, eerie sounds of Radiohead's Kid A era.
Release date: Sept. 8
Wonderful Wonderful x The Killers
            After five long years, iconic American rock band The Killers make a comeback with their newest studio release, Wonderful Wonderful. Shortly after announcing the new album, the band has released a handful of new singles titled "The Man," "Run For Cover," and "Some Kind of Love." The band has grown quite a bit since their debut in 2004, with unforgettable hit singles "Mr. Brightside" and "Somebody Told Me." On these new singles, they still channel the post-punk, dance-pop sound that made them who they are today; "The Man" is an incredibly catchy and disco-esque tune with an infectious hook, and songs like "Run For Cover" channel the much more post-punk and guitar-driven direction. In a recent Q&A, frontman of the band Brandon Flowers admitted that he had recently become much more introspective, considering his "legacy" and the kind of mark he wished to leave on the world. Flowers says that in one particular song on the tracklist, he speaks of his three sons and how he hopes that they'll "never see him go down." Other aspects of the record speak on the difficulty of trying to keep the band together and form this album, due to frequent member relocation and trying to pick up from such a large gap between the last full-length release and now. With that, we're left to see if the rest of this highly anticipated album can pump out any more classic hits that people will be jamming to for years to come.
Release date: Sept. 22
Double Dutchess x Fergie
            The sassy, confident, golden-locked icon is back with her first new solo album in eleven years. Her new album, Double Dutchess, is more or less of a continuation from her debut album The Dutchess back in 2006. Interestingly, Fergie has decided to pull a Beyonce and create a visual album to accompany the tracklist, entitled Seeing Double. In the few clips of singles she has already released online, she appears to have not aged a day, and went for the mysterious and sensual black and white theme, with plenty of smoke, skin, and distinct vocals and melodies that throw us all the way back to the "Big Girls Don't Cry" and "London Bridge" eras. The tracklist already looks pretty impressive, including features from Rick Ross, Nicki Minaj, and YG. In talking about this upcoming album, Fergie says this time around, she has truly "opened up her heart," becoming more emotional and vulnerable than ever. We'll have to wait and see if the combination of her sassy and bold spirit mixes with her deeper, interpersonal experiences to make an album well worth the wait.
Release date: Sept. 22
GEMINI x Macklemore
September also marks the long and awaited return of hip-hop mogul Macklemore's first solo album in ten years, GEMINI. After the two announced a hiatus in June, producer and Macklemore's usual partner Ryan Lewis had no part in this project. Critics claim that the most noticeable aspect of GEMINI is how much more of a "traditional rap" feel the album holds (DJ Booth). The album feels much more focused on the man that is Macklemore, rather than his traditional heavy-hearted tracks filled of historical narratives. Impressively, Macklemore continues to showcase the lesser known talent such as Dave B., Travis Thompson, Xperience, Dan Caplen, and Saint Claire. Macklemore focuses the concept of GEMINI on himself, but never actually stays on the mic for too long.
Release date: Sept. 22
Miley v. Demi
Former Disney stars Miley Cyrus and Demi Lovato are out to battle to the top of the pop charts with both of their albums releasing on Sept. 29. Both princess-gone-pop star's are releasing their sixth studio albums that day, Cyrus's titled Younger Now, and Lovato's titled Tell Me You Love Me. Cyrus has said that for her newest album, she has gone for a more conservative, retro, and "Elvis" inspired image. The album will feature eleven tracks, and even a duet titled "Rainbowland" with her god mother, Dolly Parton. Cyrus is exploring a new, and "very real sound to her image". On the other hand, Lovato plans to pursue a sound more accustomed to R&B than in previous years. This is her first album released since the breakup of Wilmer Valderrama. Although Lovato has not pinned her album's subject on her ex-boyfriend, she has suggested that her fans will figure it out anyway. "You can hear it through the lyrics. I think my fans are gonna know exactly who I'm talking about," Lovato said.
Release dates: Sept. 29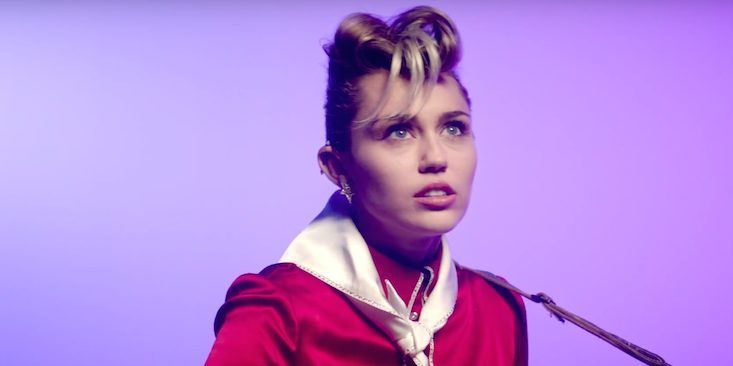 Photo courtesy of EliteDaily.com