"Gaga: 5 Foot 2" is a VIP pass into the life of an icon
You loved "Bad Romance" and The Fame Monster. You gawked over the rebellious, blonde girl with eccentric makeup who strutted in a dress made of raw meat. You drooled as you watched the energetic singer who stripped down to a thong on national television. You talk about her, you read about her, you mock her but you don't know her. Lady Gaga is a mystery. That is until she exposed herself, unleashing a vulnerable side even more so than when she wore that thong on the VMA stage. In Gaga's documentary, Gaga: Five Foot Two, the world meets Stefani Germanotta, the woman behind the crazy costumes and the small but powerful hero that is the entity, GAGA.
Gaga's documentary was released for streaming on Netflix, Sept. 22. It was explosive with emotion and was directed for more than just her fans, this film was created for everyone. You don't have to be a Gaga fanatic or "Little Monster," to love this raw, sensual piece of cinema. In fact, you may even enjoy it more if you go in only knowing the basics; Lady Gaga, is "weird", has catchy songs, and performed at the Superbowl. After the credits roll you'll sink further into your couch, put down the popcorn you cried into, and think. You'll think of what it is like to be a human being and how challenging and crazy it must be to display yourself to millions of people.
An icon, a savior for many, a role model, a mother to "little monsters":Lady Gaga didn't even do it until now. It was a statement, a cry for help, an explanation, a baptism of sorts signifying a fresh start, or rather a fond turning point. She isn't a superhero but she does have her own form of kryptonite; chronic pain. Her struggle is one of the main features of the film as well as her very personal new album, Joanne.
"Do I look pathetic. I'm so embarrassed," Stefani hides her natural, untouched face in her hands and cries as her physical therapist tries to soothe the constant, chronic pain she feels all down her body. The 31-year-old singer has just recently postponed the European leg of her stadium world tour. The Joanne World Tour is a celebratory tour after her iconic Super Bowl performance. The documentary, leading up to the Super Bowl, coincidently was released right around Lady Gaga's official delay of her tour. "I use the word 'suffer' not for pity or attention. If you knew me, you would know this couldn't be further from the truth. I'm a fighter," Gaga said. The singer took to Instagram trying desperately to explain the mental and physical pain she endures and now the trauma of disappointing her fans. However, after watching her story no fan can possibly feel slighted. It is clear this woman adores her fans and was "born this way" to perform. It is hard to take Germanotta away from Gaga and just see Stefani; but, she'll be back on stage as soon as she's physically able to, and her fans will be eagerly waiting.
It is hard to not be a Gaga fan. Even if you are not into pop music or super winged eyeliner isn't your thing, she is a talented woman who knows how to perform. Pace University freshman Jake Foster, not a Gaga fan, agreed that she is a huge inspiration.
"I think she's a very creative spirit. Although I am not an avid fan, I do respect her very highly," Foster said.
It almost seems as though many University students to only know Gaga as the girl with cigarette sunglasses.
"I will never forget listening to "Poker Face" and singing with my mom in the car," University freshman Chad Nowlan said.
While "Poker Face" is of course a song that will be played throughout generations, Gaga is so much more than super high stilettos and her new album demonstrates as such.
"I mean if you look at me during ARTPOP and then now, I don't think I'm doing better, I'm just a woman struggling now instead of a girl," said Gaga. She smiles knowingly and draws upon her growth, maturity, vulnerability and belonging. "Girl where do you think your going?" This quote is from the chorus of her hit song, "Joanne," from her album Joanne. The song is about Stefani's late aunt who died at 19 from Lupus. This tragedy in the Germanotta family was her motivation to be her aunt's voice and create positivity from such devastation. Speaking to anyone that has ever lost anyone, Gaga goes from singing about the paparazzi to humanity. Both equally impressive songs, Lady Gaga is the mask that Stefani Germanotta wears and it seems that she's learning to accept herself without it.
"Lady Gaga" is still more than a stage name. Gaga is her creative brain cells in the works, her inspiration, her life. Germanotta has built an empire off of herself with a dynamic of impenetrability. "Lady Gaga" is an intangible aura serving as a method for Germanotta to transport her music. Now, in her new documentary, Germanotta is here and that doesn't mean Lady Gaga is not, however, a new era of Lady Gaga has been revealed to the world, a different personal perception of the musician.
Gaga is not interested in posing on her good side. Gaga: Five Foot Two, almost solely discloses her from an emotional and fragile standpoint. However, if you really grasp the message within, the act of Gaga embracing her weakness will become her strength. She is filmed walking out of her hotel, greeting fans as she makes her way to her car. The film also flashes to other moments where she would greet her fans or make any other kind of appearance. Wings, raw meat, dolled up hair, outlandish outfits, full face of makeup, Gaga would reveal herself no other way. Now, Stefani Germanotta appears with her hair up, sunglasses on, wearing shorts and a t-shirt. Do people miss being able to gossip about the freaky singer with the "I don't care" attitude? Now that she's established a title for herself, Germanotta will make her voice louder than ever no matter what anyone says. She has her own documentary, she writes and sings her own songs, she performed at the Superbowl, she acts in TV shows and movies alike, Gaga is anything but finished. No, she is not the "next Madonna." She is Lady Gaga; Stefani, a woman who will triumph through physical pain and mental angst. The world is her platform.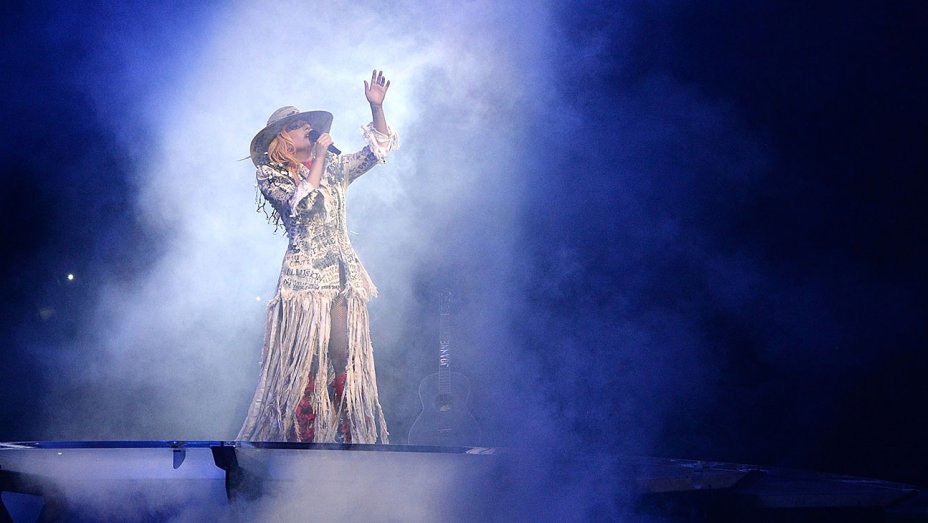 Photo courtesy of Hollywood Reporter