Smorgasburg is Brooklyn's food fest you never knew you needed
New York's hippest and most photogenic weekly food festival, Smorgasburg, is the place to be on your weekend adventures into town. If you're looking to try out some of the most exquisite, and often unusual, food that NYC has to show off, you don't want to miss this!
Smorgasburg, founded by Eric Demby and Jonathan Butler, launched back in May of 2011, originally created as a spinoff of the Brooklyn Flea (2008). It has since grown to be America's largest weekly outdoor food market. At this event, 100 local and regional food vendors get the chance to set up booths for their eateries and freshly prepare their unique cuisines and beverages for about 30,000 food lovers every weekend.
The festival takes place from 11am-6pm, rain or shine. On Saturdays, it's located at East River Park in Williamsburg, Brooklyn, where the bustling crowds get a scenic overlook of the Manhattan skyline on the waterfront. After grabbing their food, Smorg-goers can chill out in the surrounding, wide-stretching patch of grass for a cute, picnic setting. On Sundays, the festival takes place at Breeze Hill in Prospect Park. Here, you can find a more natural setting, as all the booths are set up right along the walkway of the park, and crowds can gather and eat amidst the tall trees and fresh air.
The newest addition to the Smorgasburg network is called the "Smorg Square," which opened in SoHo, Manhattan at the intersection of Varick and Canal Street in August. Smorg Square will be running Fridays, Saturdays, and Sundays across the street from the Brooklyn Flea, starting this year and ending in 2019. The square is a smaller, more intimate atmosphere with less vendors and an open seating area with picnic tables and enchanting string lights hanging overhead.
As stated, the vendors at Smorgasburg can have some unique foods to try—not only delicious, but all quite aesthetically pleasing as well. Some interesting dishes to get your hands on this year are ramen burgers from Ramen Burger, dumplings from Destination Dumplings, gooey sandwiches from Baked Cheese Haus (a.k.a. the origin of all those videos of cheese being scraped off a wheel you've been seeing), halo-halo, a Filipino dessert of ice cream and fresh fruit from Ube Kitchen, juice that you can drink out of a full-sized piece of fruit (watermelons, pineapples, and even dragon fruit) from John's Juice, churro ice cream sandwiches from Dulcinea Churros, tacos from Lupita's, mozzarella sticks from Big Mozz Sticks, ice cream in a waffle from Wowfulls, and, if you're wild enough, spaghetti donuts from Pop Pasta. As we know, social media has become huge in sharing photos of your food in this day and age, and it's guaranteed that each and every one of these mouth-watering items would make for highly photogenic content on your Instagram feed.
So don't miss out on these extraordinary eats: there are plenty of chances to go! One of the most beautiful things about New York is its endless and diverse range of incredible food; it can really bring people out of their comfort zones, as well as bring communities together.  Smorgasburg is truly the epitome of this thing that makes NYC so loved. So while college keeps students in New York, it is worth finding a weekend to check out one of this extraordinary city's coolest attractions—grab a bite to eat, snap a pic for the 'gram, and take in the beauty of the amazing and delicious things that this city has to offer.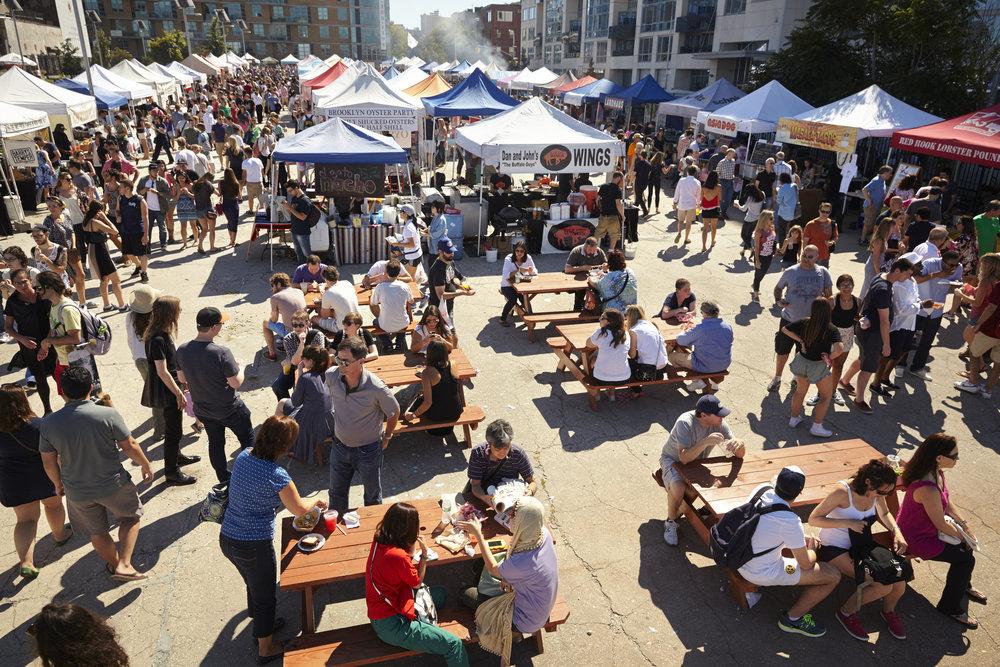 Photo courtesy of Smorgasburg