It's comeback season for Miley Cyrus
The words "nobody's perfect," is what Hannah Montana preached to millions of fans on Disney Channel for four successful years. Miley Cyrus, starring in the show at the young age of fourteen, instantly became every young girl's icon. At the end of the hit series, the world met a different, wilder and resay side of Cyrus with the release of her album Bangerz in October of 2013. Now in 2017, Cyrus fans are enjoying a mellow and happy musician who is so clearly in love. The timeline from Hannah (2006) to Miley (2017) is a story of inspiration, love, and heartbreak.
No one is perfect and this includes Cyrus. Fourteen is, on average, an extremely young age to not only join the Hollywood business but absolutely thrive in the midst of it. Hannah Montana was a global success and Cyrus and her father, musician Billy Ray Cyrus, added humor, country class, and Nashville culture to the show, giving it a home-like and heartfelt vibe. Hannah and her friends also starred in a blockbuster movie in 2009, Hannah Montana: The Movie, about Montana's life back home in Tennessee. Cyrus also went on tour, featuring her double life in concert. The Best of Both Worlds tour was a double concert including Hannah Montana (Miley Cyrus in her signature blonde wig) but also Miley herself performing solo, allowing her to find her individual voice, absent of her double live wing and persona. Although Disney channel was a huge accomplishment for Cyrus and a major milestone, it seems that she was sheltered from the typical young adulthood, causing her to lash out into the "Bangerz Miley." Before this though, there was some time for her to exercise her talents without the blonde wig.
Cyrus released "Party in the USA" late in the year 2009. This was the first foresight that maybe Cyrus wouldn't be the sweet, innocent, and quirky Hannah Montana forever, as Disney channel promised. While performing her new song at an award show she had made a break with a pole dance routine. However, light this may seem, at the time this was a huge jolt of shock for the Hannah Montana fan base, and the parents of Cyrus's admirers. Along with this breakout came her first album without Hannah Montana's name on it and of course, some more tempting photos featuring her draped in a sheet. This is not what was expected of America's sweetheart. With songs like "7 Things," "Start All Over," and "See You Again," Cyrus was maturing and trying to find her sound.
By 2010, Cyrus starred in her first mature, love film, a movie adaptation of the popular novel by Nicholas Sparks, The Last Song. Here, she got to explore her musical and acting talents along side the handsome, Liam Hemsworth. Soon after, she became engaged to her co-star, Hemsworth, and the pair was known for their lovely "relationship goals." She released her album Can't Be Tamed in the meantime, alluding to her breakout from Disney and proving that she is in charge of her own life, of course terrifying the parents of her fans in the process.
The 2013 Miley Cyrus has now become the most well known and maybe infamous version of herself, however, this was just another necessary step in her self growth to mature the young woman into the person that she is now. August of 2013, Cyrus twerked herself into a spot on the VMA stage, performing her new song, "Can't Stop Won't Stop," from her wilder side's album, Bangerz. This very new and wild side of Cyrus, with the signature bleach blonde pixie cut, partially was born due to her difficult breakup with Hemsworth, which naturally generated public attention.
Cyrus came in like a wrecking ball. Her latest music video at the time was of her swinging naked on a wrecking ball while licking a sledge hammer. Her Bangerz tour was a huge success though, so she had to be doing something right. By 2015, Cyrus released a mixtape only available on her website titled, Miley Cyrus and her Dead Petz, breaking from the pop style in her previous album to a trippy and moody vibe.
Supposedly in 2016 the couple was on and off but wound up together again and engaged, prompting Cyrus' current album, Younger Now, released on September 29, 2017. This album fades from the pop and moody era of Cyrus into a combination of folk and country, giving us Fleetwood Mac vibes. Cyrus and her godmother, Dolly Parton, worked on this album together and with this album comes a more relaxed and happy version of Miley Cyrus, which fans seem to really be loving.
"I think she was under the spotlight for too long as a kid and never had a childhood. I love her new album and I think she's a beautiful human being," Pace University freshman Colette Loveys said.
Cyrus' hit song from the album, "Malibu," is about her relationship with Hemsworth and how she feels so lucky to be here with him and her fans today. As she had been dating him since she was sixteen, and held the responsibility of being a role model for young girls everywhere, it was important for Miley Cyrus to take time to herself and experiment with not only her outward existence but experience her inner self as well.
"Because she grew up on Disney channel she felt that she needed to step out of her comfort zone but I think she did a little too much," University freshman, Sarah Coker says, "She now went back to her roots and I respect it."
Cyrus's album also pays tribute to the LGBTQ community. Her song, "She's Not him," is said to be about Victoria Secret model Stella Maxwell, who Cyrus was supposedly dating briefly during her time apart from Hemsworth. In no way does she deface the connection between her and Maxwell, rather, she explains her love for her but continues to convey that she could never replace her love for "him;" Hemsworth. Cryus' public self identification of being pansexual and non gender conforming reflects the pronoun lyrics in her song.
The cover of Malibu features the peaceful singer laying in the grass wearing her engagement ring. Throughout this crazy and winding track her life has always been on, Hemsworth seems to be a constant in it as well as her music, and Younger Now seems to express that perfectly. Miley Cyrus, with her love life and music career, may just have the best of both worlds.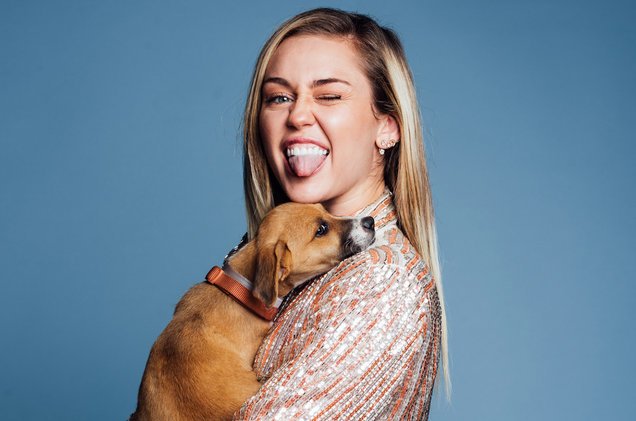 Photo courtesy of @Billboard via Twitter