Spark Pretty is the East Village's next big thing
Looking for a unique adventure in the city? Get off at Astor Place and come see one of New York City's many treasures. Spark Pretty is one of New York City's most unique shops you could ever stumble upon. It's on a street with ivy-covered buildings in a tamer part of town. Despite that, the shop itself is anything but tame. Spark Pretty is funky and fun, housing hundreds of clothing pieces and memorabilia from a time not too long ago…the '90s!
Founder and lover of pop-art infused looks, Amanda Dolan started the business in 2012 after working for fashion icon Betsey Johnson. She started off selling vintage items online and then partnered with her best friend, and now current Head Consultant, Meagan Colby, to run pop-up shows which have grown to become the unique store called Spark Pretty. When asked about her most popular items in the store, Dolan said, "I would say the jackets, we have a huge awesome selection, in so many different themes." There's no doubt about it, the trendy jackets were all over the pace, including the ceiling! Talk about a throwback.
Not only do they showcase stylish clothes, but also '90s toys and memorabilia. There is an entire wall dedicated to Troll dolls and VHS tapes! What's also unique about the store is its presence in the community. "Anybody and everybody is welcome here," said Dolan. She encourages millennials who are now discovering the '90s trend to shop there, as well as those reliving the past in a sense of nostalgia. The store's in-house designer, Thomas Knight, also helps expand the '90s love in the store. He works with the styles of drag queens as well as with costume designers for various Broadway shows! The store also offers personal styling by Dolan and her team of consultants. If you are trying to up your style game with some vintage pieces or simply make a '90s Halloween costume, Spark Pretty can help.
Whether you are looking for some '90s get-up, an Instagram-able location, or just a place to relive a different time, this is the stop for you. The location isn't far from the University's campus and is located at 333 E 9th St. Come visit this funky and friendly shop!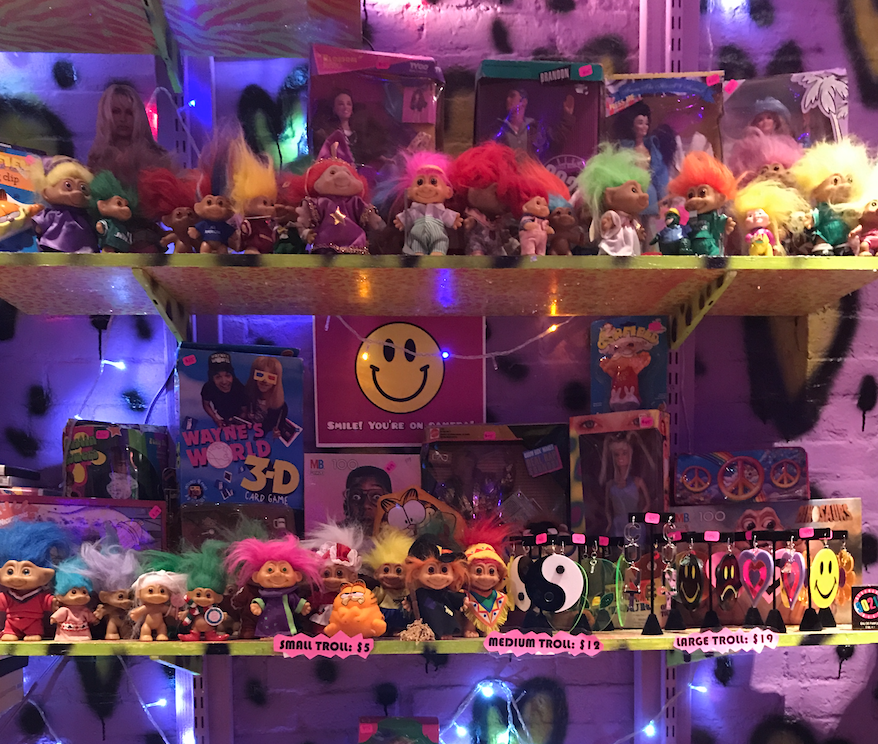 Photo by Mae Martinez