"The Florida Project" might be the most realistic movie this year
A profound look at life through the eyes of a young six-year-old, Moonie, The Florida Project is a vibrantly colored cinematic display of truth and of the innocence that lives in children's minds.
The pastel purple Magic Castle Motel on the outskirts of Disney is home to Moonie (the brilliantly sharp Brooklynn Prince) and her young, teal-haired rebel of a mother Haley. Haley, portrayed by first-time actress Bria Vinaite, was discovered by director Sean Baker on social media and contacted after finding the same restless spirit in Bria as he envisioned in Haley's character. Vinaite had to learn what many spend years training for in the few weeks before production; however, her powerful thought-provoking performance resonates with any audience member who had to make sacrifices at a time in their life.
Haley and Moonie share a bond that strongly mimics that of a sibling bond over a maternal one, as Haley has not fully matured, and revels in her adventurous youth. Her carefree persona is often challenged in her struggle to make enough money to feed and care for her daughter, leaving audiences to sympathize with the difficult situations she endures to provide for her.
Familiar face, Willem Dafoe, also stars as the tough, but loving Bobby who runs the ironically named motel. At times, he acts as a paternal figure to both of the girls, a compassionate role unlike his others. His selfless, over-productive nature seals his role as the heart of the Magic Castle.
Engaging in mischievous activities with her friends around the motel grounds, Moonie's experiences contrast the difficulties the adults around her face; life is merely an adventure full of ice cream cones and colorful condos set ablaze. Viewers are given a different look at poverty through the inquisitive nature of the young motel inhabitants and the desperation that lives in the adults trying to gather the pieces of their world slowly falling apart.
Perhaps the most notable element in the film is the utter realness. Baker does not stray from the difficulties struggling families face that are often masked by childhood curiosity and the warm Florida sun. He delves into topics too personal and disturbing that make you turn away, because it seems easier to ignore the pain that exists behind picturesque, colorful settings than to face it the way TFP does. However, the childhood innocence Moonie and her friends exhibit warms your heart, and their overtly adult-influenced dialogue steals the show.
This film is not afraid to approach topics that many go to the theater to forget exist; its unconventional approach in displaying the truth behind heart wrenching circumstances through the eyes of two different generations and moving childhood antics makes The Florida Project unforgettable.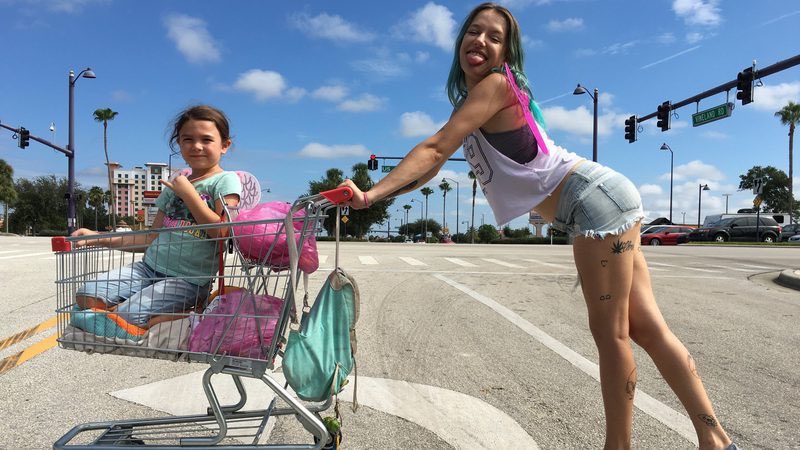 Photo via Twitter (@themoviemike)