The Brunch Bunch: A guide to brunch in NYC
New York City is known for unique and delicious eating options. While the usual staple has been a mash-up of two delicious treats, like the cronut, a new trend has developed amongst University students: brunch. As a midday meal mashup of breakfast and lunch, brunch is loved for many reasons. While its mouthwatering appeal makes a dull Sunday unique and delicious, students on a strict college budget can become frustrated living next door to the most expensive and tempting brunch spots.
Sometimes it seems the closest students can get to avocado toast and stacks of warm pancakes is looking at pictures on Instagram. Despite the high prices of NYC food, there is a way to enjoy decadent brunch without destroying your wallet—finding the right brunch spots. Specifically, affordable and college-friendly spots. Here are five inexpensive and Instagram worthy brunch musts.
This East Village hotspot began as a converted van selling coffee and brunch pastries. Now an official cozy brunch spot, MUD Coffee offers vintage vibes and delicious brunch classics such as almond encrusted French toast. Serving brunch all day, MUD Coffee requests cash only, but the customers can't complain with their affordable prices.
Sam Marzano, which is well known for inexpensive and delectable dishes, also serves affordable brunch on weekends in between 11:00 and 4:00 pm. What is unique about this spot is their brunch menu—which has options all under $10 (including bottomless mimosas, for those who are over 21). Ensuring a cheap brunch is the appeal here, but be prepared to wait for this popular brunch location.
This unique brunch locale features a self-serving experience—where customers order over the counter and collect their own silverware and condiments. The diverse menu at The Grey Dog will ensure customer's brunch craving satisfied. And there is no doubt that the prices are worth the large portions and friendly service.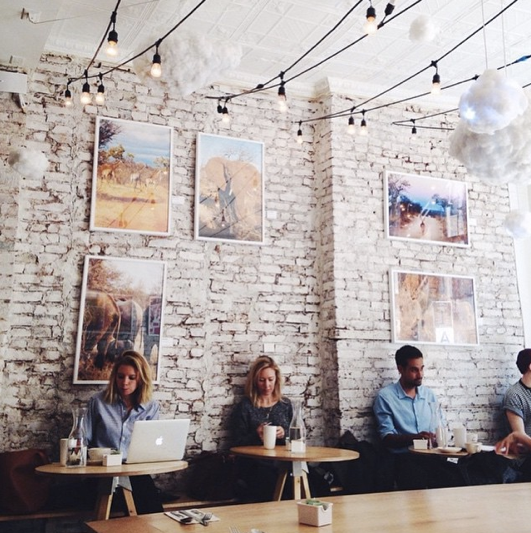 Two Hands features Australian-influenced food at inexpensive prices. In addition, their menu is focused on healthy brunch options, which can be hard to find in the city. Their acai bowls and avocado toast are featured on social media, along with their unique interior design.
Soon to be senior Leah Collier, recently celebrated her 21st birthday at Carrol Place, an up and coming brunch spot for all occasions. The most popular choice is the family style brunch. This deal is $35 per person but includes bottomless mimosas, rose sangria, two starter meals, three main dishes, and a dessert. It's guaranteed that all customers leave smiling with bellies full.
Whether it be brunch locations or weekend activities, college students have budgeting on the mind. With these five brunch locations, great food and a good time are guaranteed.