Cardi B-eat down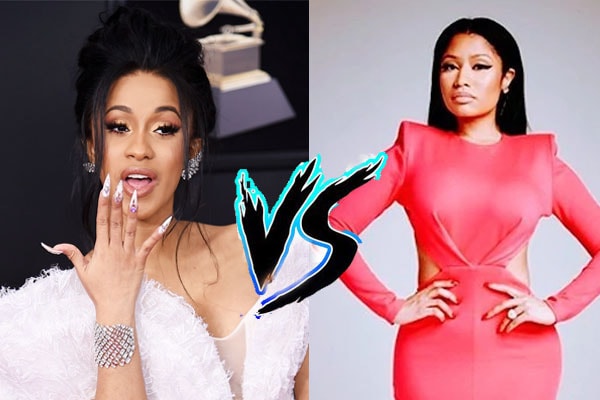 2018 is shaping up to be a huge year in rap, from the release of Travis Scott's long-awaited "Astroworld," Drake's venomous "Scorpion," Cardi B's record-breaking "Invasion of Privacy," to the to the deaths of Xxxtentaion and Mac Miller, fans have had a lot more to keep up with than the Hot 100. Perhaps the most tweeted about, fan based-dividing issues these past years, have been feuds. The concept of artists fighting is not new; Tupac and Biggie's East Coast versus West Coast feud ended in death and historic consequences. However, as Drake has professed, over time, "trigger fingers turn to Twitter fingers." Properly known as "beef" among artists, public fights between rappers have become national spectacles through social media, internet gossip, and music. They have not stopped there, though. Beef has gone from viral to valuable.
The subdivision of white rappers has reached a peak in feuds this year, but remain undeniably the most unstimulating fights of them all. Featuring two once-relevant players; Machine Gun Kelly and Eminem, the drama began when Eminem released a new album, "Kamikaze." The album dropped scathing lines about fellow rappers including MGK, who back in 2012 tweeted that Eminem's preteen daughter was "hot." Now, six years later, Eminem decided to retaliate on "Kamikaze." Reigniting the stale feud, MGK shot back with the poorly received diss-track "Rap Devil," which is when fans began to speculate that something fishy was going on. Both Eminem and Kelly shared a producer of their respective diss tracks, which are signed to the same divisionof a lager label, and both released recent albums. The odds that these two artists' decisions to dig up old drama at a time when both were releasing new LPs led attentive fans to wonder if it was all for show.
This was not the only rap publicity stunt this year, though. Miley Cyrus's up-and-coming younger sister, Noah, was involved in attention-grabbing Instagram drama with her ex, rapper Lil Xan. After a few months of questionable romance (she replied with "look at his cute little face" when asked why she loved him during a Billboard interview). In August, the young couple released "Live or Die," a duet single featuring the two kissing on the cover. In September, just a few weeks later, things went awry. Xan was seen with a hickey in a Snapchat, and Noah immediately responded on her Instagram story by saying she had been lied to and that her heart was broken. On September 21, her first EP, "Good Cry," popped up, which featured a crying Cyrus on the cover. For 48 hours on a popular e-commerce store PizzaSlime, a bottle of "Noah Cyrus' Tears," was sold for twelve thousand dollars, with the description "made by Noah Cyrus as a result of sadness." On September 8th, Lil Xan seemed to confirm that the breakup was yet another marketing ploy. "Yeah it was pretty staged by the label," he admitted on a podcast, which turns eyes toward Columbia Records.
We can speculate, but not all beef is a stunt. Other rappers have used their genuine feuds with others to market themselves and their brands. In the midst of Drake's anticipated "Scorpion" release, his past came back to haunt him. After years of subtle disses between Pusha and Drake, both music moguls decided that this was the year to take their hatred for one another to the next level. While many thought Drake's release of "Duppy Freestyle," a diss of Pusha, would do the trick by ending the feud, they were caught by surprise. The shot heard round the musicsphere was Pusha's "The Story of Adidion," a diss track in which he revealed that Drake was the father of a secret child with a sex worker. Worse, he disgraced him by choosing a never-before-seen photo of Drake posing in offensive blackface as the album art. The story behind the name holds an even deeper meaning; Drake's secret son's name is Adonis, and Pusha received top-secret word that Drake's unannounced Adidas line was titled "Adidon," whose release he was planning on tying to a personal reveal of his fatherhood. The question on everyone's mind, of course, is how Pusha got the Adidas leak. The rumor? Kanye West, who produces for Pusha and designs Yeezy sneakers for Adidas himself. Ultimately, marketing teams were the real winner in this battle. "The Story of Adidon" and "Duppy Freestyle" were top 10 hits, and Drake's "Scorpion" release and tour are continuing to smash records. Pusha T has become a relevant player in the rap game again, and Kanye will remain king of rap-endorsed sneakers.
With the best for last, ten time Grammy nominee Nicki Minaj and streaming record-breaking "Love & Hip Hop" star Cardi B finally took their beef from rumor to reality at a Harper's Bazzar Icons Party. This fashion week, while Christina Aguilera ironically belted out "Fighter" onstage, Cardi yanked a now infamous red heel off and threw it at one of the many bodyguards surrounding Nicki. While Cardi was taken away by security, Nicki remained calm and collected, and made the feud financial. Less than a week after the beef, Nicki turned to her Beats 1 Exclusive show, Queen Radio, and addressed the situation. The show now breaks Apple records and has gone from a one-time promotional gig to an incredibly popular radio show. During the exact same fashion week, Nicki debuted Diesel denim's "HATE Couture" line, featuring the words "#THEBADGUY" on t-shirts, jackets, and denim, no doubt a play on her recent run-in with Cardi, in which some see her as the enemy. Hours after the attempted fight, Cardi posted a note on Instagram accusing Nicki of "stopping her bags," or telling rappers not to work with Cardi to deter her success. Playing off of this, too, Nicki's fanbase led #NickiStoppedMyBag to be trending worldwide for over two days, which will not bode well for the "Love & Hip Hop" star on the next episode of Queen Radio.
Celebrities of every walk of life have their enemies. Angelina hates Jennifer, and Joanne could not stand Betty, but none seem to profit off of public feuds like rappers. This is not a bad thing by any means- aside from the controversies behind Drake's blackface photograph, these feuds have helped boost artists, sell media, and entertain fans. After all, is that not what we love them for?