A classical comeback: the rise of the orchestra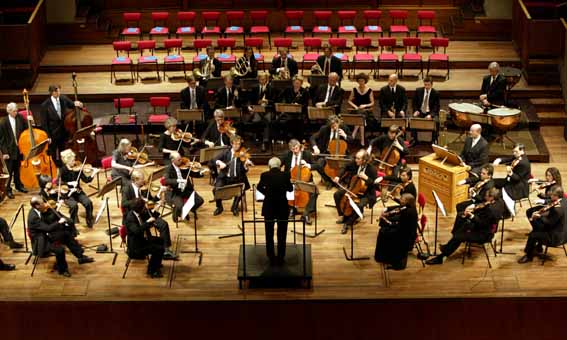 According to the National Endowment for the Arts, classical music seems to be reducing in popularity in the modern era where pop, rap, rock, and country genres dominate the radio. In their 2018-2019 season, the Washington Heights Chamber Orchestra in New York City is changing how audiences view and hear classical music.
They will be celebrating their fourth year of accessible and live music in the Washington Heights community with the theme of collaboration. The launch will take place on Oct. 20, with Blythe Gaissert performing John Corigliano's song, "The Cloisters," Jessie Montgomery's "Records from a Vanishing City," and Beethoven's Second Symphony. The WHCO has a different symphony event once a month and each series promotes different composers from diverse backgrounds. They also host a Young Artists Competition, which offers young classical musicians, ages 13 to 18, a scholarship opportunity of $1,000 as well as a solo engagement with the orchestra for the season. The competition and symphonic events promoted during their term demonstrate WHCO's initiative to promote classical music to a younger generation.
Classical music is relevant in today's society for both the adults and younger generations. A report from the National Endowment for the Arts states that adults attending live classical music performances is down 2.8 percent from 1998 to 2012. According to a New York Times, article titled "A Patience to Listen, Alive and Well," Anthony Tommasini states that live classical performances should get rid of dress codes and possibly "replace some rows of seats at Avery Fisher Hall with rugs and pillows" in order to create an open and inviting atmosphere for new listeners. The WHCO is one of the orchestras who are taking his advice. They promote a free and open environment with an informal dress code for all people to enjoy, not just classical music lovers.
Although there is a stigma surrounding classical music, it is extremely significant for adults and younger people. The Future Symphony Institute states that classical music is relevant in today's society because it enriches the imagination, which helps to "humanize and refine the emotions." Performances of classical music are used to express a feeling or an emotion that could not be put into words, and as a result, it invokes a specific feeling within the listeners. According to the Institute, listening to classical music touches "those layers of inner awareness that we might relate to intuition, dream, instinct, and soul." Hence, the enjoyment of classical music comes from the expressive nature of the piece, and how it makes the audience feel deep inside themselves. Similarly, Tommasini concedes that he had been "routinely struck by how absorbed [young people] become" during performances he had seen. He states that young people are often absorbed by classical music because it invites listeners to focus on every piece of the music and follow it like a narrative. Most people can relate to how a certain song brings them back in time or evokes a feeling of pure emotion, which is why the WHCO and other orchestras are promoting classical symphonies to the general public in innovative ways.
Music streaming services such as Apple Music, Tidal, and Spotify are ways to engage a younger audience who are just starting to listen to classical music. For example, Spotify curates different types of classical music playlists from a large catalogue of songs and artists. In their "Mood" section in the Browse tab, there are playlists titled "Piano in the Background," "The Most Beautiful Songs in the World," "Calm Vibes," "Lost in Space," "Dark & Stormy," "Autumn Lounge," and "Easy Classical." The different types of playlists made by company employees ensure that anyone can listen to specific classical songs that suit their mood. Additionally, their "Focus," "Chill," "Sleep," and "Classical" sections are filled with even more curated playlists for users to choose from, which allow them to figure out.
Moreover, IDAGIO is a premium app that only catalogues a large collection of classical music.   The interface lets the user organize music by the work, not by track, allowing users to compare recordings of a specific work or browse different interpretations. In addition, orchestras, soloists, composers, conductors, and compositions each have their own page, which allows the user to explore their works, listen to curated playlists, compare recordings of a piece, or try another epoch of classical music.
In the age of the Internet, it has never been easier to discover new songs or find new artists, and now classical music is only a download away. Services such as IDAGIO and Spotify are extremely helpful in attracting a new generation to appreciate classical music, other than as a background sound to studying. In fact, the Washington Chamber Orchestra promotes interactive events for children and adults during the spring in order to attract those that do not often listen to classical music. On April 27 at 11 a.m., the WHCO is hosting an interactive concert for students in kindergarten through fifth grade at the Fort Washington Collegiate Church.   Additionally, they are hosting an interactive concert for adults on May 13 at 3 p.m., with Suite Francais and Philip Lasser, where they will be examining works of French and American composers. The addition of interactive classical music in an inviting setting has allowed the WHCO to create new ways to captivate children as well as adults, and to demonstrate the relevance of classical music in contemporary society.

Date
Performances
Place
Saturday, October 20 at 3:00 pm
Blythe Gaissert is performing John Corigliano's song-cycle "The Cloisters," Jessie Montgomery's "Records from a vanishing City," and Beethoven's Second Symphony.
Fort Washington Collegiate Church

729 W. 181st St., New York, NY 10033

Saturday, November 17 at 3:00pm
French composer Louise Farrenc is performing with the principal woodlands.
Fort Washington Collegiate Church
Saturday, December 15 at 3:00pm
WHCO is performing "Too Hot to Handel," a jazz-gospel re-imagining of Handel's Messiah, originally conceived by Marin Alsop and the Baltimore Symphony, with collaboration with Fort Washington Community Choir.
United Palace of Cultural Arts

4140 Broadway, New York, NY 10033

Saturday, January 19 at 3:00pm
The WHCO is performing a bilingual version of Igor Stravinsky's "A Soldier's Tale" with new original choreography by Billy Smith of the Mark Morris Dance Group.
Fort Washington Collegiate Church
Saturday, February 23 at 3:00pm
The concert features works by Kenji Bunch, Toru Takemitsu, Karen Tanaka and Christopher Theofanidis, with featured guest Tampopo Ramen, and feature music written and influenced by Japan and Japanese-Americans.
Fort Washington Collegiate Church
Saturday, March 23 at 3:00pm
The WHCO is performing a concert featuring music by Michael Torke, Anna Clyne, Benjamin Britten, and the Symphonic Serenade of Erich Korngold.
Fort Washington Collegiate Church
Saturday, April 27 at 11:00 am
The WHCO is putting on an interactive concert for students in Kindergarten through 5th grade, titled "The Mighty Cacophonous Orchestrasauras."
Fort Washington Collegiate Church
Saturday, May 18 at 3:00pm
In an interactive concert for adults, Suite Français and composer Philip Lasser are performing a lecture concert exploring the influence of Nadia Boulanger. The WHCO will examine the works of French and American composers who share a connection through Boulanger's teaching.
Fort Washington Collegiate Church
Saturday, June 15 at 3:00pm
The conclusion of the season begins with Puerto Rican-American composer Angélica Negron, and she will perform Robert Schumann's 2nd Symphony.
Fort Washington Collegiate Church