Your guide to everything RuPaul's DragCon
RuPaul's Drag Race lovers, start your engines! Over the last weekend of September, WOWPresents hosted yet another RuPaul's DragCon in New York City at the Javits Center. DragCon occurs twice a year, once in Los Angeles, and once in New York. After another incredibly successful convention in LA this year, NYC DragCon was advertised all across social media as being even bigger than last year. One of the main appeals of this year's NYC convention is the fact that it was three days instead of the usual two. Friday was put in as a "preview night," which only added more excited energy to the whole event.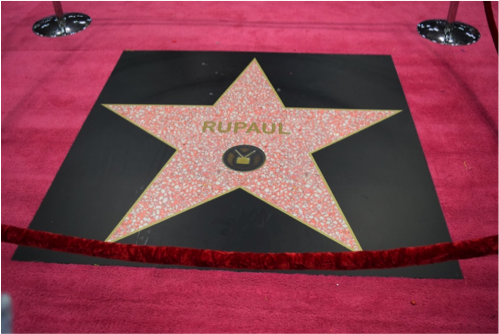 University students agree that this event as a whole was very uplifting. According to Eddie Warner, University freshman, his experience was "absolutely incredible." "I've been to LA DragCon three times now," said Warner. "While LA was slightly bigger and had more vendors and queens, the vibe in NYC was by far more accepting and inclusive!"
The three-day event was jam-packed with plenty for Drag Race fans to do. The venue was full of booths with everyone's favorite queens, some with lines wrapping halfway around the room. Each queen also had a theme for her respective booth. A few highlights included season ten reigning Queen Aquaria, who had an underwater theme with blue curtains and serpents, Alyssa Edwards (season five), who had a tropical-themed booth filled with huge palm trees, and Kim Chi (season eight), with casinos and poker cards in her Vegas-themed booth. DragCon also had a section filled with fun backgrounds, perfect for photo shoots. Fans could sit in the chairs of the Bossy Rossy show, visit the library to read the house down, or walk RuPaul's iconic runway, and more.
Not only did fans have the opportunity to meet and interact with their favorite contestants, they also got to see them in action. Several panels were present throughout the weekend, in four different rooms appropriately named Charisma, Uniqueness, Nerve, and Talent. Fan favorites Trixie Mattel and Katya Zamolodchikova hosted a panel based on their popular YouTube series, which they announced will be revived in late October.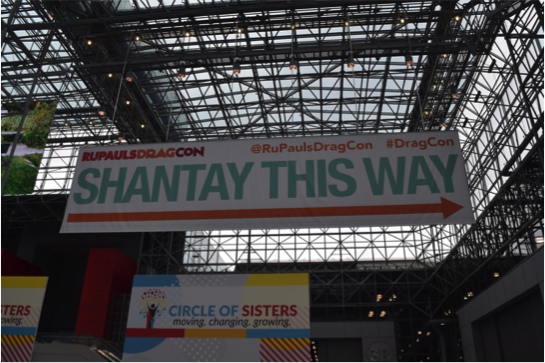 Season ten Queen Miz Cracker showed off her hairstyling skills alongside fellow contestants Blair St. Clair and The Vixen in her hilarious panel, "Jewtorials." These ladies showed everyone how to keep your hair (or your wig) looking fierce and fabulous at all times. The legendary RuPaul himself sat down with his best squirrel friend and fellow Drag Race judge Michelle Visage, in a panel called "What's the Tee?" based on their popular podcast.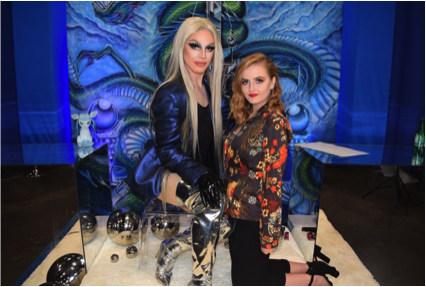 The queens weren't the only reason as to why fans were so eager. On the second day of the event, popular YouTube makeup guru James Charles posted all over social media that he would be attending as well. Charles appeared at the convention in full drag, taking countless pictures with both fans and queens. He recently posted a video documenting his experience dressing in full drag for the first time and getting the opportunity to go to New York for DragCon.
Fans also had the opportunity to meet Katastrophe Jest, a popular 16-year-old drag queen. "My DragCon experience was amazing! I got to see so many of my friends and make new ones," said Jest. "I felt so happy because I was finally surrounded by a group of people who understand me. At school I'm very shy and I don't talk to anyone. In drag I feel so confident."
Many of the queens used the event as the perfect opportunity to sell new merchandise, posters, and other heavily anticipated products. All-Star winner Trixie Mattel officially launched her eye shadow palette and lipstick through the brand Sugarpill, and season seven Queen Miss Fame introduced a brand new line of lipsticks. Fans were very excited for these new products from their favorite stars. Other smaller queens had booths as well, many with setups to take pictures with fans, and others to sell their products. Booths around the convention were selling every drag essential under the sun: wigs, makeup, decorative paper fans, costumes, and art.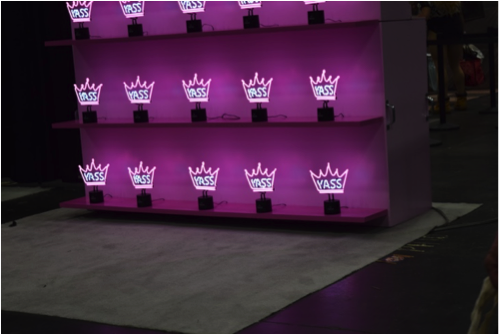 This year's NYC DragCon seemed to live up to expectations. For being so enormous and packed with people, it was run very well by the staff. It was chock-full of happiness, excitement, inclusivity, art, and lots of love. Every attendee was encouraged to express themselves as much as they wanted to. Heels were high, and confidence was higher. Bridget Fitzpatrick, University freshman, said, "I loved the entire environment and I felt so welcomed and accepted and free there," said Fitzpatrick. "My favorite part was how amazing the queens were when meeting them!"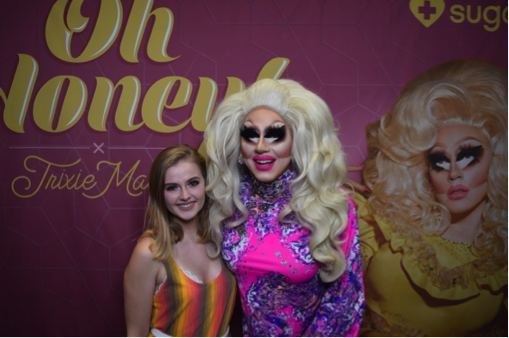 DragCon will be sure to return for another event next year. "It was one of the craziest, best weekends of my life," said aforementioned Warner, University freshman.