Recapping the gubernatorial debate
For what is the first, and probably the last time ever, incumbent Governor Andrew Cuomo and Republican candidate Marc Molinaro faced off in the gubernatorial debate that aired on CBS on Oct. 23. In what became quite a heated exchange, the pair were asked questions regarding the following subjects: the cost of living and tax relief, waste in the MTA budget, the state ethics commission, the criminal justice system, health care, the opioid crisis, medical marijuana, and charter schools, among other things. While the candidates attempted to answer these questions, their responses for voters whose voting decisions would be shaped by this debate left much to be desired.
The New York Times put it succinctly when they wrote that Cuomo acted like "the front-runner that he is." The governor, they said, "with all the benefits of incumbency, faced no such pressure [to use the debate as a platform for his policies.]" In his responses, Cuomo focused mostly on what he and his administration accomplished over the past seven years, yet neglected to clearly delineate what his plan would be should he win office for his third term.
Molinaro, as the executive of Duchess County, had a lot more riding on this debate, as this was one of the only chances he had to appeal to the entire voter base and reinforce his policies. However, as Cuomo's backward-looking responses were ineffective, so were Molinaro's strategies to criticize Cuomo's leadership. The incumbent governor took up a considerable amount of air time recounting his achievements, some of which the Times later fact-checked proved to be false, while Molinaro used the time that he had to condemn Cuomo's approach during his term to the issues brought up in debate—a strategy that would have been effective had Molinaro provided clear, salient solutions of his own for those problems.
Voters, especially those at the University, are not likely to have found these approaches useful as Election Day neared and decisions had to be made. For example, on why New York was so rigid when it came to medical marijuana, Cuomo placed the blame on his opponent for voting against legislation that would have legalized it. Molinaro rebutted, saying that he is in favor of it now, though he wasn't when he served in State Assembly. For voters who rely on medical marijuana and want to learn more about the future of marijuana use when it comes to the law, this back and forth might seem ineffective.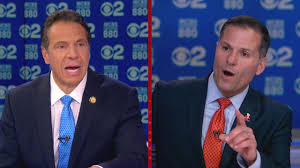 Credit: CBS News
To answer the question about waste in the MTA budget, which affects the majority of voters and nearly all of the University community, Cuomo said he wasn't afraid of "angering unions" and that "we can do better" about the waste and abuse in the MTA program. Molinaro criticized Cuomo's handling of the MTA, citing on-time rates declining and inaccessibility of subway platforms for people who use wheelchairs as consequences of the budget problems, and said he would "take ownership" and "wipe clean those people who are in leadership today who have entanglements and conflicts of interest."
When the debate came to a question about single-payer health care, Molinaro said that New York state could not afford the tax increases that would come with a state-sponsored health care system. Cuomo's rebuttal consisted of accusing Molinaro of siding with President Donald Trump, saying, "They think if you're rich, you should be able to have health care. If you're poor, good luck, don't get sick." Molinaro responded to Cuomo's statement, remarking that he came from a low-income background and wanted to "do more to ensure that the system more effectively assists those struggling and those who are poor because I've never forgotten where I come from."
At the debate's close, the opponents were asked what songs they would each use to represent their campaigns. Cuomo responded with "Empire State of Mind" by Jay-Z and Alicia Keys and Molinaro said he would choose "Don't Stop Believin'" by Journey, which was certainly an unusual ending to a tense hour of debate.