Cory Booker announces 2020 campaign
On Feb. 1, 2019, the first day of Black History Month, New Jersey Senator Cory Booker officially announced his run for the 2020 presidential race as a Democratic candidate. Booker has been serving in Congress since 2013 following a stint as the mayor of Newark from 2006 to 2013.
"The lines that divide us are nowhere near as strong as the ties that bind us. When we join together and work together — we rise together," Booker said in his campaign video. He is most known for his efforts to end the drug-abuse epidemic and help repair criminally active areas, as well as aiming to fight off slumlords in Newark. "I am the only senator that comes home to a low-income, inner-city community, the first community that took a chance on me."
I'm running for president. Join me on this journey. https://t.co/fEDqOVIfwh pic.twitter.com/h1FTPUYRzo

— Cory Booker (@CoryBooker) February 1, 2019
Aside from social and criminal justice reforms, Booker has made strides to decriminalize marijuana at the federal level. In 2017, long before announcing his run, he introduced a bill pushing states to legalize marijuana and punish states that had "especially restrictive marijuana laws." The senator has also pushed for a job guarantee program and a 'baby bonds' bill to reduce income inequality. This bill is aimed towards low-income children and provides them with a set amount of money for their future, whether it be for college tuition or purchasing a home. Booker was one of many to sign Sen. Bernie Sanders' Medicare-for-All plan. Booker also recently supported the Green New Deal, proposed by Rep. Alexandria Ocasio-Cortez.
While people nationwide struggle to decide on a Democratic candidate for the presidential election, students at the University, many of them from the tri-state area, have expressed their views on his decision to run. "I'm very excited to see that Cory Booker is running! I've always agreed with the vast majority of his policies, but more importantly I have total confidence in his integrity and in his strong morals," University sophomore Julia Rourke said. "I'm looking forward to seeing what ideas he brings to the forefront of public discourse with his campaign!"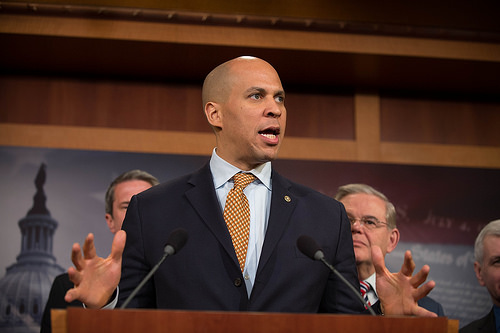 Booker is the second person of color to announce his campaign following Sen. Kamala Harris (D-Calif.), who announced she was running for president on Martin Luther King Jr. Day. The Black Student Union on campus weighed in, sharing, "BSU does NOT support Senator Booker's decision to run for president, we do not feel he has the proper qualities to hold the position of chief in command." BSU continued,"Also, we want to HIGHLY express that all kinfolk ain't skin folk, meaning that just because he is a black man, it is not guaranteed that he has the best interest of the black community in mind."
Although timing is everything in politics, it is unclear whether or not Booker intentionally announced his campaign on the first day of Black History Month. Regardless, he has become one of the most high-profile Democrats in the Senate and is heavily regarded as one of the leading contenders for the presidency in 2020.
Credit: BLOOMBERG