Active Minds hosts Dear World storytelling event
On Oct. 16, the Active Minds chapter at the University partnered with Dear World to host a photography and storytelling event. The event took place from 11 a.m. to 6 p.m. in the Dezer Den, also known as the basement level of 41 Park Row. 150 University students attended the event to have their photo taken.
"Dear World is a nonprofit focused on storytelling and bringing up mutual connections," said Zuher Ibrahim, president of Active Minds. "You have someone writing on you, and you have someone helping you figure out what to write on yourself."
After students swiped into the event, they were asked to think of a phrase or quote they'd like to have written on their body. From there, the event volunteers, known as story guides, would write the phrase on the skin of the student using a washable marker. Story guides were incredibly friendly and spoke to the students while writing, focused on forming a connection.
"People are either writing empowering statements or statements that have been seen as negative and try to make it positive," said University freshman Chloe Guerrera. "I got 'we're gonna be alright'."
Next, students would head to the photography station, where professional Dear World photographers would lead a shoot. Each shoot lasted roughly three minutes, and several photos were taken. The photographer asked students why they chose the quote that they did, which created a relaxed atmosphere so they'd be more natural in front of the camera. Finally, the student would enter their email and quote onto an iPad so they could receive their photos later. Photos were sent out to students a week after the event.
Guerrera added, "[The event] really forms community and you get to learn others' stories and support them."
University junior Kacey Riordan also attended the event to have her photo taken. For her quote, she chose "You can't make fire feel afraid," which is a quote from Jesse Parent's poem "To the Boys Who May One Day Date my Daughter." Riordan read the poem in one of her classes, and the words have stuck with her. When asked about Dear World, Riordan said, "It's really empowering in a way that people are able to share their truths."
When asked about the future of Dear World at the University, Ibrahim said that she hopes Active Minds will continue with the program next year, as she is graduating. She hopes they "make it a campus initiative with the Student Government Association." Ibrahim continued, "People need to be telling their story and really communicate to people what they're about in a raw way."
Ibrahim hopes that the Dear World event communicates to students that they should "never be afraid to tell [their] stories."
About the Contributor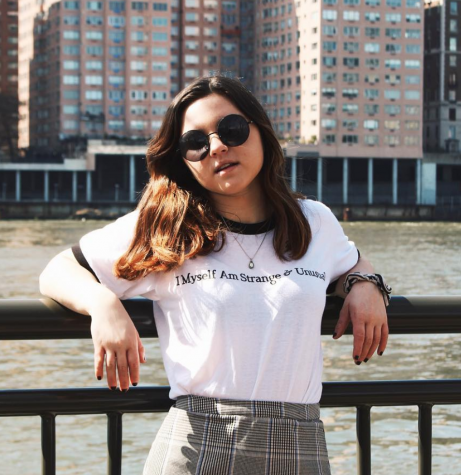 Kelsey Tice Nicholson, Editor-in-Chief
Kelsey is a graduate of Pace University, with degrees in Communications and English with a concentration in Creative Writing. She has a minor in Digital...