Frank Ocean launches queer nightclub
Pop/R&B singer Frank Ocean has launched a queer club at The Basement in Flushing, Queens titled PrEP+, named after the HIV prevention drug. The night of the launch featured music by Bouffant Bouffant, Justice, Sango, and Sherelle, and in Ocean's own words, paid "homage to what could have been of the 1980's NYC club scene if the drug…had been invented in that era." The club follows a few very simple rules: no photos or videos are allowed, consent is necessary, there is no tolerance for bigotry, and the dance floor is strictly for dancing. Despite these rules, leaked footage of the night conveyed a sense of community and acceptance. People were also able to hear unreleased music from Ocean and friends.
However entertaining the night seemed, the club has been met with backlash from the LGBTQ+ community. They're concerned with Ocean's use of queer history as a "publicity stunt," as the launch occurred close to Ocean's freshly released single, "DHL." There was also a lack of queer artists on the night's DJ lineup, and the crowd was predominantly straight and cisgender.
Many community members also had issues with the club's mission statement as a whole, claiming that attempting to erase a part of history as crucial as the HIV epidemic is more damaging to the culture's history than it is beneficial. In response, Ocean took to social media the next day, stating that in his experience, pre-exposure prophylaxis did not have as much awareness in the LGBTQ+ community as he'd hoped it would. "My ex who I was with for several years didn't know about it when we first met at a gay club in LA," Ocean said on his Tumblr page. Ocean returned to the club a week later with another night of music, though he was still facing criticism of PrEP+'s debut night.
On Oct. 24, Ocean posted about the club's return, featuring a lineup of queer artists. Iconic electronic artist Arca, Brooklyn native Papi Juice and DJs Shyboi and Leeon were all on the roster to spin the music for the night. While the night was still announced with very limited RSVP spots, the event was far more accessible to the public than the club's debut night.
Upon arrival, the venue was not discernibly different from its usual set-up. The Basement usually has a raw-techno atmosphere. Upon entering, partygoers walk down a ramp into a dark, foggy room with an open concrete dance floor and cinderblock pillars. The scene lived up to its name: The Basement. Ocean and his team did not make many aesthetic changes to the venue besides some rave lighting and an invisible ink entry stamp reading "FUTURE OF THE WORLD."
Many notable celebrities were in attendance, including Spanish singer Rosalía, Brockhampton members Kevin Abstract, Bearface, Romil Hemnani and of course, Ocean himself. At some point, producer and Blonded Radio host Vegyn hopped on the tables for a surprise DJ set, many excited to hear what he had to play in anticipation for his debut album on Nov. 8, "Only Diamonds Cut Diamonds."
As for the rest of the music, every other DJ provided the perfect soundtrack for the crowded yet manageable dance floor. From deep traditional house music to Basement Jaxx's electronic-rock hit "Where's Your Head At," the attendees rarely left the dance floor, except to quench their thirst at the bar or step into the outdoor area to catch a breath of fresh air.
The premiere of Ocean's cover of the well-known SZA song, "The Weekend," kept partygoers on the dance floor. A notable moment of harmony was when those on the dance floor began swaying and singing along as Ocean sang, "You're like nine to five, I'm the weekend / Make him lose his mind every weekend." Guests basked in this moment before deep techno drums cut back into the cover and feet started moving rhythmically once again. The club slowly began to clear out around 3:30 a.m., slightly before the event's conclusion at 4:30 a.m.
It's not difficult to tell what Ocean was going for with the launch of this club: illustrating a world in which the LGBTQ+ community was never damaged by the HIV epidemic, and posing the question of how much more efficiently the community could have progressed if it weren't for the restriction that the epidemic had placed upon it. It's a queer-futurist celebration of sorts, and it's bittersweet to imagine a world in which this could have been possible.
On the other hand, it is completely rational to be hesitant in backing such an endeavor, as the HIV epidemic wreaked havoc on the community and culture as a whole, making it a crucial part of LGBTQ+ history. It's important to learn and grow from such grim instances rather than to neglect and try to erase.
Although Ocean redesigned his lineup to include more queer artists after receiving scrutiny, the crowd itself still seemed uninterested in the mission statement of the event and more interested in Ocean as an artist. This, to an extent, is out of Ocean's control, because with opening a club to the public comes the attendance of people who are strictly focused on the scene rather than the culture.
However, with the trajectory of Ocean's PrEP+ club idea, it's entirely possible for him to create something beautiful here after working the kinks out, and hopefully form a space in which members of the targeted community can gather to feel safe, to feel accepted, and to feel surrounded by those who find comfort in these feelings as well.
About the Contributor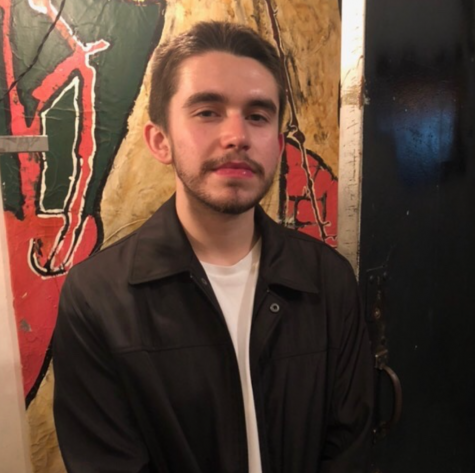 Bart Carmody, Arts Editor
Bart is a current senior at Pace University. He is majoring in Communications Studies with a minor in journalism. Bart began as an arts writer in the 2018-2019...