Star power and politics: celebrity endorsements
With the presidential election coming up in November 2020, people throughout the country are beginning to make it known whom they are supporting and why. Many Americans form political opinions based on their environments growing up. Those opinions often further solidify after learning about the U.S. government in school. However, other factors often contribute to an individual's political stance. Celebrity endorsements of political candidates are one such factor and have more sway than you might think.
Many celebrities have recently made it known whom they support in the 2020 presidential election. Ryan Reynolds, Amy Schumer, Bette Midler, Shonda Rhimes and Jane Fonda have donated to Elizabeth Warren's campaign. Jonathan Van Ness and Scarlett Johansson have also confirmed their support for her in the 2020 election.
Other stars like John Mulaney, Cardi B, Danny Devito and Susan Sarandon have given their support to Bernie Sanders. Pete Buttigieg is backed by Seth Macfarlane, Gwyneth Paltrow and Jane Lynch.
Celebrity opinions have a surprisingly heavy influence on fanbases and followings. University sophomore and Political Science major Alexa Sabatini said, "I think as a celebrity or other public figure, you have a certain kind of power and influence that not even candidates have. Therefore, I think celebrities have the perfect platform to advocate for a candidate who can support those beliefs. These celebrities are also often able to raise more awareness and promote political engagement from a fanbase who can be unaware or uneducated."
Alternatively, who a celebrity supports may have the opposite effect, causing a fan to lose respect for said celebrity based on their political leanings. Recently, a video of Ellen DeGeneres defending her friendship with former POTUS George W. Bush circulated after the two were seen sitting next to each other at an NFL game.
"A lot of people were mad," said DeGeneres. "I'm friends with a lot of people who don't share the same beliefs that I have. We're all different, and I think that we've forgotten that that's okay that we're all different." DeGeneres continued, "Just because I don't agree with someone on everything doesn't mean that I'm not going to be friends with them."
DeGeneres received backlash for this statement and friendship. Fans were confused as to how an openly gay liberal could associate with a former Republican president and war criminal.
University sophomore and Political Science and Econ double major Ersa Lybesha said, "Like any other person, celebrities have the right to share their political opinions—they shouldn't keep it hidden. However, I think it's important to think about the influence these opinions may hold since many of these celebrities have a lot of followers. Fans need to be aware that just because your favorite influencer or celebrity has a certain opinion, that doesn't mean that you need to go and have that same opinion. You should be doing your research and you can use the opinions of celebrities as a starting point to educate yourself. But at the end of the day you need to be holding opinions that you truly believe in, not just what your favorite celebrity believes in."
Lybesha continued, "Celebrities, when sharing their opinions…should encourage people to educate themselves on certain issues or topics so they can make the most informed decisions when voting."
About the Contributor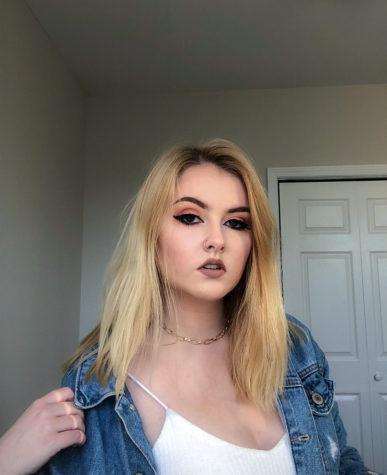 Grace Potter, Executive Editor
Grace Potter is a senior Communications Studies major at Pace, with minors in Photography and Fashion Marketing. She served as the features editor for...