Learn about up-and-coming streaming app: An interview with Quadio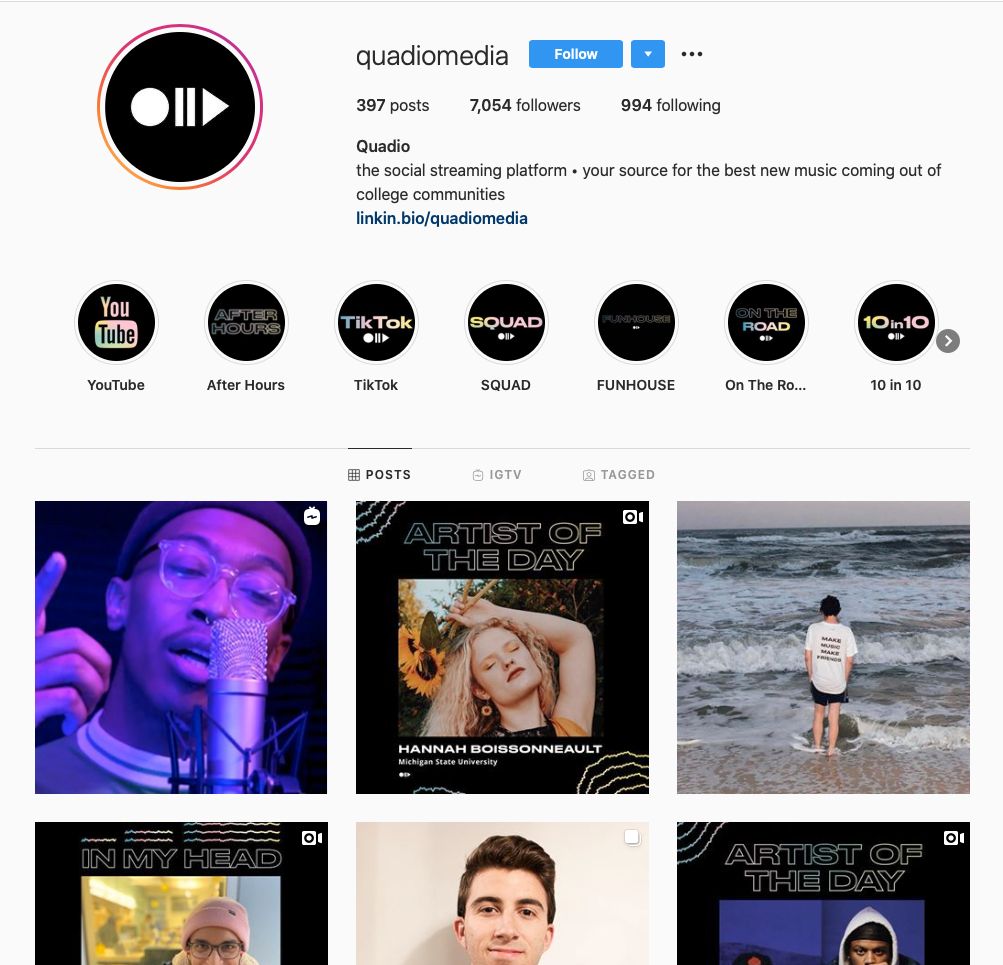 For student artists and musicians alike, there seems to be a common challenge of how to connect and collaborate with other artistic students. Quadio is a new social streaming platform that allows students to meet other artists and musicians from numerous universities. Last week, The Pace Press interviewed Ophie Mazza, a member of the artist relations team at Quadio, to find out more about Quadio.
Naomi Bitton: Hey Ophie! For those who don't know, what is Quadio?
Ophie Mazza: Quadio is a social music platform that uniquely combines music streaming and discovery with social media and colleges. Emerging artists have a difficult time targeting their listeners and we believe that by localizing music to your university there is a better chance of people from your school communities to hearing your music and sharing it. It is also extremely difficult to get in contact with other people making music or photographers unless you're already in the creative scene. There are a lot of people that want to break into that but may not have the knowledge or connections to, which Quadio can help. For the average user or listener, we wanted to connect the school communities in a way that hasn't been done before. You should be able to walk onto campus on the first day of class and see an incredible musician that you can support and recognize. For those looking to collaborate on unfinished work, we even have a work in progress tab where artists can upload unfinished work and tag what they are looking for, like a producer to help them or a specific musician.
NB: Can you tell us about yourself and what role you have in the Quadio team?
OM: I am the senior artist relations manager here at Quadio. My role is to scout out new artists in the Northeast. I was part of a six-person team that was sent out on a major road trip for 4-5 months to visit universities throughout the U.S. We introduced students to Quadio and worked to sustain relationships with these students. We are based out of Manhattan and look forward to continuing meeting and developing relationships with student artists around the U.S.
NB: How can students start an account on Quadio?
OM: Anyone with a .edu email address is able to make an account. The .edu will connect you to your school community so it's easy to connect with fellow students and alumni. At the moment, Quadio is in closed beta move so you must have an access code to join. You can get an access code from either myself/someone from the Quadio team by DMing us on social media (@QuadioMedia). Any campus rep, artist, or user that currently uses Quadio can also give you an access code. There isn't an exact launch date yet, but we plan to officially launch to everyone with an .edu email by mid-March.
NB: What was your marketing strategy when you drove across the U.S? How did you find and reach out to students?
OM: A lot of companies pool most of their money into target advertising but what all six members of my team did was go on every aspect of social media, whether it was TikTok, Spotify, Twitter or Facebook and try to find the artist on Instagram and direct message them. We definitely missed opportunities with artists that either didn't respond to us or responded too late, but I think when you're inclined towards promoting your artwork you're more perceptive to strangers kindly reaching out to meet you in person. We also tried to show support for many students by going to their shows and listening to any music they sent us!
NB: Who is Quadio for?
OM: Quadio was built for college students, but there are many users aside from students. We have a lot of alumni on Quadio. People who have an alumni.edu email or access to their old university account can access our platform. We also try to be as welcoming as possible to anyone wanting to use the app. For example, if someone in your band does not have an .edu email you can reach out to Quadio to see what can be done and how that person can get access. We currently are connected with countless schools across the country and look to continue expanding. We want to make it easy for anyone to collaborate with others.
NB: What's the next step for Quadio?
OM: We are planning to launch our open beta where anyone with an .edu can make an account. We are hoping that this will connect people in a healthier way than some other platforms out there. We hope that people will support their friends, especially those that would like to go into more creative industries. We want people to explore what's out there. I genuinely believe that there are people with real talent trying to share their music but without the tools to do so. We want people to express themselves in a healthy way.
NB: How did Quadio start?
OM: Quadio was founded by three very close friends in October of 2018, so it is a young company. In fact, the Chief Executive Officer and the Chief Commercial Officer are cousins. The CCO is also an EDM producer himself. He went to Williams College and tried to find people to collaborate with while attending but had a difficult time. He came up with this idea of connecting with artists and musicians regardless of where they are within school communities. He and his cousin, Marcus Welch who is our CEO, started this business together. What's also unique is that almost everyone in this company is an artist or musician in some capacity. We're all very aware of the unique problems artists and musicians are facing and we're trying to provide solutions while connecting this music industry.
NB: Is there anything you would like to add?
OM: I just want to add that when I visited and met the Pace community I really enjoyed it! All of us at the Quadio team are looking forward to everyone joining because we truly saw so much talent there. We met with the record label and individual artists who we hope will support us and try Quadio out for themselves!