Performing on Zoom is not easy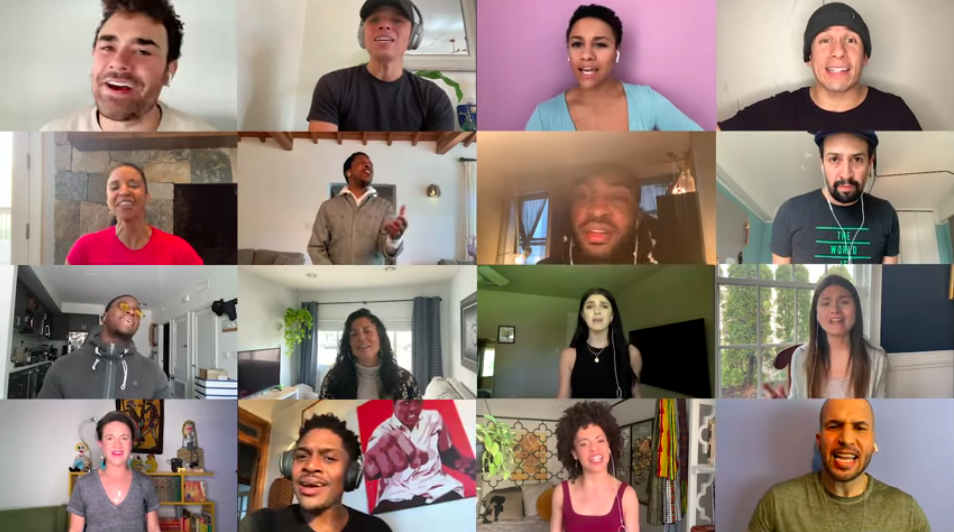 Due to the coronavirus, the University has transitioned to remote learning for all students. For countless students in the Lubin School of Business, Dyson College of Arts and Sciences or Seidenberg School of CSIS, this means attending general lecture classes online. However, for students in the Pace Performing Arts program, online classes are far different from their norm. Attending dance classes in a large studio, practicing dialogues, or directing performances are lessons that can be more difficult to learn at home. The Pace Press interviewed several PPA students to understand how transitioning to remote learning is like for them.
As a Musical Theater major, University freshman Ricardo Lopez Montilla experiences how remote learning entails various benefits and challenges. Montilla said, "Recording ourselves singing, dancing and acting is such a different challenge than performing live because the pressure is lessened by the fact that we can start over and film again if there is something we don't like. This seems like it could be useful, but for most performers, myself included, this just means that we record a song or dance dozens of times, and take up exponentially more time than if we were to perform once."
Montilla also weighed in on some benefits for Musical Theater majors, stating that, "the [musical theater] industry is doing more and more online auditions nowadays, and we are practicing that skill much more frequently than before, which is useful. What we get in the end is maybe more polished, maybe less natural. It really depends on the person and what their relationship is to the camera." Montilla also compared the matter to someone trying to take a photo, saying, "Students take a bunch of selfies and post just one—it's the same thing with video performances."
The Pace Press was also able to hear insight from University senior Sherena Medford, a Commercial Dance major with a double minor in sociology/anthropology and urban studies, on multiple aspects of PPA's online learning. "First of all, being a performing arts student at Pace comes with many benefits that we don't take for granted, such as our studio spaces and faculty! Having our own building, we call the PAB (short for performing arts building), has become our home where we train, learn, and grow for countless hours of the day," Medford said. "But that's the beauty of our craft: we get to be passionate, inspired, and motivated all day, every day!"
Medford continued, "When the University said that we would be transitioning to online classes, all of PPA was shocked. We didn't know how that could be possible for us. We thought, 'Well, this is the end of our training.' Especially being a senior, we thought once we were advised to go home, that this was it, this is how we end our four years of hard work, which isn't ideal."
"Dancers such as me are doing the best we can to adjust but are finding it difficult to stay motivated and give our full energy to dancing on Zoom," Medford added. "We were overwhelmed the first week with waking up for our dance classes on their usual time and trying to learn via video rather than in person. This is a difficult learning process for us and with our limited to no spaces and uncontrollable distractions."
Commercial Dance majors, in particular, are at a greater disadvantage when adjusting to remote learning. Medford gives insight into the unique challenges of classes online, "It's been a struggle when the WiFi causes Zoom to glitch so the music or video lags and every second. We get fumbled on doing the movement because we either can't hear the music, our professor's corrections, or we can't see the training video properly."
When asked about the structure of her classes, Medford went on to say that though it varies, some instructors ask students to learn choreography by themselves and report back footage of their performance for a final grade. Medford commented on this teaching method by saying, "This isn't ideal, because we can only do much with the space given in our homes. We aren't students who only learn from textbooks and written assignments, we learn from seeing, from doing, from putting in the actual physical work and from feeling the technique ourselves."We are all trying to stay positive and stay motivated to be better and finish this semester strong!"
In order to stay home and healthy, much of the PPA experience been sacrificed. Medford concluded, "Our performances for the spring semester are obviously canceled and some may be postponed but for our seniors and myself, we close this year with not completing our last shows," Medford explained. "It's sad, and I know we've all taken a minute to reflect on this and accept that this isn't the end we wanted but hopefully we can come out of this, online learning experience with something to gain, to make us better artists."
University sophomore and Stage Management major Anna Lieberman offered her insight on how her required classes have changed for all students of the same major. "Multiple new applications and supplies were required when we transitioned to remote learning. All required supplies were brought home (e.g. foam core, cutting mats, watercolors, and paper)," Lieberman said. "It is hard to learn something like lighting design and programming when you don't have an ETC board or a grid with hanging lights in your home. I am also taking an acting class…the class was practically cut in half. We are now meeting via Zoom and working on monologues rather than scene work. To replace all the scene work we are missing, we are now just given writing assignments."
Lieberman then commented on her challenges with online classes, including the time difference she must work out, as she lives on the West Coast. "I think the biggest con regarding online classes is the lack of communication," Lieberman said. "Communicating strictly via email is difficult especially when you don't live in the same time zone as your professors. They don't take it into account that I am three hours behind. The amount of emails, meetings, and assignments I have missed is ridiculous due to an email coming in while I'm asleep with the expectation [that] I am awake at 8:00 a.m., EST."
Lieberman continued, "I think the hardest part about being a PPA student is that a large part of my semester is the grade and review I receive from putting on a show. Now that all shows have been canceled, one of the biggest learning experiences Pace has to offer its performing arts students has been taken away. A lot of PPA is taught and learned by doing. It's hard to learn how to properly stage-manage a show outside of the rehearsal room."
Though many students are having a challenging time adjusting to the coronavirus, it is important to recognize that this period of remote learning cannot last forever. As students, we must work to change our learning techniques to ensure we are gaining as much from our education as we can. Despite all students being presented with benefits and challenges, students enrolled in Pace Performing Arts are ultimately challenged with a greater obstacle by having to perform at home.