Jonathan Majors charged with assault and harassment in Manhattan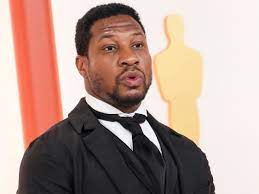 Actor Jonathan Majors was arrested in Chelsea on the morning of March 25 and was later charged with multiple misdemeanor counts of assault and harassment during his arraignment on March 26 following a domestic argument with a 30-year-old woman. 
An NYPD statement obtained by CBS News stated he was taken into police custody in Manhattan after his arrest on suspicion of strangulation, assault and harassment. He was charged with "three counts of assault in the third degree, aggravated harassment in the second degree, three counts of attempted assault in the third degree and harassment in the second degree," according to court documents obtained by People. The woman involved in the incident experienced minor head and neck injuries and was taken to the hospital shortly after police arrived.
Although Majors was officially charged following his arraignment, the "Creed III" and "Ant-Man" star denied any wrongdoing; his defense attorney, Priya Chaudhry, claimed that the actor was innocent. In addition, she added that "all the evidence proves that Mr. Majors is entirely innocent and did not assault her whatsoever." Chaudhry also alleged that the woman involved in the dispute was having an emotional crisis at the time.
In a statement obtained by CBS News, Chaudhry stated that "[the] evidence includes video footage from the vehicle where this episode took place, witness testimony from the driver and others who both saw and heard the episode and most importantly, two written statements from the woman recanting these allegations." 
Majors was released on his own recognizance after prosecutors from the Manhattan District Attorney's Office requested that the actor be placed under supervised release following the charge. The judge also granted a limited order of protection for the woman involved.
Variety reported that Majors was involved in two commercials for the "Be All You Can Be" campaign for the U.S. Army that was to be featured heavily during the NCAA March Madness tournament as a way to boost recruitment. Following the charges, however, advertisements that featured Majors for the U.S. Army have been pulled from airing. The Army Enterprise Marketing Office public affairs chief, Laura DeFrancisco, clarified to Variety in a statement that "while Mr. Majors is innocent until proven guilty, prudence dictates that we pull our ads until the investigation into these allegations is complete."
Majors began his recent rise to fame after starring in films in the Marvel and "Creed" franchises, which were both released in theaters in early 2023. At the time of writing, the actor is still set to appear in "Avengers: The Kang Dynasty" for a theater release in May 2025.
Majors is scheduled to appear in court on May 8.