Trump's arraignment sparks protest and celebration in Lower Manhattan
Former President Donald Trump was arraigned in the Manhattan Criminal Courthouse on April 4, 2023, provoking New Yorkers to rally outside of the Lower Manhattan courthouse in anticipation of his arrival.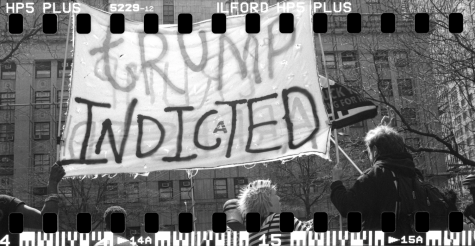 The night before his trial, Trump was staying in Trump Tower on 5th Ave. before arriving in court the next day at 2:15 p.m. According to CNN, only five photographers were permitted to photograph Trump and the court prior to the arraignment, with broadcast material prohibited throughout the hearing. The case entails several charges related to business fraud, including payments in 2016 to silence adult film star Stormy Daniels.
Republican Rep. Marjorie Taylor Greene appeared in front of NYC crowds late Tuesday morning. Rep. George Santos was also caught in the protests, according to CBS News. Even though she was met with disapproval amongst the masses, Rep. Greene stated that Trump is a "top Republican candidate for president for 2024."
At 1:00 p.m., heavier crowds started to congregate around City Hall. The sidewalks on Worth St. were split between traffic, but that didn't stop passionate individuals from taking their side—both figuratively and literally. "No one is above the law, Trump is not above the law," was chanted from one side of the street, while the other was full of citizens holding signs in support of the former president.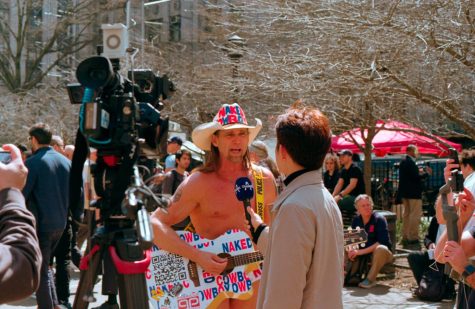 Walking from Worth St. to the front of the Manhattan Criminal Courthouse brought rich sunlight from the warm spring day, with multiple couples emerging from a neighboring court wearing wedding attire. Others were waving signs and chanting happily through megaphones. There was a stark contrast between the reasons for celebration, but the energy was relatively matched.
The Manhattan Criminal Courthouse had even more division than Worth St., with two large barricades in the small park across from the entrance. These sections were clearly divided between those who were against and for Trump. The tourist attraction, Naked Cowboy, was in character singing "All lives matter," while a drum set printed with "Unf*ck the world" was placed across the way–the singer and performers in favor of the indictment charges.
University student Jess Bircaj stated, "Apart from the few hostile interactions that Trump supporters brought upon the park to take signs from protesters…it was a beautiful celebration on the anti-Trump side. Music played, cowbells were ringing and whistles blew as people celebrated the news."
Posters included phrases such as "All indictments matter" and "Trump's depravity is a danger to us all," both of which are directly referring to the arraignment itself. "Trump 2024" flags waved opposite of them, creating a contradictory sight for a passerby.
There was an even split between the number of celebrators and protestors. Despite the claims from Bircaj of the occasional barbarity, both crowds mainly kept to themselves, speaking their voice and exclaiming to whoever was willing to listen.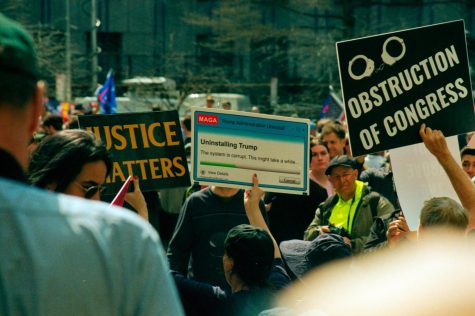 There was a helicopter hovering over the court for the duration of the protests and hearing, bringing some unease to those rallying around the area. The NYPD was also present in every open area, watching the crowd intently for any commotion. This did not hinder their energy, though, feeling the liberating effects of their free speech.
New York City resident Johanna Swoyer stated, "Last time I felt this energy being out here was the summer of 2020, when New Yorkers gathered together to protest after [the death of] George Floyd." Swoyer continued, "I was really excited to get out here and just see everyone excited about the same thing. It's finally time that he's going down."
The arraignment results quickly turned public, with the Associated Press reporting that Trump "pleaded not guilty to 34 felony counts" stemming from the 2016 transactions sent to Daniels. He then headed to Mar-a-Lago, leaving New York City for the time being.
After his immediate flight back to Florida, Trump made a public statement at his Florida estate, where he held confidential information and was consequently searched on Aug. 8, 2022. During this speech, Trump called this instance an "unconstitutional raid," continuing to say that "our country is going to hell." He proceeded to speak about the public's stance on the court hearing results with insufficient evidence: "Even people that aren't big fans have said it; they said, 'this is not the right thing to do.'"
Trump's next court appearance will take place on Dec. 4, 2023, cutting close to the Iowa GOP caucus on Feb. 5, 2024. Many speculate that these charges could cut into his 2024 presidential run, with the New Hampshire GOP primary landing approximately a week after the Iowa caucus.