Pleasantville Campus celebrates 50th Anniversary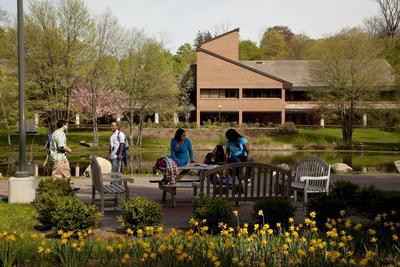 Fifty years ago, the Marks family donated a substantial amount of land in Pleasantville, which became the grounds now known as the University's Westchester campus. Classes were first held on Sept. 16, 1963. This year, the 50th anniversary celebration went into full swing on Sept. 3, when professor Susan Herman addressed the incoming student population on this year's University 101 theme of justice at Convocation. The celebration will continue throughout the year, featuring countless exciting events.
"It's surprising to think that Pace Pleasantville is only fifty years old, because the New York City campus is much older. You can feel the history though, even though it's not that old. The whole reason Pace Pleasantville was created, was so that people upstate could get the Pace experience. The Pace experience is different in both campuses, but the Pace students all have common grounds and common roots. That will always be shared. The New York City campus is very happy for them," said senior Niyati Sangani, who attends classes on the NYC campus.
The Pleasantville campus is also undergoing a drastic transformation, including the construction of two residence halls, a new Environmental Center, upgraded athletic facilities, beautifully landscaped pathways, a new central campus green, and a large expansion of the Kessel Student Center to add dining capacity and more student gathering spaces.
University President Stephen J. Friedman recently spoke of the history of the campus saying, "Thousands of people have met here, been educated here and launched successful careers here. Many have fallen in love here and married. And each one has a story to tell as the tagline of the 50th anniversary celebration reflects: 50 Years, 50,000 Stories."
This year's homecoming celebration will take place Oct. 24 through Oct. 27 for Pleasantville students, and will be particularly special because of the 50-year milestone.  Pleasantville Homecoming events include student award ceremonies, a student unity parade, a Halloween themed trip to Sleepy Hollow, community dinner, university community homecoming party, pumpkin picking, Broadway shows and a comedy show.
New York City students will enjoy photos with T-Bone, an obstacle course, Oktoberfest activities, a pep rally, homecoming concert, annual homecoming formal, brunch, a variety of seminars, tours of NYC, a dinner and a farewell breakfast, along with many more events from Oct. 16 to 19.