If you want to try a downward dog with a baby goat, enter goat yoga: a yoga practice with the added challenge of being climbed on, nibbled and hoof massaged by a bunch of baby goats. 
On Monday, Oct. 16, the University partnered with New York Goat Yoga company to host its first-ever goat yoga event. Students formed a winding line outside the student center, eager to claim a spot. No one quite knew what to expect, but all were hoping to glimpse a goat. 
Moments into class, their wish was granted as two baby goats ambled inside. The pair weaved between yoga mats, greeting students with a sniff or friendly nibble as they passed. To the crowd's delight, a herd of latecomers soon arrived, trailing a jar of treats. Students posed for selfies, embracing goats in fuzzy hugs.  
"Do as the goats teach us," yoga instructor Vanessa Pellegrinosaid said, "be present, have fun, and go with the flow," a lesson these students certainly passed. 
During class, students were led through a series of yoga poses, often balancing a goat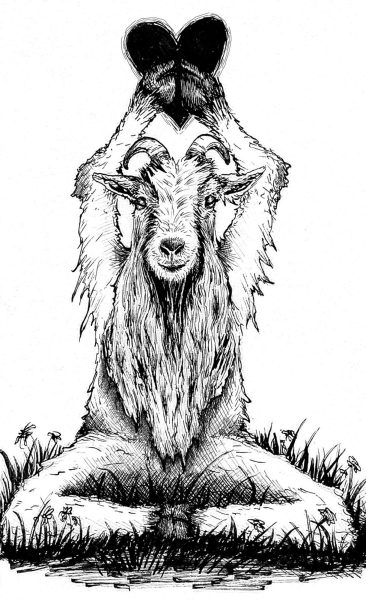 or even two upon their back. Goats climbed students like mini mountains. At one point, the class even formed a "bridge" of students for them to hop across. One goat stopped for a quick snack, munching on the hair of an unknowing student, as she forgot to tie it back.
When the class finished, students lingered to snap some last shots of the goats and bid them a final goodbye. Student response to the event and, more specifically, the goats was unequivocally positive. 
"Goat Yoga was the best experience I had at Pace so far," Erika Fenty, a junior Environmental Studies student said. "It gave me so much serotonin." 
April Sullo, a junior Arts and Entertainment Management student, felt much the same. "These goats have given me everything I've needed and more," April shared.
While yoga has existed for thousands of years, goat yoga is a fairly new invention. The idea was first born in 2016, when Oregon farm owner, Lainey Morse, observed the positive influence her goats had upon people's mood and wellbeing. It wasn't long before goat yoga swept the nation and became the wellness trend du jour. Today, goat yoga has remained all the rage and has even inspired new yoga practices with animals like llamas and pigs. 
"My favorite part of goat yoga is the laughter," Pellegrino said, "It truly brings you into the present moment when a goat jumps on your back and demands all your attention." 
Goat yoga allows one to let loose and enjoy the moment. In fact, goat yoga, associated with improved mental health and well-being, can lift mood, increase happiness and lower blood pressure over time. What's more, spending time with goats and other animals can even help ease anxiety and depression. 
Given the tremendous healing power of goats, it's no wonder why goat yogis say baaa-maste.