Real Housewives of NJ's New Book Condones Marital Rape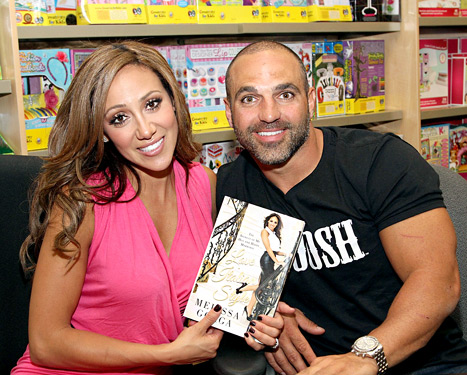 Reality TV is one of the biggest guilty pleasures of this generation. This genre of TV tries to give us a glimpse at the lives of real people and their lifestyles as the viewer sees and hears a variety of different opinions, personalities, habits and attitudes of the stars of these shows. While the spotlight shines on the stars of these programs, their quick and short celebrity time has provided them the opportunity to create their own clothing lines, spin-off shows and recently of publishing their own books.
The Real Housewives is a reality show following a group of the elite and rich women of different cities across America. It has continuously signed seasons renewals.  The Real Housewives of New Jersey, in particular, displays the lives of women in New Jersey surrounding a theme of Italian family drama .
Recently, cast member Melissa Gorga used her time in the spotlight to publish a book titled Love Italian Style: The secrets to my hot and happy marriage. The book is about her beliefs and her advice on how to keep a marriage together and a husband happy. This book has spurred a large controversy regarding her views on marriage and whether or not she is "advocating marital rape," as stated in an article on Jezebel.
According to the Jezebel article, Gorga is suggesting a sexist, gender biased and even a level of male dominance in marriage to her readers. The article, along with many others, suggests readers are being told to submit sexually and mentally to their husbands. Gorga states, " When gender roles are confused, sexual roles are, too. If he's at the sink and then changing diapers, then who throws down in the bed? Joe is always the man doing masculine things… I'm the woman and I do female things including the housework." Her husband believes he should have no part in the child care process saying, "I don't feed babies, or change the diapers. My father never wiped my ass, and I don't wipe my babies' either." He also shares his thoughts on sex, which brought up the controversy on martial rape saying, "Every girl wants to get her hair pulled once in a while. If your wife says "no," turn her around, and rip her clothes off. She wants to be dominated."
While all these quotes may imply a male dominated relationship, will her opinion and viewpoints really affect the show and her fans?  Her book was released on Sept 17 so it may be hard to tell. So far, the book only has two stars on Amazon. According to bravoratings.com, Season 5 of The Real Housewives of New Jersey has been down 11% relative to Season 2. Could this be due to the fact that people are over the drama or over their favorite stars, such as Gorga, putting out their opinions in books and other ways of communicating to the public. She isn't the first housewife or reality star to publish a book. In fact, a book released by another New Jersey housewife, Theresa Giudice, on Cooking recipes and advice has a startling 4 ½  stars on Amazon.  On the show, her husband has made numerous offensive remarks about autism as well as lesbian and gay comments.  It didn't have a negative effect on the show at that time or the sales/ratings of her book.
An argument in defense some may say of Gorga's book is that it is freedom of speech. Everyone is entitled to his or her own thoughts, opinions and judgments. Is anyone allowed to make the judgment when it is all taken too far? Also, doesn't all of social media, the Internet and blogs offer the same convenience for all to speak their mind and therefore be subject to scrutiny?  It comes down to just what is acceptable to the individual alone.  A person agrees, or disagrees and they add up to different groups that share a similar opinions or attitudes.
Bottom line, teality shows entertain the general public and are always spawning controversial ideas and thoughts. Any fan nonetheless is affected by what the stars say and do on and off the shows as Gorga's new book clearly shows. This in the end affects ratings both negatively and positively. It is up to the viewer to decide whether to continue watching. For now, it doesn't appear that housewives are going anywhere.