Student documentary explores effects of World Cup, Olympics on Brazilian economy, people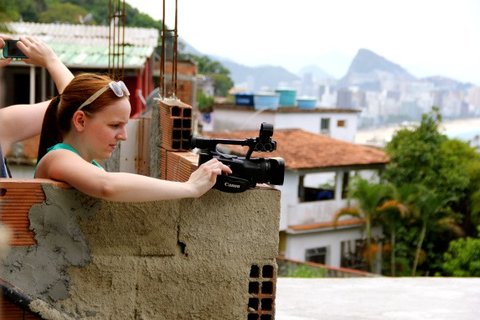 This past May, students were able to film a documentary in Brazil on the social and environmental impacts the country faces as they prepare to host the 2014 World Cup and 2016 Olympics.
Professor Andrew C. Revkin, who co-teaches the documentary course that produces these types of films, wrote a piece on the documentary for The New York Times opinion page. The short film is featured in the article as well. Titled "Green vs. Gold," The documentary highlights three major areas in Brazil with prevalent environmental and social struggles.
Although the Brazilian economy is the worlds seventh largest, and also the seventh largest in purchasing power, hosting the two biggest international sports events back-to-back can cause major damage to their environment and their people.
In the film it is presented that in Rio de Janeiro due to the surge of construction, there is a growing number of displaced people—thousands of whom live in hillside "favelas." Favelas are considered slums and about 3 million of Rio de Janeiro's population lives in them.
The film also mentions that while Brazilians are trying their best to remain hopeful, they also express their strong doubts about the sports-focused spending. The students interviewed different Brazilian figures, from those who work in hospitality to those working in marketing. Some see the opportunity of hosting the World Cup and Olympics as a blessing, and others admit that it is a mixed blessing of positive and negatives. Theresa Williamson of Catalytic Communities, an organization defending the rights of favela dwellers, spoke about the need for a new sewage system, since most of the sewage is being dumped, further hurting the local environment.
Thais Olivera, marketing and communications manager at Empresa Olimpica Municipal explained that Brazil will not move forward with any plans for the Olympics until the World Cup is over in order to not mix anything up. And also points out that this will also help see the positive differences outweighing any negative outcomes of the World Cup.
In his New York Times article, Professor Revkin expressed the value of this educational opportunity for University students, saying, "The great value of this kind of educational experience lies not only in learning by doing (remembering to keep batteries charged, get release forms signed, and the like), but in bringing into focus that murky idea known as sustainable development." He stressed the fact that students don't need to wait until they are done with their degree to join the international discourse on important issues.
The students' film, "Green vs. Gold," is viewable by clicking here.