Starbucks' Coffee Cup Controversy
According to the new Starbucks cups that were launched on March 20, spring has sprung. Starbucks has been making seasonal cups for more than 20 years honoring winter, summer, and autumn cups, but never spring. The inaugural limited edition spring cups come in three different pastel colors that correspond to the three sizes offered: green tall, blue grande, and yellow venti.
University student Gigi Vallone described the cups as "very kid friendly" and "a fun way to celebrate the beginning of spring." The cheerful colors do help consumers welcome the warm weather and push away the cold. Megan Mandrachio, a freshman at the University, described the cups as impeccable. However, both Mandrachio and Vallone had no idea that the coffee chain had released new cups, possibly due to a poor advertising campaign.
There has been previous controversy over Starbucks' seasonal cups when the company released winter cups with what some believed were Christian imagery. The holiday cups included a winter night scene where Santa and his reindeer fly through the sky, holiday lights, and Christmas tree ornaments. The cups were also red and white with the green Starbucks logo, making them the colors usually associated with Christmas and no other holiday or season. Some protested that light blue, navy, and white would have been more appropriate colors for winter cups.
That controversy may be coming up again. Some people think the cups are promoting Easter, another Christian holiday, while others are upset that the cups feature no blatant Easter imagery at all. Metro News says, "Depending on your political swing, they are either trying to ram Christianity down people's throats or suffering from political correctness gone mad." The cups' pastel colors are often associated with the holiday, and so are the pictures on the cups. One version of the tall size cup has a cartoon of a bunny rabbit, like the Easter bunny. However, some say that the bunny represents spring in general and not a specific holiday. Daniela Galarza at Eater tried to calm the controversy, saying, "Yes, one of the cups features a drawing of a bunny. Bunnies have been associated with springtime since a lot of us were pagans. Calm down." Other pictures on the cups include a little girl on the tall, a vase and an umbrella on the grande, and a smiling sun and a wreath on the venti.
Some of the cups do not have these drawings at all, but rather just a white circle. The company describes their cups on their website, saying "Each tall, grande and venti size gets its own cheerful color with white dots and hand-drawn designs including a sun and umbrella." From this, consumers can assume that the white dots are just that: white dots, and nothing more.
The white dots can also be used to doodle; consumers can put their creativity to use. Freshman at the University Grace Tralongo says, "I got one of the cups with a blank dot, so I drew a face on it with a Sharpie. It wasn't very good, but the coffee was." Even if it was not the company's intention, their new spring cups may help promote the arts in schools and the artist within.
Whether or not you agree with the design of the Starbucks cups, coffee will never go out of style. With a franchise on every street corner in Manhattan, stepping into spring is as easy as sipping on a latte.
Photo courtesy of Hanna Morrisse
About the Writer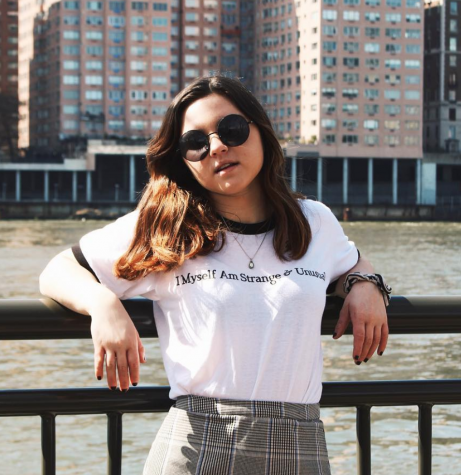 Kelsey Tice Nicholson, Editor-in-Chief
Kelsey is a graduate of Pace University, with degrees in Communications and English with a concentration in Creative Writing. She has a minor in Digital...