There is no denying that Urban Outfitters is one of, if not the, most popular brands for college students. There is also no denying that they are not perfect. Urban Outfitters may offer a great selection of fashion inspiration on Instagram, countless washes of jeans, and reissues of classic styles, such as 90's Tommy Hilfiger tees and 90's Guess Jeans, feeding millenials' sense of nostalgia, but they have also created some serious controversies since opening in 1970.
In 2003, Urban released a game called Ghettopoly, an offensive version of Monopoly and a t-shirt that read "Everybody Loves a Jewish Girl" covered in dollar signs. In 2014, the brand made national headlines with the release of a Kent State sweatshirt covered in fake blood, a mockery of the horrific shooting that took place on campus in the seventies. Through the years, Urban has been the subject of more than fifteen controversies, with their usual solution being to pull the products under question from shelves and publicly apologize. Now, however, the brand is facing some serious legal trouble for their Urban Outfitters and Free People division of stores.
Multiple items sold by Free People this year have been flagged by Coachella Music Festival, the upcoming world-famous celebration of music in California, as trademark infringement, specifically items displaying the words "Coachella Valley" and products blatantly advertised as perfect to wear at a "summer music festival," clearly a nod to the flower-crown gala that is Coachella. Rightfully so, the festival wants recognition for the use of their trademarked name and event. According to Coachella, a Google search for "Coachella clothing" results in Urban's clothing as the first result, leading the brand to profit from a festival that is not theirs. Urban Outfitters' and Free People's parent company, URBN, is being accused of "false designation of origin, unfair competition and dilution." These are not light claims, and it is too late for Urban to issue an apology and take the lacey tops back to their warehouses. The millennial retail landscape has been facing trouble recently; sweatshop-free brand American Apparel's bankruptcy and impending closure does not bode well for similar retailers, like URBN, who merchandise clothing for the millennial generation. Guess, too, a popular retailer for denim and higher priced ready-to-wear clothing, is closing many of their stores this year.
University students were outspoken on Urban's recent issues, seeing as the city is full of fashion retailers and Soho is one of the fashion capitals of the world. Freshman and Assistant Social Media Director for the Pace Profashionals, Owen Mayle, sees through the brand's frequent selling techniques and recognizes their sometimes dishonest selling tactics. "Hanes, Champion, Reebok, and Dickies, were all brands people bought because it was affordable. Now Urban profits off it by selling it for much more." Clearly, Urban making a profit from others' products is not new to them. A Champion crew neck sweatshirt at a store like Kohl's is priced around $30, whereas a similar sweatshirt with added holes and paint splatters at Urban Outfitters sold as "vintage" is priced at over $50.
"They also try a little too hard when it comes to deciding which smaller labels to sell and which styles to push. They try to reach a bit past what most clients would be comfortable with," says Hope Reichard, a senior Arts and Entertainment Management major. "Being someone who works in the music industry and with festivals, I totally feel that Urban made a mistake. Coachella could've looked the other way and seen it as a marketing tactic for further promotion – but Urban should have done the research."
Michelle Napper, a University senior and Social Media Director of the Pace Profashionals, agrees, "If Free People had really put thought into effectively and legally using the Coachella name to drive sales they would have considered doing some kind of partnership or collaboration."
Clearly music and fashion experts alike have a similar opinion of the lawsuit. Although almost every college student owns something from an Urban Outfitters or a Free People, the brand is not without their mistakes. It seems as though Coachella ticket holders will have to find a new store to grab their fanny packs, sunglasses, and sheer tops for this year's festival.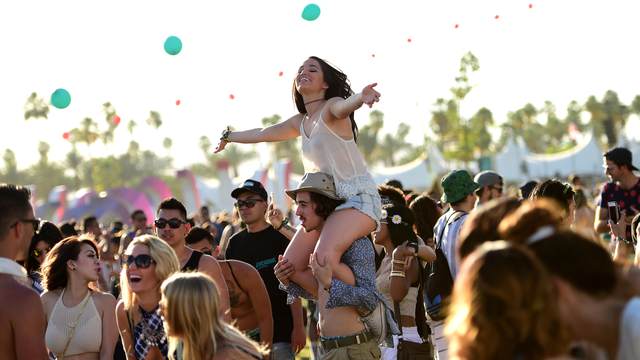 Photo courtesy of AVClub.com