Siblings reconnect in Wisner's memoir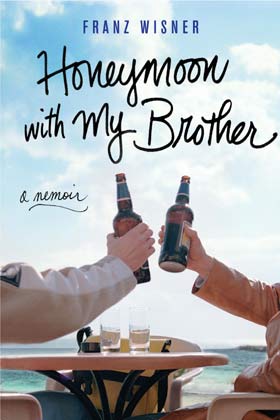 Seldom do books have the power to leave an indelible imprint on a reader's heart the way "Honeymoon With My Brother: A Memoir" by Franz Wisner can. The book is a New York Time's bestseller and Wisner's story has fascinated all who read it. His infectious writing, beautiful story telling and unique view of the world around him make this book a necessity in any avid reader's collection.
Wisner's memoir begins when his fiancé jilts him days before his scheduled beachfront wedding. The onslaught of guests had already begun and refunds for the wedding were nearly impossible. Wisner faced a world without the woman he believed to be the love of life, and yet managed to take his heartbreak and venture off into a two year long global expedition with his brother, Kurt.
After Wisner was left at the alter, his brother Kurt, with whom he had a distant and foreign relationship at the time, insisted he have the wedding anyway and treat it as a celebration of Wisner's success and hope for the future. 75 guests, Wisner's entire half of the guest list, attended the celebration. After the celebration, Wisner and his brother decided to go on the trip together, minus any of the romantic details because a refund for the honeymoon scheduled in Costa Rica wasn't possible.
While on the trip, Wisner and his brother began to mend their strained relationship, and by the time their week long vacation in Costa Rica came to an end, they had decided to return to their native California, quit their executive level, high paying jobs, sub-let their homes, sell any unnecessary possessions and travel the world one country at a time using their life savings. Wisner and his brother traveled through 53 different countries gaining a lot of knowledge and a new found love for one another.
Another fabulous thing about the book is that although Wisner is distraught over the break up with his fiancée, he does not take his sorrow with him on his journey, allowing for the readers to really enjoy his quirky anecdotes from faraway places across the globe. His conversations with his brother, tricks of the travelling trade and self-realizations make this book educational without bombarding you with lectures. Honeymoon With My Brother is simply written and a light read perfect for subway rides and weekend reading.
The book is perfect for college students. Because of the life altering transition Wisner undertakes, students can easily relate to his struggle in creating his new life, the same way students prepare to do after graduation.
While there are some preachy moments in the book, the unwarranted advice often comes off as Wisner's lessons learned on his trip rather than a condescending attempt to teach readers about the meaning of life. Even though Honeymoon with My Brother is a feel-good novel about triumph over heartbreak, the fact that this is a memoir and not a work of fiction makes it so much easier to connect and relate to. Anyone who has suffered a loss of love – nearly everyone – can take something profound, and fun away from this novel.