Voters speculate who will run for 2016 Presidential bid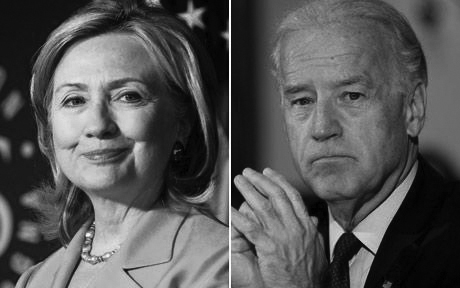 The 2016 election is important as the country has elected a Democratic president for two terms following another eight years of a Republican Party presidency. Beginning with the Democratic Party, Vice President Joe Biden and former Secretary of State Hillary Clinton have come up in political discussions throughout the country. New York Governor Andrew Cuomo has also been considered after his involvement Hurricane Sandy relief and his participation in the country's on-going debate over gun control.
Biden's name is prevalent in the continuing speculation about who may run in 2016 after he received praise for his performance in the debates during the campaign. CNN interviewed Biden and asked him whether or not he considered pursuing a presidential bid. He answered, "I haven't made that decision and I don't have to make that decision for a while." He ended with a reiteration of his commitment to the president.
CNN reporter Gloria Borger also asked if Biden was ready to contend with Clinton. Biden then responded with, "Look, I haven't made that judgment and Hillary hasn't made that judgment."
Hillary Clinton has also been a part of candidate talks after her lauded four years of diplomatic action as the most traveled Secretary of State in the United States. In the past, she's run for candidacy against President Obama.
Many media outlets have asked about her thoughts on running for president in 2016 and Clinton has said, "Well, I am not thinking about anything like that right now." The New York Daily News reports she is looking forward to "catching up on about 20 years of sleep deprivation."
Senior Zach Tierney commented on Clinton and Biden potential run saying, "While I've seriously appreciated the contributions those two have made to the party and to the country, I think it's time for a changing of the guard in the Democratic Party. They have helped ease the transition of the Obama administration and been integral in shifting our framing of foreign and domestic policy."
Tierney looks forward to Biden's gun control legislation and thinks Clinton is "exhausted." He also throws in New York's Andrew Cuomo and Maryland's Martin O'Malley as other contenders for the candidacy.
"Again, while I am in favor of someone outside of the current administration just for the sake of not letting the party get stagnant or complacent, I think Sec. Clinton is by far the best choice at this point. She's brilliant, she's more than qualified, she's empathetic, and she's got a good meme. Can't go wrong there," Tierney said.
A Public Policy Polling study was done to see what would be the most ideal presidential candidate in 2016 if they had the election today. Clinton had a 54 percent overall favorable rating and 79 percent specifically in the party. Biden was behind with 16 percent, Cuomo and O'Malley with less than 5 percent each.
Dana Cavalieri is disagreeable to the possibility of a Clinton or Biden presidency. She cites Biden possibly having an issue with age and being a "gaffe-machine, as he is very outspoken," and Clinton needing to be prepared for "her opponents to use Benghazi as an attack on her campaign" if she chooses to run.
"As for other feasible nominees, I wouldn't mind seeing [Mayor of Newark] Cory Booker or Cuomo running," she declares.
Within the Republican Party, New Jersey Governor Chris Christie and Florida Senator Marco Rubio have been two constant names up for the presidential candidacy in 2016. Kentucky's Senator Rand Paul has also been considered. The GOP is looking to Rubio to bring in the Latino vote and to Paul for his Tea Party connections. New Jersey Governor Christie has been a contender for the GOP candidacy after Hurricane Sandy and his straight-forwardness with national and state political issues. He commented on a run for the White House saying, "Life is life; you never know what it's going to confront you with. But I'm asking for four years and I intend to serve four years."
He boasted in an interview in the New Jersey Star-Ledger saying, "Yeah, you're damn right I'd be more than ready."
And with Florida's Rubio, in one of the first straw polls, Washington State Republicans chose him as their choice in January. He won 37.4 percent for party nomination in the vote. He has not publically commented on any such intent for running, but the party is hopeful.
The Public Policy Polling study had Rubio ahead of the rest of the possibilities in the Republican Party. Rubio held together 21 percent of votes with Paul Ryan (16 percent), Mike Huckabee (15 percent), Jeb Bush (14 percent) and Chris Christie (14 percent) just behind him. With low GOP support, Christie would still have a close race with Clinton edging her out with 44 percent and 43 percent according to the poll.
Cavalieri expresses her support for Christie saying, "I love my governor. I've seen Christie speak at a town hall meeting in my hometown in Monmouth County and that was the moment I realized I could definitely see this man running for president. However, like always, there are flaws."
Tierney said, "As far as the Republican ticket, Chris Christie can not be our president. I was born and raised in Jersey and have watched this man rise about as high as I am comfortable with."
Cavalieri on her support for Rubio said, "As a Republican, a young one at that, it's clear the GOP must reach out better to minorities and the younger generation." Cavalieri goes on to state, "I hope Republicans learned something from this past election, and will fix its failure to reach out to the youth and minorities."