Students transition from on campus jobs to working from home
In response to the COVID-19 outbreak and the University's transition to virtual learning, Human Resources is allowing certain student employees to work remotely. From giving campus tours virtually, to managing social media and others capable to do so, the University is finding ways to still compensate their student employees who are able to continue their roles, even as they work from home.
According to a recent email from Human Resources, the University will be flexible in allowing students to work remotely. They emphasized that students do not have to continue working, but they can if they choose to do so.
"We know many of you want to or need to continue to work, and also that others do not," said Matt Rena, Vice President of Human Resources. "Whichever choice is best for you, we will support your decision."
The new structure for student employment will be that if a student is "willing" to still work but is "unable to do so" due to external factors like internet or security access, these students will still be paid for their usual hours, pre-pandemic, by the University. For those who are able to work but cannot maintain their previous hours, they will be compensated for their usual allotted time cards.
Rena explained in the email, "For example, if a student employee typically worked 15 hours per pay period and now works 10 hours per pay period, that student would be paid for 15 hours." 
In regards to students who are paid through grants or funds, Rena advises them to, "…check with your supervisor about how the guidance above may or may not apply to your particular position."
One of the largest departments that employ students on campus is the University's Welcome Center. Tour guides who normally give campus tours to prospective students in person are now switching to Zoom.
"Now that we have moved to remote learning, the Welcome Center events have also gone virtual this semester," said Kimberly Alonso, Welcome Center Manager. "Monday through Friday we are offering 'virtual visits' which give prospective students the opportunity to learn all about Pace, the application process, and to even get a virtual tour of the NYC campus from our student tour guide staff."
Student tour guides have been clocking in their hours by logging onto Zoom and meeting with prospective students to give them a (virtual) look at life on campus.
University sophomore Akash Seeramreddi finds giving online tours an "odd experience."
"Tour Guides were always taught to be personable to people by getting to know them through our tour so going online definitely creates that distance between us and them [prospective students]," said Seeramreddi.
Not all departments that employ students are able to accommodate students who are willing to work from home. The Call Center, which hires students to make calls to University alumni and prospective students, does not have the bandwidth to aid students in a remote work adjustment.
"The Call Center has to use certain technology and the students are not permitted to handle credit cards when unsupervised," said Colleen McGovern, a former Call Center student employee and University junior.
Some on-campus jobs already entail online work, allowing for a smooth remote transition.
University junior Brianna Adkins, the social media manager for the Seidenberg School of CSIS Events Team, feels "really grateful and privileged to be able to work from home now that the University is remote."
"I was worried about whether or not I would be able to continue to work, because I'm living paycheck to paycheck," said Adkins. "It's really hard to shift into working remotely, because it's hard to engage a community when you can no longer have events as planned. It's been a shift trying to figure out how to get students to attend webinars, interact with our accounts on social media, and read our articles on the Seidenberg Blog, but we're starting to figure things out as a team—one that I am grateful to be a part of."
Although these are trying times for the University community, some are hoping to use this time as a way to enact positive change moving forward.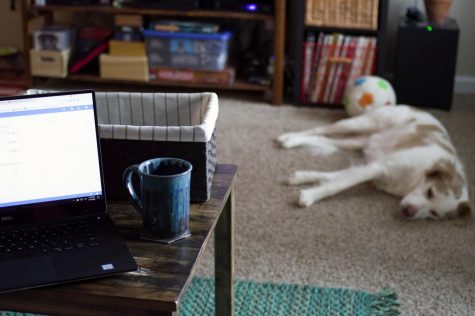 "As someone from California, I wish I had something like this [a virtual tour option] when I applied to colleges," said Seeramreddi. "I think with this being introduced that it is definitely very innovative and could change the way campus tours are led going forward."
Alonso also shared that moving forward, when the University resumes in-person operations, virtual tours will still be an option for prospective students who are unable to attend campus in-person. "We are also hosting virtual PaceBounds for accepted students, virtual regional receptions, and have lots more planned for the future," said Alonso.
It seems that, amidst the struggles of adapting to online working and learning, the University is learning new ways to be more inclusive and accessible.
"I'd like to see some dynamic change going forward," said McGovern. "Now we all know how it feels to lose access and we can be more mindful in the future to those who do not always have the luxury of being in-person."
Finances seem to be a concern for all during this pandemic and the University is "working hard to accomplish" keeping student employees financially afloat.
"Our goal is to keep students engaged and working when they are able to, and to continue financially supporting our students when hardships exist," said Rena.