Group work and collaboration: Zoom edition
At the college level, University students are no strangers to group work and the struggles it often presents. The list of issues goes on; from one student doing all the work, to another student never showing up to class, to the constant disagreements, to students waiting until the night before the project is due to begin. The complexities and complaints continue on. Regardless of the class subject and the assignment, tracking equal participation and effort can often become difficult for professors when deciding on the final grade. 
In light of COVID-19 and the current societal circumstances which have moved the rest of the spring 2020 semester to remote learning, these complications with group work have just become more complex. However, some University students feel they have been adjusting to online learning well.
"My overall virtual school experience through Zoom has been very pleasant," shared University junior and Business Economics major Bennett Hausman. "My professors and peers have seemed to adapt very well and I enjoy using Zoom as a platform. Although this is a very different approach to school than I am used to, my professors have been very generous with assignments and due dates which is a big plus after being sent home due to COVID-19. In addition, class meetings are effective and the time we have is used efficiently to learn new material and ask the professor any questions we may have. Also, preparing for group projects has been great as Zoom has many tools to help do so." 
While taking virtual class on Zoom, the platform does offer many ways to present to the class through a computer or tablet. The platform allows students to share their screens in just a few clicks, where they can broadcast a slideshow presentation to their entire class. In addition, the platform gives students the ability to still be seen on the side of the computer screen as they speak and click through the slides of their Powerpoint. For step by step instructions on how to work this in Zoom, click here.
The Pace Press took to Instagram to survey students on their group presentation preferences. The results were as follows: out of 24 students surveyed, 22 students prefer in-person group presentations, while 2 prefer to present online. 
We also opened up the floor for students to share their opinions on virtual group work. 
"Group work over Zoom is pretty challenging," shares University junior Phillip Sgobba, who is studying Public Accounting. "With lagging internet connections and frozen screens, it is super difficult to get your thoughts and opinions out in a collaborative manner. What helps me is preparing notes and talking points beforehand, and to picture myself in an actual classroom setting."
Many students have also shared how this virtual experience has also brought them closer together as a community. 
"I feel like having to do group presentations virtually has been a little difficult, but has also brought us together," shares University junior Alycia Alvarez, a Childhood Education major. "We are all able to relate to each other more, making the preparation for these projects smoother!"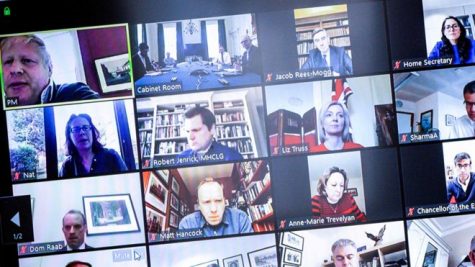 Some feel that Zoom has been difficult to adjust to with sound complications, whether it be a group presentation or a club meeting. 
"Zoom meetings are definitely difficult to adjust to," shares Colleen McGovern, a University junior and Arts & Entertainment Management major. "For example, my club, The Industry Network, held a virtual event with a few music industry veterans yesterday and our president was hosting it. Unfortunately, her audio stopped working and I had to take over, and I wasn't necessarily prepared to do so. It is also very difficult to increase our engagement rates, as during this time individuals don't feel the desire to join zoom meetings without an incentive. We prepare as much as possible through texts and group calls, but there is only so much you can do during a time like this." 
Some students have yet to try group presentations via Zoom, but have tackled presentations on the individual level. 
"I have not had any virtual group presentations yet," shares University Junior Christian Benke who is studying Finance. "But I imagine they are definitely more difficult. However, I have had a solo presentation, and it was not so bad through screen sharing" 
At the end of the day, getting used to classes online is an adjustment for all. It is important to remember that in times of need, University students will rise and come together as a strong community. With any questions or regarding online learning, reach out to professors or advisors who are here to help guide University students through these difficult times. For more information on COVID-19 and its direct impact on the University, visit the special tab on the website homepage.