University President Marvin Krislov talks construction, community and COVID-19
The Pace Press sat down with President Krislov to discuss the Master Plan and the state of the University in the era of COVID-19
On Feb. 3, 2020, University President Marvin Krislov gave his State of the University address. In it, he discussed the University's plans to construct a new building at 126 Nassau St. as a part of the ongoing Master Plan construction. The Pace Press sat down with Krislov via Zoom to discuss the new building, as well as the current condition of the University.
The new building, to be called 15 Beekman, will contain a new cafeteria, new suite-style student housing, a new library and new modern classrooms. It will effectively replace the east side of One Pace Plaza. "It is conceivable that we will still have some of the east side," Krislov told the Pace Press in a recent interview. "We had one set of assumptions before this all happened, and now we are having to think about it again. But I think most of what's on the east side will go into that building, [but] there are some pieces that may not." One piece that will not be a part of 15 Beekman is a new theater. The University is working on new spaces to put a theater in if the east side is completely taken down.
The reason behind the construction is that there is $200 million worth of development rights on One Pace Plaza that construction will free up. As the building is over 50 years old, constructing a new building will allow the University to avoid required renovations on One Pace Plaza.
The timeline for the construction is currently on track, according to Krislov. The University is currently in the planning phase of the new building, with construction set to begin in January 2021 with a grand opening in September 2023. In addition to this construction, the University is planning to begin work on the fourth, fifth and sixth floors of One Pace Plaza this summer. "We are still hoping to start this summer," Krislov said. "The state has stopped non-essential construction and our project was not considered essential, so it's a week-by-week discussion depending on where the state is. We will have a go or no-go decision to make by May 1."
Though the construction is still in the planning phase, the Master Plan section of the University website says that the decision on new construction was "discussed and approved by the NYC Master Plan Advisory Board, which is composed of faculty, staff, and students." Much of the criticism surrounding the first phase of Master Plan construction concerned the low number of students who were consulted. "Part of it is not just Marvin having conversations, but his team of people…speaking to specific groups in a smaller setting where they can get more feedback," said Marie Boster, head of Media Relations at the University. "So some of those things were happening at faculty council, [and] some of those were at student government." Krislov also emphasized that discussions with the community are "upcoming." They have been put on pause as a result of the remote learning period and ongoing nationwide quarantine efforts.
"I think the big takeaway from the first phase [of the Master Plan] is how important it is to have learning and community spaces that are accessible to students. The students have told us that they like it, prospective students have told us they like it. It feels as though there is just a stronger sense of community and connection," Krislov said. "We are going to try to take some of those lessons and import them to the new spaces we have, like the Nassau-Beekman space as well as the Lubin renovation when that happens, and the libraries. As you know, the capital right now is in a little bit of a moment of pause, and some of these things might take a little longer than expected but we just don't know. We just don't know."
The coronavirus pandemic has had other impacts on the University aside from construction. "There are some financial repercussions for us," Krislov said. "We're spending a lot more on cleaning and sanitizing. The cash flow is good at the moment, and we think we are okay for the near future."
The most pressing thing on Krislov's mind at the moment is the health and safety of the University community. "You know, we've got a very small essential workforce going on campus and we have some students in dorms, and we're really concerned about them social distancing, covering themselves if they can with facemasks, washing hands, all those kinds of things," said Krislov. "Academic continuity is the probably the other big one which I think has gone remarkably well which I give credit to a lot of people, especially faculty and staff who have had to adjust in a short period of time."
Only time will tell what the future of the University, and the world, will look like. As it stands, the University community has been adjusting incredibly well. Hopefully, construction and the fall semester will be able to continue as previously planned.
About the Contributor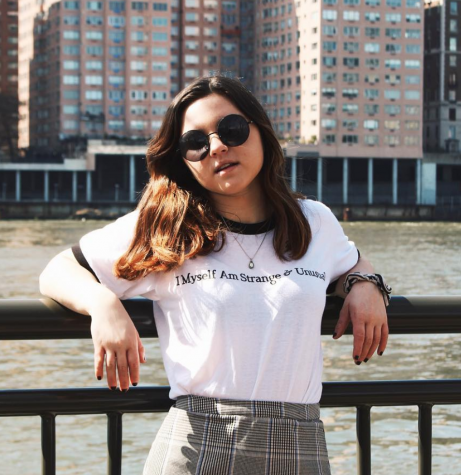 Kelsey Tice Nicholson, Editor-in-Chief
Kelsey is a graduate of Pace University, with degrees in Communications and English with a concentration in Creative Writing. She has a minor in Digital...