Small businesses to support in lower Manhattan during quarantine
As everybody faces an unprecedented amount of uncertainty during the COVID-19 lockdown, many small businesses are struggling under extreme amounts of pressure, with some forced to put their services on a hiatus, and some shutting down entirely. It can be tragic to watch one's favorite family-owned restaurant, local coffee shop or classic vintage consignment shop go under due to the consequences of the NYC shutdown. It is also hard to support from a required distance. Below is a  compiled list of New York City's favorite small locally-owned businesses on the Lower East Side and in the Financial District with tips on how to support them in these trying times.
Russ & Daughters
In a city full of places to grab a bagel at every turn, people are most likely doing their part in helping small businesses by grabbing bagels just about anywhere. However, it's this century-old spot that especially deserves support during these times. Although they are closed to walk-ins, Russ & Daughters cafe on Houston Street is still offering deliveries to locals via Caviar. For those growing tired of the stale cereal stored in the back of a cupboard or the faithful whatever-veggies-are-going-bad-tomorrow omelette, this authentic and family-owned bagel spot is worth a try. Their unfailing bagels and lox paired with a side of crisp fried latkes is the perfect combo to take anyone out of their bland quarantine breakfast routine.
Orchard Grocer
On a good day, Orchard Grocer is an all-vegan grocery shop that offers unbelievable vegan takes on Reubens, Cubanos, and Bacon Egg and Cheeses. They have now shut down their sandwich shop amongst the COVID-19 chaos, but luckily, Orchard Grocer is still available for almost every animal-product-free provision that they typically offer—for delivery! With a wide selection of products from Beyond Beef Burgers and Oatly Oat Milk to chorizo seitan and dairy-free mac and cheese, their site is certainly worth a glance. Even the basics, like produce and firm tofu are still available, accompanied by some necessary quarantine snacks, like mushroom jerky, chips & hummus and Amy's Cheeze Pizza Bites. Head to the link in their Instagram bio at @orchardgrocer to check them out.
Moo Shoes
For anyone looking to support retail businesses, look no further than Moo Shoes. Residing right next door to Orchard Grocer is the famously cruelty-free Moo Shoes, an all-vegan shoe shop that specializes in shoes and accessories free of leather, fur, and other commonly worn animal products. Started in 2001 by Queens natives Erica and Sara Kubersky, the store has made it their mission to draw attention towards the still-fashionable side of cruelty-free. With products available from notable brands such as Noah, Birkenstock, and Dr. Martens, there's certainly something on their site that may be a good find. If that's not enticing enough, they are offering 25 percent off on all of their online products with the code WEMISSYOU25. Check them out, get some new shoes delivered and plan to still serve looks post-lockdown.
Thai Diner
While it is very much a shame to say, many Asian and Chinatown-based NYC restaurants are facing the repercussions of the Coronavirus the harshest due to blatant ignorance, xenophobia and racism. That being said, it is especially important to show them support during these times, as it would be even more of a shame to stand idly by and watch such renowned and well-established restaurants fall victim to such prejudice. One particular local Asian restaurant is the booming Uncle Boon's team Thai Diner, who is offering both takeout and delivery through apps like Seamless and Caviar. Truly offering it all, from cooked meals to groceries to liquor, the Uncle Boon's team is certainly doing their all in order to keep customers fed and happy during this quarantine. Try their green mango salad or Uncle Boon's famous crab fried rice and finish it off with a sweet serving of milk toast.
Erin McKenna's Bakery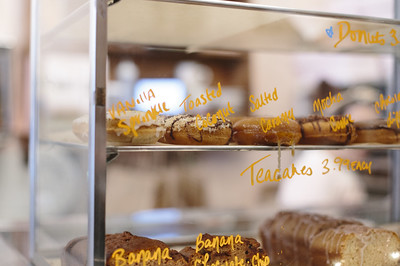 Another place to fix that sweet tooth is none other than famous vegan and gluten-free chef Erin McKenna's Bakery on the Lower East Side. McKenna has been a renounced cruelty-free chef for some time now, with thriving locations in NYC, Los Angeles and Orlando. With a wide selection of donuts, cookies, cupcakes, and even coffee beans, Erin McKenna's Bakery is ready to ship it all to you via her website or Postmates. Customers can still celebrate a birthday with a personally-engraved birthday cake from one of their many selections. Or, for anyone looking to satisfy a late-night sweet tooth, their brownie bites and chocolate chip cookie sandwiches are very much worth the delivery fee.