Theatre to stream while theaters are closed
Due to the shutdowns surrounding COVID-19, Broadway has been shut down for over a month. These are unprecedented times for actors and theatre-goers alike. For many University students, theatre is a huge part of life and can feel like another loss amid quarantine. The Pace Press has compiled a list of ways to stream theatre until you can be back in the audience again! If you have been missing nights at the theatre, sometimes there can be no better solution than watching a musical or play from the comfort of your own home!
Broadway HD
Broadway HD is a streaming service specifically for theatre! It does have a price of $8.99 a month, but it allows subscribers to watch many professionally recorded shows that can only be found on this site. You also get a 7-day free trial! This is a theatre-lover's jackpot! There are hundreds of titles ready to be streamed. Here is a list of a few great musicals and plays available to stream: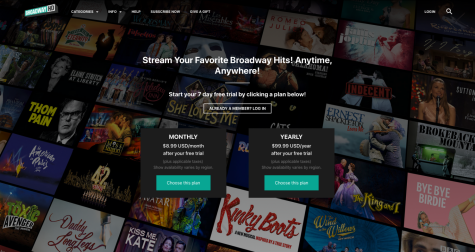 The Last Five Years (2015): This movie musical was recently taken off of Netflix, to many viewers' dismay. This film, starring Jeremy Jordan and Anna Kendrick, is one of the few movie musicals to truly go above and beyond. Jordan and Kendrick are both shining stars that give their all to the performance and make Jason Robert Brown's characters come to life. This musical is a heartbreaking tale about young lovers in New York City, telling their stories from beginning to end and from end to beginning, meeting in the middle. The unique writing style has been celebrated for years and broken the hearts of viewers over and over again. Definitely worth a watch for a good laugh and cry! 
Falsettos (2017): The timeless musical "Falsettos" was revived on Broadway back in 2016 and filmed by PBS. The filming of the stage musical is an absolute treasure and a rarity to see. This show is especially profound to watch in the current world climate, as it recalls the 1980's AIDS Crisis, the closest thing in recent years to COVID-19. The musical stars Broadway legends Stephanie J. Block, Christian Borle, Andrew Rannels, and Brandon Uranowitz. The two-hour-long musical incorporates composer William Finn's classic humor into a heartbreaking story. The classic musical about family, love, and death is not one to miss!
Kinky Boots (2019): "Kinky Boots" is a Tony Award-winning musical that was recently revived on Broadway, gaining a huge following. The musical follows shoe store owner Charlie Price, who is trying to save his father's company. Charlie meets struggling drag queen Lola, who just happens to need some new heels. The musical is an exciting combination of love and understanding, and an absolute riot to watch.
Indecent (2017):  This controversial show made news again when it's Broadway run was extended to be filmed in honor of International Holocaust Remembrance Day. The play is a historical look into Sholem Asche's 1923 show, "God of Vengeance." This is a must-see for theatre lovers. It includes stars like Katrina Lenk, Mimi Lieber and Max Gordon.
Puffs (2018): A spinoff and parody of the Harry Potter series, the play "Puffs" gives the Hufflepuff house the storyline they have been waiting for! The main character, Wayne Hopkins, finds out that he is a wizard and is headed off to go to school for magic, and he is sorted as a "Puff." He meets two other Puffs, who end up becoming his best friends. This storyline is parallel to Harry Potter's, but with modern twists thrown in for younger audience members. "Puffs" stays in the Harry Potter universe and keeps all magical references Potterheads know and love. 
Amazon Prime
Carousel (2013): A 2013 recording of Rodgers and Hammerstein's "Carousel" live from the Lincoln Center is now available! Starring Kelli O'Hara, Nathan Gunn, and Jessie Mueller, this recording can give "Carousel" lovers their fix of the show since its recent closing on Broadway. After visiting her town's carousel in Maine with her friend one day, the main character Julie Jordan catches the eye of barker Billy Bigelow. This complicated love story features incredible songs such as "You'll Never Walk Alone" and "Soliloquy." "Carousel" can be found with a monthly BroadwayHD or Amazon Prime membership!
The Spongebob Musical: Live on Stage! (2019): Since it closed on Broadway in late 2018, the cast members of the hit musical based on everyone's favorite Nickelodeon series reunited to perform "The Spongebob Musical: Live on Stage!" once more. Similar to the live performance of "Rent," this musical aired on TV in December of 2019. Let Spongebob, Patrick, Squidward, and more in all of their musical glory make you smile in quarantine! A recording of this live performance is available on Amazon Prime.
Netflix
Oh, Hello On Broadway (2017): "Oh, Hello" is a filmed version of John Mulaney and Nick Kroll's Broadway play. The two comedians teamed up to create an absolutely wacky show featuring their two characers, Gil Faizon and George St. Geegland. This is based on Nick Kroll's "The Kroll Show," a sketch comedy series featuring the prank sketch, "Too Much Tuna." The sketch is incorporated into the Broadway show in which the two men prank many celebrity guest stars. The old men navigate life in NYC as an aging actor and writer. This show has no shortage of laughs and memorable moments. It is a perfect watch for fans of Steely Dan, classic theatre, and comedy! For added quarantine pastime, you can listen to the new "Oh Hello: The P'dcast," a new podcast narrated by Gil and George (Kroll and Mulaney). The podcast can be found on any streaming platform and has had a few episodes about Princess Diana. 
View this post on Instagram
Jersey Boys (2014): This movie-musical is a close look into the creation of the popular 1960s band, Frankie Valli and the Four Seasons. The musical was on Broadway for 10 years and is now still running off-Broadway. It was one of the few smash-hit jukebox musicals—musicals about bands had previously never done as well as "Jersey Boys." The movie is a fun adaptation of the stage musical and tells the tale of The Four Seasons, their odd rags to riches to rags to riches again story. This is a must-see! 
Youtube
Andrew Lloyd Webber's "The Shows Must Go On": Every Friday, you can now stream a free full-length recording of an Andrew Lloyd Webber musical on YouTube! In light of Broadway being shut down due to the pandemic, these one-time weekend specials began about a month ago. Once you've watched the musical, it will still be available for the next 48 hours. Classic shows such as "Phantom of the Opera," "Love Never Dies," "Joseph and the Amazing Technicolor Dreamcoat," and "Jesus Christ Superstar" have been made available in the past few weeks. Coming up on May 8 at 2 p.m. EST for 48 hours, the British comedy "By Jeeves" featuring Webber's music will be available! Each week's musical can be found under the YouTube channel, "The Shows Must Go On."
Musical Soundtracks to Stream
Hadestown (2019): If you seem to be wondering when spring will come, this is the musical to listen to. Winner of Best Musical and many other Tony Awards, this show is a celebrated masterpiece of theatre. Since there is no way to go see it, the Broadway cast album is a great introduction to the underground. The musical is a jazzy take on the myth of Orpheus and Eurydice set on a railroad track. It is a riveting tale of love, joy, and persistence. 
Natasha, Pierre, and The Great Comet of 1812 (2017): Quarantine is a great time to catch up on some fantastic musicals that weren't around long, like "Great Comet." This is a perfect time to immerse yourself in 1800s Russia. Dave Malloy's insane musical is based on about 70 pages of the classic "War and Peace." The show is deeply existential, with a focus on the point of life and love. The show stars Josh Groban, Denée Benton, and Amber Gray—a truly enchanting set of voices. 
Co-Op (Original Cast Album) (2019): John Mulaney and Seth Meyer's short take on a Sondheim-esque musical for the comedy show, "Documentary Now," is an under 20-minute soundtrack for a good laugh. The musical is set in 1970's New York in a co-op building. It is a nostalgic and hilarious look into various characters in a classic co-op. While listening, the Sondheim influences are clear and make the album even more fun to listen to. 
Six The Musical (2018):  While the public will not be able to experience the new-to-Broadway show, "SIX," for a while, they can certainly enjoy the soundtrack while stuck inside! Based around the wives of Henry VIII, these stories are told in a more modern way, the musical performance itself being similar to a pop concert. Each one of Henry's wives sings about their agony brought upon by the infamous husband, trying to outdo each other for who has suffered the most, and who should, therefore, be deserving of the title of the group's lead singer. The soundtrack for "SIX" is available on Spotify, Apple Music, YouTube Music, and several other music streaming services.