Virtual volunteering in a time of social distancing
As the COVID-19 pandemic continues to move throughout the United States and across the globe, countless individuals and families are being dramatically affected socially and economically. While many people once refused to believe that the virus would reach the United States, it has now become a significant part of everyday life. For many people, this means not being able to return to work and constantly wondering how they are going to financially make it through the coming weeks. For others with immunodeficiencies and similar health-related issues, the virus is a symbol of mortality and keeps them from living freely without worry. 
Luckily, first responders and essential workers are working tirelessly to help prevent the spread of the virus and millions of people across the country are doing their part to flatten the curve. However, with so many families in need during this difficult time, charities and foundations are looking for extra volunteers to reach more people in their communities. Of course, with stay at home orders still in place, leaving home to do volunteer work seems ill-advised, but many charities have thought of a new way to keep people involved: they are going virtual. 
https://www.instagram.com/p/B_zfe5PDsEX/
One of the easiest ways to get involved is through online non-profit organizations like New York Cares. Founded in 1987 by a group of New York residents hoping to take action against various social issues, this organization boasts nearly 65,000 volunteers every year and the numbers continue to grow. The organization focuses on volunteer management and offers participants a chance to focus on projects they are passionate about. Frequent volunteers also have the opportunity to apply for a team leader position where they will get to plan their own service projects and be a role model for their fellow volunteers. Those interested in signing up should visit newyorkcares.org. In order to begin signing up for volunteer positions, participants will need to attend a virtual orientation that further introduces them to the program. From making medical masks to sending out care packages, the New York Cares mission is to bring out the best in humanity during this crisis.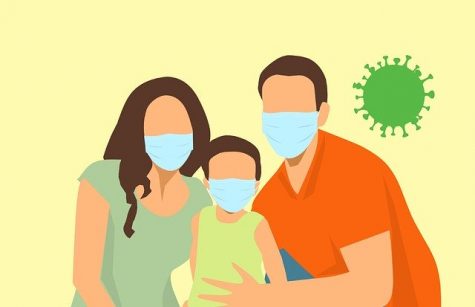 With schools and universities across the country shutting down for the remainder of the academic year, homes are turning into classrooms and parents are stepping into new roles as educators. Though only for a short time, the transition has been difficult for everyone, especially families with essential workers who are juggling exhaustive work hours in addition to making sure their children are staying safe, healthy, and involved in academic life. With that being said, another great way to virtually volunteer is through online tutoring sessions for students in need. University students who are interested could also offer editing and revising services for their peers and other students who do not have access to workshop resources during exam season. 
It is often said that the best way to rise is by lifting others, and during the age of the Coronavirus, there can never be too many ways to put a smile on someone's face. For those with family members in nursing homes and hospitals, the grim reality is that these people are going days and weeks without being able to see and hug their loved ones. That is why hospitals and nursing homes alike are looking for virtual volunteers to get creative and do whatever it takes to lift resident spirits. For performers who are hoping to put their talents to special use, hospitals and assisted living facilities are allowing singers, dancers, and actors to do online shows via Zoom and Skype for residents and patients. Not only do these shows help lift spirits, but they also help create a more calming and hopeful atmosphere during a time when everything feels gloomy and uncertain. For pediatric patients, hospitals suggest that volunteers organize a virtual storytime to help curb the extreme physical and mental stress they are under. The stories provide a healthy escape from the world while also keeping their imaginations active. 
Coronavirus continues to influence the state of the country, but volunteerism, whether in person or online, is a useful way to lift the spirits of those affected by the virus altogether by helping spread a little more love and goodwill along the way.