DIY projects to try just in time for summer
As the semester comes to a close with stay-at-home orders still in place, University students may be looking for some easy pick-me-ups to take part in while social distancing. Below is a compiled list of a few 'Do It Yourself' projects to try at home, from self-care projects to ideas on how to maximize space. 
Homemade Lip Balm 
Anyone missing picking up their favorite lip balm from the drugstore calls for creating their own. All that is needed are oils and wax (depending on what the recipe calls for), a pot for melting/mixing, a whisk or spoon to stir, liquid droppers and containers for the finished product.
Proceed to grate the wax finely, and scoop it into a small pot. Then add in the oils. Once that step is complete, heat 2″ of water in the larger pot, and place the wax-filled pot inside it.
Keep the water on medium-high heat. Once it is all melted, stir the mix altogether, remove it from the heat and add essential oils. Take the droppers and transfer them to the containers for use.
To gather ideas of fun and creative lip balm recipes, click here.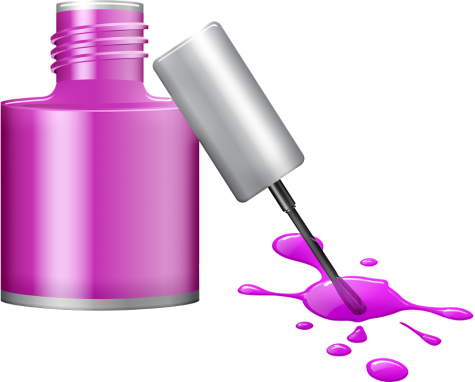 Make a key-coder with nail-polish 
This DIY project is as simple as the name sounds. Grab some leftover nail polish from a supply closet at home and a set of keys used every day to make a color-coding system. This will help to pick out which key that is needed quickly and easily but will also help to bring out the artsy side.
Paint the top part of the key any color, and feel free to add a design. Once done painting the keys, write down which one is which and blow-dry the paint to dry. For decoration ideas, check here.
String lanterns to spice up the yard
Students who have been spending more time in their backyard may benefit from spicing up their layout with some new decor, like DIY string lanterns. All that is needed to make them are: 
– Large Balloons
-A Sharpie
-Scissors
-Cotton Yarn
-4 oz. White School Glue
-1/2 cup Corn Starch
-1/4 cup Water
-Something to stir with
-Petroleum jelly
-Clear, fast-drying spray paint
-Container for mixing glue in
-String
For direct steps on this process and how to use all the needed items to make the lanterns, check out Matrimonial Meg's page here.
Bottle rack from an old ladder
Nothing is better than some at-home decorations made from old items around the house. If there is an old ladder lying around that has been needed to get thrown away, take a pause before doing so. That old ladder could turn into a rustic bottle rack for the home. More storage space and less money spent! 
For ideas on creating a bottle rack from an old ladder, check out ideas from Pinterest.
Candle pillars: cinnamon stick style
Candles are a go-to house decorator all year round. For those who like to decorate the outside of candles or put them in a holder, this is the perfect DIY project. Take some cinnamon sticks from the pantry and wrap them along the outside of the candle container. This not only enhances the smell of the candle but also makes it aesthetically pleasing as it decorates the home. 
For reference, take a look at this decorated candle on Instagram. 
Missioni Shoes- kickin it back old school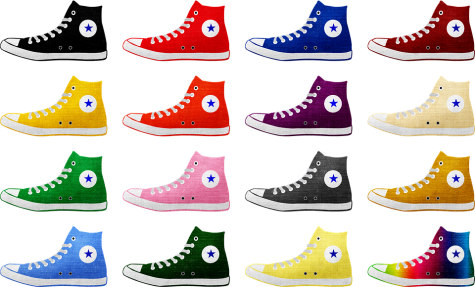 All that is needed is a pair of plain canvas shoes, some fabric markers, a ruler and the sneakers from the closet that will be getting a makeover. Missioni shoes used to be the hit of the town, so why not bring them back? With some fabric markers and plain sneakers, try any kind of crazy designs. 
For a tutorial on how to make Missioni shoes from home, check out ideas from Refinery29.
Install a phone station
According to EdSource, 68 percent of young adults sleep with their phone in reach or even in bed with them. Instead of sleeping with a phone and dealing with the struggle of finding it in the sheets in the morning or rolling over and hearing it crash to the floor at 3:00 a.m., make a bedside phone charging station.
Take an old bottle of baby lotion, some fabric and scissors. Follow this tutorial to continue the process.
Make workout equipment out of old ropes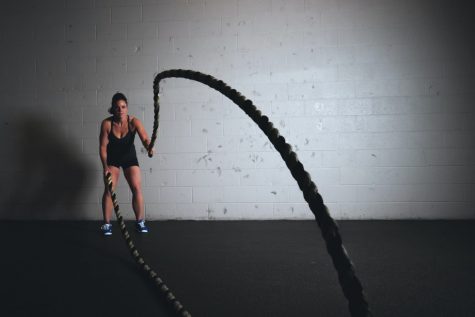 Working out at home has become the norm in the age of quarantine, so this DIY project is a perfect addition to an at-home routine. Take a couple of thick ropes that may be lying around in storage, from an old playground set in the backyard or order them online. Take the ropes and wrap them around a wall post, a poll in the basement or anywhere outside to anchor them. They can even be held down at the center with weights. Then, add duct tape at the ends to create handles and head to Youtube to check out some at-home workouts utilizing exercise rope. 
Completing a DIY project is a great way to stay inspired during this time. Try out new ideas, add more charm to the home and get creating.