A socially distanced awards season
The last ten months have presented a frequent need to adapt to extraordinary circumstances, and this year's awards season is no exception.
The MTV Video Music Awards were held on Aug. 30 in a socially distanced fashion, with performances in multiple buildings and celebrities donning face masks. The 72nd Emmy Awards, aired on Sept. 20, was also held almost completely virtually.
These new formats for the award shows proved challenging and many were skeptical about the shows actually working, but somehow both managed to have (mostly) smooth and successful nights.
Immense pressure was put on the organizers of the VMA's as it was the first awards show to take place during the pandemic, as well as among the ongoing struggles against police brutality and protests in support of the Black Lives Matter movement.
Ceremony host Keke Palmer opened the show, handling these topics with poise and wisdom.
"With the Black Lives Matter movement, we've seen our generation step up, take to the streets and make sure our voices will be heard. Enough is enough. What we just witnessed in Kenosha, Wisconsin is another devastating reminder that we can't stop, that we can never tolerate police brutality or any injustice," Palmer said.
She continued, "We must continue the fight to end systemic racism. The leaders of that movement are you, us, the people watching tonight. It's our time to be the change we want to see."
Palmer dedicated the show to Chadwick Boseman, the icon who passed away two days earlier, adding an extra layer of depth and importance to the show.
Palmer said of the incredible actor, "We dedicate tonight's show to a man whose spirit touched so many. He's a true hero, not just on screen but with everything he did. His impact lives forever."
The VMA's were also highly anticipated due to the plethora of talented performers like Chloe x Halle, The Weeknd, Lady Gaga, Ariana Grande and Miley Cyrus.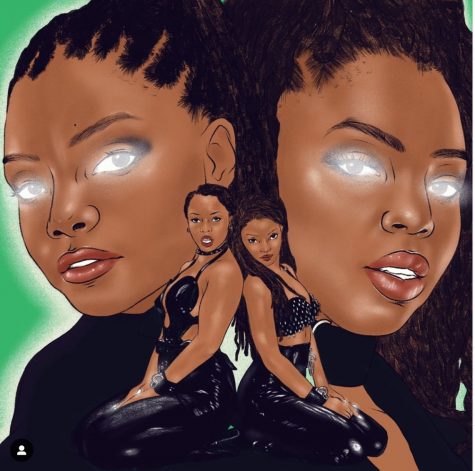 Chloe x Halle stole the preshow with a dazzling performance of their most recent album's title track "Ungodly Hour." The two looked stunning in their matching chrome outfits surrounded by a disco-esque set, adorned with strobe and LED lights. The pair sang impeccably, showing their wide ranges throughout the much-loved song.
Chloe x Halle also happen to be one of the first artists to perform during quarantine, a new category of award this year. "Best Quarantine Performance" was added due to the amount of improvised performances that artists staged from home.
University junior Imani Nelson reacted to Chloe x Halle's nomination in this category. "Chloe and Halle definitely should have won Best Quarantine Performance. They did quite a few of them, some acoustic and rock version of songs from the new album," Nelson said.
Nelson added, "I did not watch the VMA's but the lack of Black female artists in the nominations when they released so much great music that did really well was disappointing. The best thing they did was choose Keke Palmer to host."
Miley Cyrus performed her new single "Midnight Sky," a modern rock bop. The performance was reminiscent of the 80's with the first half projecting simple color across the circular stage.
She eventually made her way up a staircase and as an homage to one of her previous eras, she sang the last verse of her song atop a disco ball, seemingly mimicking the "Wrecking Ball" music video, and possibly signifying the emergence of a new era of Miley.
Cyrus took home a few awards as well, including "Best Art Direction" and "Best Editing" for "Mother's Daughter."
The Weeknd took home two awards as well; "Video of the Year" and "Best R&B Video," both for his song "Blinding Lights."
To accept "Best R&B Video," he kept his words brief and heartfelt, "It's really hard for me to celebrate right now and enjoy this moment so I'm just gonna say justice for Jacob Black and justice for Breonna Taylor. Thank you."
He said almost the exact same thing for his acceptance of the coveted "Video of the Year" award. The singer put the night into perspective, showing support for Black Lives Matter and demonstrating the struggle to find joy in light of so many injustices.
The Weeknd also made headlines for a fantastic and exciting performance of "Blinding Lights" that started with a panicked self-camera view of the singer walking through LED lights, revealing himself to be on a rooftop with the city below him.
The singer sported his classic red blazer and bloody, bruised face featured on the cover of his latest album, "After Hours." The performance blew fans away, with insane vocals and fireworks going off in the background for the last chorus.
Despite not taking home "Video of the Year," Lady Gaga seemed to be the star of the night, taking home five awards, the most of this year's show. The artist was also honored with the first ever "Tricon Award."
Bella Hadid introduced the Tricon, saying that Gaga, "turns pop music into high art. She redefines fashion. She's not only an incredible musician and composer but a powerhouse actor and she is a bold champion for equality, human rights and mental health."
In her acceptance speech, Gaga called the fans at home "Tricons" and inspired viewers in her typical Lady Gaga way, affirming fans in an uncertain time that they too, can achieve their dreams.
She ended the speech beautifully and eloquently, "I know a renaissance is coming. The wrath of pop culture will inspire you, and the rage of art will empower you. This is what I believe. I want nothing more than to be your artist in 2020. It's a total privilege."
This was Lady Gaga's first VMA's performance since 2013, and considering she released her incredibly successful sixth studio album "Chromatica" back in May, fans were buzzing with excitement.
Lady Gaga began her nine-minute performance (in which all performers wore masks) by taking viewers into the world of "Chromatica," panning through a room with a small television depicting her fabulous fictitious planet.
Gaga was first shown in a stunning lime green two piece set and futuristic black mask, leaving her living room on a firepole. To the sweeping orchestral sounds of "Chromatica II," Gaga ran on stage amid mask-clad dancers to perform her hit fan favorite, "911." The performance was extremely energetic, with upbeat choreography and an air of excitement for what was to come.
Then came the most anticipated moment of the night—an iconic performance by the winner of "Best Collaboration," "Rain on Me" with Ariana Grande. The pair of pop legends recreated the celebrated music video on stage, with energetic bouncing and out-of-this-world costumes.
Grande displayed her unmatched vocal range, singing live whistle tones while wearing a mask. Gaga closed the set with "Stupid Love," beginning as a slowed-down piano ballad atop a staircase and on a brain-shaped piano.
Gaga affirmed viewers, "I want you to love yourself tonight and every night. Celebrate yourself. Love who you are. Be kind. Mask up. Be brave and be braver all the time," before finishing the hit single with her dancers amid stunning strobe lights and neon colors.
Despite immense challenges, this year's first socially distanced MTV VMA's went relatively smoothly and safely. Although 2020 has been riddled with obstacles and issues, it has certainly been a year for music, and with artists continuing to create throughout quarantine there is no telling what else is in store.
The 2020 Emmy Awards, virtually hosted by Jimmy Kimmel, were the second socially distanced award show held this year. The "audience" was entirely virtual, and was sometimes presented as clips from past Emmy's; the claps and laughter were added in by editors as well.
The nominees were introduced from their own respective locations where cameras were set up for viewers. It was an interesting set up that went relatively smoothly amid doubts from many people, even the host himself, as to how plausible it was to run the show successfully in this format.
The hit sitcom "Schitt's Creek" notably made history, being the first show to sweep the seven comedy categories and ended taking home nine Emmy's. The wins included Best Lead Actress and Actor awards for Catherine O'Hara and Eugene Levy.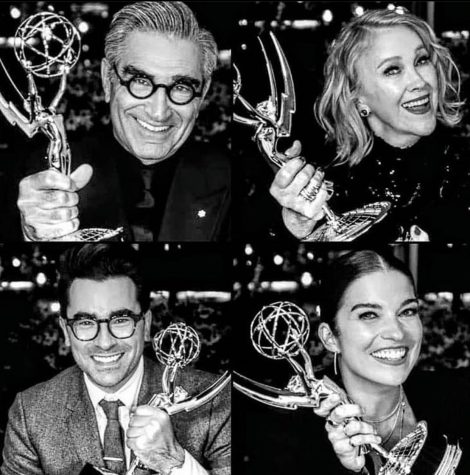 The six-season show is a fan favorite and has gathered a considerable number of viewers since it began in 2015. The comedy was put together by father and son duo Eugene and Dan Levy, and is currently streaming on Netflix.
"I want to thank this young man who took our fish-out-of-water story and transformed it into a story of inclusivity, a castigation of homophobia and a declaration of the power of love, so thank you Daniel," said Eugene Levy in his acceptance speech.
Zendaya also made history as the youngest person to ever win Best Lead Actress in a drama at 24-years-old and on her first ever nomination. She won the category for her intense and widely-loved role of Rue Bennett in the culturally groundbreaking HBO series "Euphoria."
Zendaya seemed absolutely shocked when she was announced the winner, making it one of the most endearing moments of the night.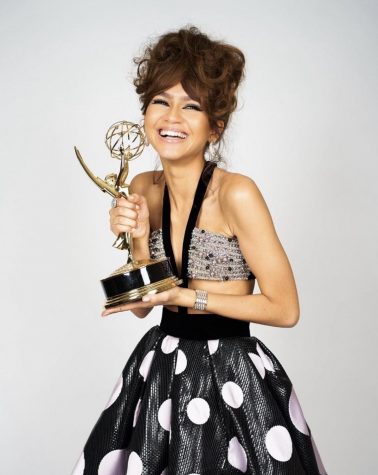 University junior and Arts and Entertainment Management major Michael De'Angelis said, "I was so excited to see Zendaya win. It was great for a young Black woman to win best actress during a time where young Black womxn are under appreciated in this country."
This year's Emmy's had seven Black winners which was the most in one year for all of the 71 years that the awards have existed.
Anthony Anderson, nominated for "black-ish," pointed this out during the ceremony and invited Kimmel to start chanting "Black Lives Matter" alongside him.
Jasmine Cephas Jones and Ron Cephas Jones also became the first father-daughter pair to win Emmy's in the same year, with Jasmine taking home an award for her work in the Quibi series "#FreeRayShawn." The drama series also led to a win for the lead actor, Laurence Fishburn.
Tyler Perry, who won the Governor's Award, told a story of a quilt his grandmother gave him and the journey of discovery he went through with it.
"I stand here tonight to say thank you to all of the people who are celebrating and know the value of every patch and every story and every color that makes up this quilt that is our business, this quilt that is our lives. This quilt that is America. Because in my grandmother's quilt, there were no patches that represented Black people on television," he said.
Regina King, who won for "Watchmen," wore a shirt that pictured Breonna Taylor and urged viewers to vote in her acceptance speech.
Voting was a popular topic at the Emmy's, with multiple winners asking viewers to vote and explaining the importance of having a voting plan.
Dan Levy of "Schitt's Creek" accepted an award by saying "Our show is about love and acceptance; we need it more now than ever before. For those of you that have not registered to vote, please do now. It's the only way we can have love and acceptance. Sorry to make this political, but I had to."
While presenting, Tracee Ellis Ross of "black-ish" simply said, "Stay safe, make a plan for voting and wear a mask."
The Emmy's were definitely in no shortage of technical issues and the usual awkward interactions of online communication, but they certainly did the best they could with the situation at hand.
Overall, these two historic award shows were a testament to the ability of art to bring people together no matter the circumstance and provided several moments to celebrate the joy that art continues to instill.