How to stay in shape in the era of COVID-19
It may be hard to find the motivation to include exercise into hectic daily routines, but taking that extra step to do so can help boost confidence and energy.
For students looking for ways to stay fit and active (safely and efficiently), The Pace Press has compiled a list of varying activities for both students on campus and those studying from home.
To begin, there are millions of virtual fitness classes available at the click of a button.
Let's take a look at a few options, including University clubs and local NYC gems.
Pace University Martial Arts is an on-campus workout club that has since gone virtual. PUMA provides a "community for learning new techniques, styles of martial arts, gun defenses and many more."
To find out more about their virtual meetings, be sure to check out their SetterSync profile and Instagram page, where they post technique videos.
View this post on Instagram
Shape Up NYC is a free group fitness program spanning across New York's five boroughs. The organization offers both in-person and virtual events, catering to the needs of all individuals.
In-person classes are held in local parks around the five boroughs and are socially distanced and require masks. Interested participants can sign up to take fitness classes like aerobics, boot camp, Zumba and more, all for no charge.
Online registration is required each week for classes. A zoom link will be sent after registration for virtual classes. For more information on the program, specific classes and times, click here.
305 Fitness has long been a hit among University students on campus. Navigating the switch to at-home workouts seamlessly, the fitness company provides completely virtual live workouts for its loyal followers in an easy and fun format.
With a seven-day free trial, the studio has created "305 At Home" where individuals can subscribe to take classes from home. For more details and a schedule of virtual events, check out the 305 fitness website here. 
View this post on Instagram
POPSUGAR Fitness is a fitness page on Youtube where students can watch virtual workouts. These videos are great for beginners who do not have any workout equipment at home– the only equipment you need is your body!
POPSUGAR offers classes for cardio workouts, abs, arms and yoga. The lengths of the videos also vary, meant for different levels of experience. Check out their main webpage for more information.
Additionally, creating a personalized walking route is a great way to incorporate exercise and safe socialization. For students living on campus, the Financial District has many amazing routes to walk, providing scenic views and a fun way to get the blood flowing.
"One of my favorite places to walk around campus is the Seaport District," shared University senior Lauren Moser. "It's always so relaxing and helps me clear my head, especially when I'm having a stressful week."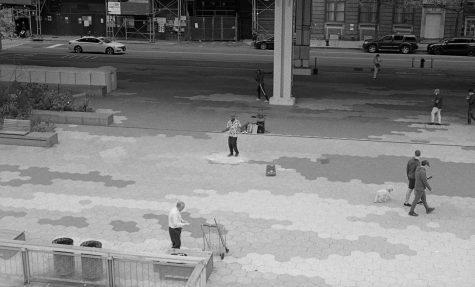 "I also love walking to Brookfield just in time for sunset," Moser added. "It's great exercise and the area always makes me happy. While I do love Seaport and Brookfield, my absolute favorite thing to do is walk half of the Brooklyn Bridge at night. It's so relaxing and always makes me feel like there's not a worry in the world. It has my favorite views and reminds me of how gorgeous Manhattan really is."
For students who are not living on campus, make time to discover a new walking route at home. Whether it's a solo walk, or a walk with a friend, family member or pet, exploring a new route can be exciting.
Plan a route is a free tool that allows the user to create a virtual path in any neighborhood, showing the best and safest walking routes.
"During quarantine, getting outside and walking has made a huge difference," shared University senior Emma Note. "It gives me a chance to get up and stretch my legs from sitting at my desk all day and also some 'me' time. I use the time to listen to a podcast, call a friend and catch up or just enjoy the quiet.
"Although this habit of going on walks came out of necessity in stressful times, I think it will continue to be a part of my daily routine in the future" Note continued.
The abundance of safe and cost-effective options for University students looking to get active makes dedicating time each week to physical activity easier, which can help promote better mental health and decrease stress levels.