A tribute to SOPHIE, the trailblazing pop star that changed music forever
Contemporary pop and electronic musician Sophie Xeon, better known as SOPHIE, tragically passed away at the age of 34 on the morning of January 30th.
The visionary artist's passing took friends and fans by surprise and broke the hearts of both those who worked with her and those who were touched by her work.
Both of SOPHIE's labels, Transgressive and Future Classic announced: "True to her spirituality she had climbed up to watch the full moon and accidentally slipped and fell. She will always be here with us."
The accident is a surreal and poignant parallel to the beauty, heartbreak and mystique of SOPHIE's life and her art.
SOPHIE's passing is a devastating blow to the LGBTQ+ community, as she was an icon and role model unlike any other.
SOPHIE was a transgender woman; in an interview with Paper Magazine for their pride issue in June 2018, she was asked, "What is transness to you?"
SOPHIE answered, "For me, transness is taking control to bring your body more in line with your soul and spirit so the two aren't fighting against each other and struggling to survive. On this earth, it's that you can get closer to how you feel your true essence is without the societal pressures of having to fulfill certain traditional roles based on gender. It means you're not a mother or a father — you're an individual who's looking at the world and feeling the world. And it's somehow more human and universal, I feel."
The trailblazing producer and artist was open about her thoughts on being trans and left a lasting impact on the LGBTQ+ community in a way that no one else has. The rest of the beautiful Paper interview can be read here.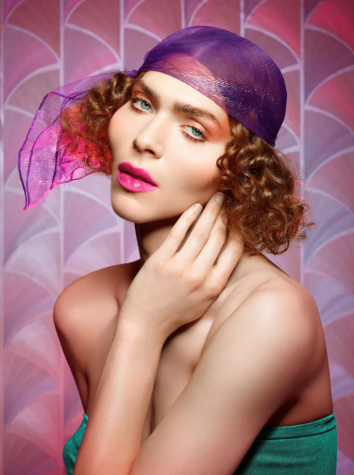 While so many people have loved and appreciated SOPHIE's outstanding work, she is still somewhat of an "underground" artist to many others.
SOPHIE collaborated with a plethora of artists from multiple genres, arguably due to the fact that her musical flair was on a different plane of genius that extends way past genre.
The avant-garde producer pioneered the subsect of pop that encompasses the combination of electronic, PC music, house, hip-hop and many other influences.
In 2015, after gaining considerable recognition as an artist who produces music unlike any other, SOPHIE co-wrote and co-produced Madonna's single "Bitch I'm Madonna."
Along with Diplo, SOPHIE managed to produce one of the best songs in Madonna's extensive repertoire.
SOPHIE's influence is evident through the robotic-like tone of Madonna's voice paired with the bubbly dance beat filled with claps and inventive beats.
University junior and SOPHIE fan, Michael DeAngelis said, "SOPHIE literally brought artists from every genre of music together to make, essentially, her own genre of music. She wrote for Madonna. She wrote for Madonna. If you work with Madonna, that's it. She was an inspiration unlike any other and will be missed by so many."
Another one of SOPHIE's exceptional collaborations was with rapper Vince Staples on his 2017 electronic album, "Big Fish Theory."
Staples shared his decision to work with SOPHIE; "One thing about SOPHIE's music, it demanded attention … Her music demanded attention. While 30,000 people were waiting for one guy to go on, her music demanded attention"
The song "Yeah Right" from the album was co-produced and written by SOPHIE, along with an all-star ensemble of Kendrick Lamar, Flume and more, and is one of SOPHIE's most celebrated tracks.
The song is, of course, wildly imaginative and has a heavy industrial sound that is piercing and heart-pounding.
In multiple recent posts remembering his work with SOPHIE, Staples wrote, "Can't even be sad cause cuh would look at me like I was crazy lol," he continued, "SOPHIE was different you ain't never seen somebody in the studio smoking a cigarette in a leather bubble jacket just making beats not saying one word. And don't let the verse be deep or heartfelt cause she stopping the computer and walking outside until you get back on some gangsta sh*t."
One of SOPHIE's most unbelievable feats was her work on Charli XCX's four-song EP released in 2016, "Vroom Vroom."
Before the EP, Charli was fighting the mainstream of pop music, toeing the line of becoming the next big pop princess with hits like "Boom Clap," and "I Don't Care."
This is a far cry from XCX's carved-out spot in the PC, electronic side of pop which simply would not have happened without SOPHIE.
Back in 2016, XCX made a statement about the collaboration, "I've worked with SOPHIE on the new EP and what we create together speaks for itself. Sometimes we get aggressive, sometimes we get beautiful; they push me and I push them. I'm making beautiful party songs right now and this is just the start. The album goes to other places and I can't wait for people to hear it. I feel the most creative I have in a long time and I couldn't be more excited for the next chapter."
The title track of the EP, "Vroom Vroom," holds a special place in the heart of SOPHIE and XCX fans as it began a whole new era for the artists.
The song combines gnashing mechanical noises, dancehall beats and SOPHIE's signature synths, paired with XCX's bold and unforgettable lyricism: "Bitches know they can't catch me (vroom vroom) / cute, sexy, and my ride's sporty (vroom vroom) / those slugs know they can't catch me (vroom vroom) / beep-beep, so let's ride."
In a poignant and heartbreaking Instagram post, Charli wrote, "It's really hard for me to sum up the special connection I felt with such an amazing person who completely changed my life. There are so many memories, so many small details, so many different views and incredible feelings and stories. It's impossible to summarize the journey I went on with SOPHIE. Even the most insignificant things felt enormous. I can't explain how I feel and I can't encapsulate what a unique person she was in one small social media post. I will honor SOPHIE in my own time personally, in my grief, through my memories, through my work, through writing things only I will read.
She continued, "But for now, all I can say is that I will miss her terribly; her smile, her laugh, her dancing in the studio, her gentle inquisitive voice, her cutting personality, her ability to command a room without even trying, her incredible vision and mind. She taught me so much about myself without even realizing. I wish I had told her more how special she was, not just her music, but her as a person. I love you and I will never forget you SOPHIE."
SOPHIE also worked with pop icon Kim Petras, collaborating on one of her hit singles "1,2,3 dayz up." The track is a mix of beachy pop and experimental house music, making for the ultimate Kim and SOPHIE mash-up.
Petras recently posted a photo of SOPHIE on Instagram, captioned, "Goodbye earth angel, I am so proud to have called you a friend. I will miss you so much. This world did not deserve you."
SOPHIE collaborated with multitudes of other artists as well, producing and collaborating on songs like "QT," by QT, "Nonbinary," by Arca, "Hot Pink," by Let's Eat Grandma and many more.
Fans, collaborators and friends were struck by the passing of the supernova of an artist and person. Many stars have made statements about the profound loss, including singer, songwriter and producer, Caroline Polachek.
Polachek poetically captioned an Instagram post, "Thank you SOPHIE for inviting us to this world. For opening up space for new ideas, bodies, ways of being, ways of looking with loving curiosity at the present. For raising the bar so high I could only dream of catching up – and also for your encouragement, which always meant the most. For your soft laughter and ferocious integrity. What a gift to be in your orbit, and to stay here in it."
This incredibly versatile artist, of course, has music of her own as well, which exists alongside her transcendent visuals.
She is known for her hyper pop sound that does nothing more than make you want to dance for the rest of time. Only two days before her passing, SOPHIE released the energetic single "UNISIL," her second release of 2021 after "BIPP (Autechre Mix)."
In 2018, she released her debut album, "OIL OF EVERY PEARL'S UN-INSIDES," a high-concept, avant-garde album, each of the nine songs flowing perfectly into the next while still standing out from the last.
A few fan favorites include the upbeat and glittering "Immaterial," the face-melting "Faceshopping," which questions what is real in our digital world and "Infatuation," which encapsulates obsession towards understanding the person you love.
Also on the artist's debut album is the beautifully sad single "It's Okay To Cry," which was released in 2017. As fans of SOPHIE mourn her passing, they remember these tender lyrics and that it is always, in fact, okay to cry.
According to Pitchfork, the music video for this song was the first video the artist ever showed her face in. SOPHIE stands in front of a colorful, quickly changing sky, and intimately sings the song to anyone who may need to hear it.
She sings, "I hope you don't take this the wrong way, but I think your inside is your best side."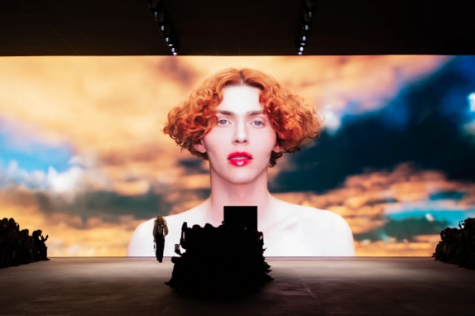 A quote from SOPHIE that perfectly encompasses her thoughts and feelings towards pop music floated around social media for a few days after her passing.
In a Rolling Stones interview alongside fellow singer-songwriter A.G. Cook from 2015, the artist said, "I think all pop music should be about who can make the loudest, brightest thing. That, to me, is an interesting challenge, musically and artistically. And I think it's a very valid challenge – just as valid as who can be the most raw emotionally. I don't know why that is prioritized by a lot of people as something that's more valuable. The challenge I'm interested in being part of is who can use current technology, current images and people, to make the brightest, most intense, engaging thing."
The full interview can be read here.
Within a week of her passing, a petition directed at NASA on change.org began to spread, requesting that the discovered planet TOI 1338 b be named in honor of SOPHIE and her legacy. Artist renditions of the planet very closely resemble her aesthetic, particularly the cover of "OIL OF EVERY PEARL'S UN-INSIDES."
Christian Arroyo, the creator of the petition, writes, "I am requesting, at the discretion of the incredible scientists who discovered the planet, that TOI 1338 b be named in honor of the great LGBT+ influence, SOPHIE. Her fans would love to pay homage by having her name be remembered in this way and for her influence to continue to flourish for years to come." This petition requires 150,000 signatures, and is more than halfway to its goal!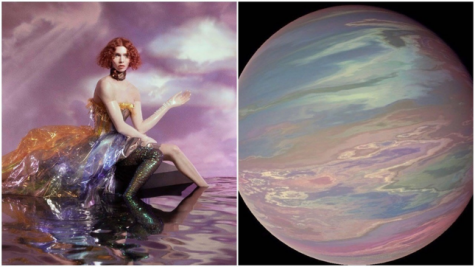 What SOPHIE has done for the music and producing industries and for the LGBTQ+ community, particularly the trans community, has changed the world forever and will always be known as a blueprint.
SOPHIE fan and University junior Kate DiFilippo shared her thoughts on the artist; "SOPHIE was simply legendary. It's almost impossible to begin to explain just how important and special her work is. She was a true visionary and she will be forever remembered."
Some essential SOPHIE and SOPHIE-produced tracks:
"Vyzee" (Product)
"It's Okay to Cry" (Oil of Every Pearl's Un-Insides)
"Yeah Right" by Vince Staples feat. Kendrick Lamar (Big Fish Theory)
"Nothing More to Say (Dub) (Nothing More to Say – Single)
"Ponyboy" (Oil of Every Pearl's Un-Insides)
"Faceshopping" (Oil of Every Pearl's Un-Insides)
"Vroom Vroom" by Charli XCX (Vroom Vroom – EP)
"1,2,3 dayz up" by Kim Petras (1,2,3 dayz up – Single)
"Immaterial" (Oil of Every Pearl's Un-Insides)
"Whole New World / Pretend World" (Oil of Every Pearl's Un-Insides)