Movie theatres open in NYC with restrictions: what theaters are open and what is showing
In February, Governor Andrew Cuomo announced that movie theaters would open, although they will continue adhering to COVID-19 restrictions.
Despite criticisms against the initiative, movie theaters reopened at 25 percent capacity in New York City on March 5, almost a full year after quarantine regulations were set into effect in the city.
Movie theaters across the city are now open with social distancing, assigned seating and a 50-person limit per theater.
With appropriate regulations being enforced, concessions will rarely be an option in many theater, but some are still offering "socially distanced concessions," with moviegoers being able to place orders through their phones.
University junior Lauren Quattrochi said, "It will be weird to not popcorn during the movie and have to wear a mask, but it will be nice to have something to do. It'll kinda feel a little more normal again."
The reopening offers a glimmer of hope to some that we are on the right track to reaching a way of life that is near to the one we experienced almost one year ago.
The news comes with much controversy and a promise of some relief on the horizon for the arts industries that have suffered since the pandemic began.
The film industry has taken a huge hit due to the pandemic and this seems like a welcomed move among those in the industry, but it is not a fix-all.
Warner Bros announced at the beginning of this year that all of their 2021 movies will be released simultaneously on HBO Max and in theaters.
This move has caused controversy in the film industry and takes away from the period of exclusivity that comes with films being in theaters.
Some people also think movie theaters will take a hit from the streaming releases as people might opt to stay home to watch, but it is a more accessible option in a time where people are still at risk for the virus.
There are some movie theaters that are opting to remain closed for a period of time, including the Regal Cinema chain, which decided against reopening until theaters return in Los Angeles. AMC, however, opened all of its locations in NYC.
University sophomore and Film and Screen Studies major Leigh Bauer said, "I think after the pandemic, there will be a unique and exciting influx of movies being released. Partially from delayed movies that are all going to come out around the same time due to studios' eagerness to get the movies out there, but also a sort of creative awakening where people are going to be so inspired to make movies."
Bauer continued, "I'm really excited to see the delayed movies, like 'Black Widow' and Steven Spielberg's 'West Side Story,' but also the movies that became creative outlets for filmmakers after seeing the brokenness in our society that the pandemic has exposed. I think it's going to be a really exciting time for movies post-pandemic! I hope that people will go see the movies in theaters and support these filmmakers' work!"
Now that movies are being shown in NYC, it is possible that the film industry will begin to release blockbuster movies again and rebuild, but it could still be a bit of time before that can happen. Vaccines are rolling out in NYC, but infection rates are still on the rise.
Cuomo also announced that soon, on April 2, some arts venues will be able to open at 33 percent capacity. This means that plays, concerts and other live performances could be occurring soon.
The Pace Press has compiled a list of movie theatres that are open now and movies that are currently showing in NYC:
All 13 AMC Theatres
Showing: "Tom & Jerry," "The Little Things," "Wonder Woman 1984," "Raya and the Last Dragon," "Chaos Walking," "Boogie" and "The Croods: A New Age."
The Angelika Center, located in Soho
Showing: "Quo Vadis," "Aida?," "Nomadland," "The Father" and "Minari."
The IFC Center, located in Greenwich Village
Showing: "My Salinger Year," "La Llorona," "The Vigil," "Da 5 Bloods," "Ma Rainey's Black Bottom," "Mank" and "The Trial of The Chicago 7."
Nitehawk Cinema, located in Brooklyn (Prospect Park and Williamsburg)
Showing in Prospect Park: "Judas and The Black Messiah," "Chaos Walking," "Nomadland," "Night of The Kings," "One Night in Miami," "Billie Eilish: The World's a Little Blurry" and "Raya and The Last Dragon."
Showing in Williamsburg: "Nomadland," "Minari" and "My Salinger Year."
Quad Cinema, located in Greenwich Village
Showing: "My Zoe," "Supernova," "Night of the King" and "The World to Come."
Village East Cinema, located in the East Village
Showing: "Billie Eilish: The World's a Little Blurry," "Judas and the Black Messiah," "Land," "The Mauritanian" and "Tenet."
About the Contributor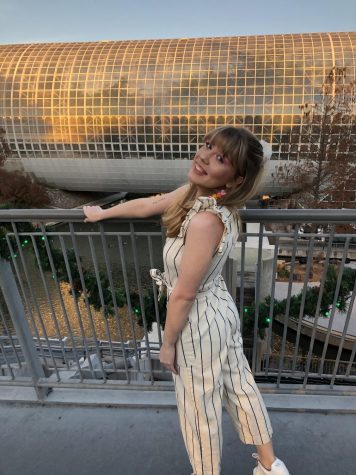 Britni Dunn, Editor-in-Chief
Britni is a current senior Pace University, majoring in English Language and Literature with minors in Journalism, Philosophy, and Creative Writing. Brit...