Art from Ashes: University art gallery's new exhibit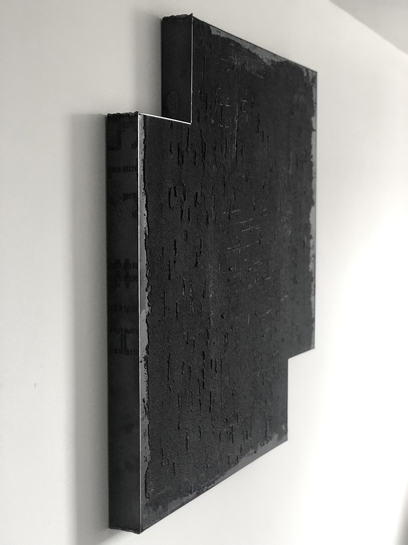 On March 1, the University's art gallery in 41 Park Row opened a new exhibit called "Substance."
This opening was celebrated with an event on Zoom featuring Diego Anaya, one of the artists featured in the exhibit.
The event was hosted by gallery director and curator Sarah Cunningham along with her co-curator, University senior and Art History major Samantha Smith.
After speaking briefly about the art gallery and all it has to offer, the pair introduced artist Diego Anaya to the event attendees.
Anaya shared his story about how he came to be an artist and what his style of art is all about, adding that he deeply appreciates art with texture and enjoys the tactile process of working with materials such as soil or ashes.
"I've done a little bit of everything here in New York," Anaya shared. "I've worked in construction, carpentry and maintenance, and a lot of the materials I was using for my art were the materials I already had. At one point it was wood when I was working as a carpenter, and in construction, I had access to concrete. I would take a little of what I had leftover and experiment with it."
He often creates art reminiscent of his Mexican heritage and also revealed that he enjoys incorporating a performance aspect into the creation of his pieces.
Anaya brings themes of ashes and burning into his works, relating to offerings through material burning in Mexico. He has also burned materials such as dried palm leaves and corn husks for his performances.
When asked by a participant of the Zoom call whether he considers his art pieces to be "art" or considers them relics or artifacts of a performance, he said that he leans toward seeing them as the latter.
"The way that I see it is that I have the need to explore other materials and other mediums, and I have experimented with everything, but I always go back to creating these rituals for my practice, whether it's performing or some other form," Anaya said. "It just comes naturally."
Anaya's works featured in "Substance" certainly capture the love of artistic texture he mentioned.
The first, titled Black Rain and the Window, was made in 2018 with ashes, burnt wood and charcoal on an artist steel frame.
His second piece, titled Retable, was created in 2021 using ashes, sand, paint, pigments and patinated copper. It was made on a wood panel and placed on an artist steel frame.
Anaya's final piece in the exhibit, Untitled, was made in 2019 with corn, sand, paint and pigments. It was made on a glass mirror, also with a steel frame.
The art gallery plans to open this exhibit to the University community in person in the Fall of 2021, provided the status of the COVID-19 pandemic.
Both Anaya and Sarah Cunningham agreed that the textured nature of Anaya's paintings would be tremendously more impactful when seen in person!
To explore the other artists featured in this exhibit, click here.