Meghan Markle and Prince Harry expose the realities of life within the royal family
Trigger warning: suicidal ideation
After years of conflict within the royal institution and against British tabloids, the Duke and Duchess of Sussex Prince Harry and Meghan sat down with Oprah Winfrey to break their silence on the injustices they faced as a family and discuss their reasoning for stepping down as senior members of the British royal family.
The two-hour special aired on March 7 on CBS and featured shocking revelations surrounding British tabloids "perpetuating falsehoods" against her and her untold plights with the institution's increased pressure on her public image.
"It never occurred to anyone that I wasn't okay," Meghan said. "I don't know how they could expect that after all this time that we would still just be silent."
The abuse of Markle brings up tragic memories – that of the late Diana, Princess of Wales, who also faced a constant barrage of scrutiny from British tabloids in her time as a royal.
University sophomore Morgan Moroney expressed her shock after watching the interview. "I think that the way Meghan was treated by the U.K. press was unfair and showed blatant forms of racism. But I'm happy that they spoke out against this."
Moroney continued, "I feel that this was their first step in reclaiming their narrative and that they made the right decision."
The couple's discussion of the press's racially charged attacks on her character and the absence of aid from the institution has sparked a conversation on the double standard Meghan faced in the media and the obsessive and rigid nature of the royal institution.
Before her integration into the royal institution, Meghan Markle was known for her role in the procedural drama series "Suits" as the paralegal Rachel Zane. Markle married Harry in 2018 and later gave birth to her first child Archie Harrison Mountbatten-Windsor in 2019.
Just before the pandemic in January 2020, Meghan and Harry decided to step down as royals, due to the press's torment and invasion of their private lives.
They also wanted to balance their lives with their newborn and be self-sufficient beyond the royal confines. Months after renouncing their membership, Markle suffered a miscarriage in July.
When news of their resignation broke, headlines accused the couple of blindsiding Queen Elizabeth II and the entire institution. However, after the broadcast of their account, their perspective expresses the contrary.
In the interview, Prince Harry and Meghan explained that they had several discussions with both the Queen and Prince Charles before stepping down.
Meghan painted the picture of her life within the royal institution, describing it as obsessed with their public image, detailing her lack of independence.
Meghan recalls that as soon as she was a member of the royal family, she lost access to her personal belongings like her passport, keys and driver's license. Feeling restricted, she felt a stark contrast to the freedom and resources she had in her acting career.
In another instance, Meghan was advised and even blocked from attending events with friends outside of royal duties, despite her prolonged confinement behind the imperial walls.
Meghan also discussed the "character assassination" she endured from the media in which she was accused of deplorable behavior against the royal staff and family.
Oftentimes misconstrued and even flipped at times, the controversial Daily Mail had called Meghan "vain" for holding her baby bump while sister-in-law Kate Middleton was considered "radiant" for the same gesture.
One magazine cover from The Sun said, "Meghan Made Kate Cry" over alleged demands about flower girl dresses. While Meghan was incriminated for this story, she said Kate was the one who actually made her cry amid stress during her wedding planning.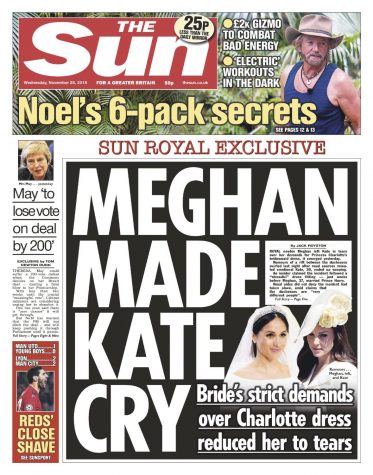 Prince Harry compared what Meghan was going through to his mother's battles as "history repeating itself," only now it was more dangerous because of her race and the involvement of social media.
"I took matters into my own hands… I've got to do something for my own mental health, my wife and Archie because I could see where this was going," Harry said, referencing the treatment of Princess Diana.
In a world where she supposedly had everything at her disposal, she said she never felt lonelier. The royal family never expressed support for Meghan during her scuffle with the tabloids, except for Harry who constantly asked the tabloids for respite. In darker moments, Meghan received death threats for simply being a member of the family.
Markle detailed her battle with her mental health stating that things "became almost unsurvivable… I just didn't see a solution… It was all happening just because I was breathing."
At her darkest moment, Meghan revealed that she had experienced suicidal thoughts as a result of the press's constant attack on her life and the lack of solidarity from the royal family. "I just didn't want to be alive anymore and that was a very clear and real and frightening constant thought."
Recognizing this urgent necessity, the couple went to members of the institution to ask for help. Unfortunately, Meghan was denied any resources and was barred from checking herself into a mental health facility.
Harry highlighted that that the institution has a mentality that the royals must endure this mental exhaustion even after practically begging for help or permission to handle Meghan's mental strength.
He remarked that "No matter what's going on in your personal life… if the bikes roll up and the car rolls up… you gotta get in there, wipe the tears away, shake off whatever you're thinking about and you gotta be on your A-game."
The couple faced this turmoil amidst Markle's first pregnancy, which also sparked further prejudicial treatment of Meghan. Markle states that when Archie was born, he would not receive a royal title and therefore security, unlike the rest of the royal children, and they were never given an explanation for why the convention was being changed.
In a horrifying statement, Markle describes a discussion in which there were "concerns and conversations about how dark his skin might be when he's born." The couple could not fathom why her and Archie's race was considered "damaging" to the Royal Family's image.
The British Commonwealth consists of 54 countries, primarily consisting of POC nations, and the couple saw her inclusion as a benefit rather than a hindrance to increase representation.
"Growing up as a woman of color, as a little girl of color, I know how important representation is. I know how you want to see someone who looks like you in certain positions."
Meghan remained stoic and refrained from naming the members of the family who refused her basic needs and had made comments on Archie's skin color.
On the contrary, Harry was more vocal about his attitude to his family – he mentions that his father, Prince Charles, had not been returning his phone calls and that his brother Prince William had been distant.
After announcing that they would be stepping down, the couple lost all forms of security and financial assistance that they previously held.
One consistent assailant of Meghan is "Good Morning Britain" commentator Piers Morgan, who has articulated his disdain for the Duchess since the inception of her relationship with Harry, dubbing the two as "spoiled brats" on Twitter, among other disparaging labels.
My new @DailyMail column is about Harry & Meghan – the two most spoiled brats in royal history.
Posting soon. pic.twitter.com/4hy6cl901U

— Piers Morgan (@piersmorgan) January 9, 2020
Skeptical of her mental struggles, the commentator ranted live on his program doubting that she experienced this racism and opposition. After this tirade, Morgan was announced to be removed from "Good Morning Britain" on March 9.
University sophomore Julia Dorochenko commented on Morgan's removal with relief. "Everyone was aware of how the press and Morgan treated her, it was blatantly racist, but no one is going to tolerate it anymore. I think the tabloids will be held more accountable, but I'm not sure that the industry will change, because it makes its money off of selling lies and ridiculing people."
The silver lining of the interview shows that the couple is much happier and healthier. The two currently reside in Southern California, and Meghan, currently pregnant, announced that they are expecting a girl.
Meghan and Harry also detailed their plans for the future with their new foundation Archewell Inc., where they plan to produce content and creative ventures with Spotify and Netflix.
As seen on their website, Archewell Inc. aims to "drive systemic cultural change across all communities, one act of compassion at a time."
A short clip at the end of the interview features Harry playing with Archie on the beach as he expresses his adoration for his family, saying he has "no regrets" about leaving and is proud of Meghan's strength.
Meghan says, "All the grandeur around this stuff is an attachment I don't have… the most important title I will ever have is mom."
RESOURCES: 
Counseling Center
156 William Street, 8th Floor
Phone: (212) 346-1526
24/7 On-call staff
National Suicide Prevention Lifeline
Hotline: 1-800-273-8255
Available 24 hours a day, 7 days a week via phone and online chat.