How to prioritize self-care in college
Many University students have developed their own unique coping mechanisms, stress relievers and self-care rituals during this unusual academic year, all of which are productive ways to handle and work through change. 
For those who have not yet, or are looking for more self-care practices, The Pace Press has compiled a list of some on-campus resources and personal healthy habits for students to implement into their lives. 
LQBTQA+ Center Healing Friday Events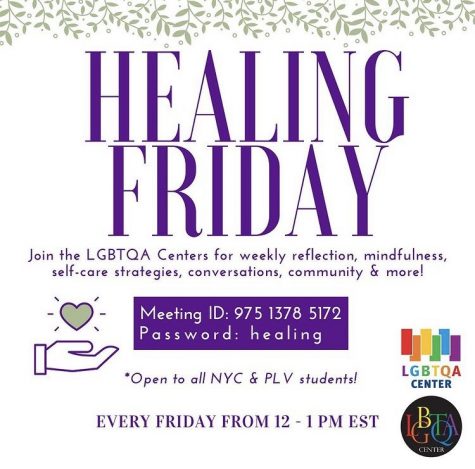 Each Friday during the Spring 2021 semester, the LQBTQA+ center hosts "Healing Friday" gatherings for University students.
Hosted virtually on Zoom from 12:00 p.m. to 1:00 p.m., this weekly event focuses on self-care and healing.
This weekly event runs in different formats each week such as workshops, community building and conversations; it is a perfect stop for self-care.
All students are welcomed to join this welcoming community and are encouraged to participate in conversation and activities to help promote positivity in the era of COVID-19.
Interested students can join via Zoom with the Meeting ID: 975 1378 5172 and Password: healing.
For any further questions, students can check out the LQBTQA+ Center website here or email LGBTQA+ Center Associate Director of the NYC Campus Emmett Griffith (he/him). 
NYC Campus Counseling Center
The Counseling Center on campus is another essential stop for college students looking to prioritize self-care and emotional/mental health.
Counselors are available for all students on and off-campus to discuss any personal, emotional or psychological troubles and are completely confidential services.
Students can also choose from both individual and group counseling. This is a safe space for all students to discuss whatever is on their minds during these stressful times.
All services are currently available remotely between the hours of 9:00 a.m. and 5:00 p.m. on weekdays. The center is also providing a call-in clinic between 1:00 p.m. and 2:30 p.m. on each of these days where they may request to talk to the Call-In Counselor, without an appointment, by dialing (212) 346–1526. For more information, check out their website here.
Manifestation 
A consistent way to work on bettering the mind is through the practice of manifestation.
Manifestation is a powerful way to place focus on thoughts and dreams as an attempt to make them a part of everyday reality. Some of the most common forms of manifestation are meditating and journaling.
The principle behind manifestation is that once you send your desire out into the universe, you are one step closer to attracting a desired destiny. Let's break down these forms of manifestation and how to put them into practice: 
Meditation 
Whether meditating in a yoga class or during free time, be sure to pay attention to breathing, keeping thoughts in the present moment, defining a sense of self-purpose and creating space for positivity and growth.
Practicing mediation on a daily basis can help lower stress, connect the mind and body, improve focus, minimize racing thoughts and bring awareness to pain and breathing, to mention a few.
For those looking for guidance on getting started with mediation, some free app options are Insight Timer, Smiling Mind, Stop Breathe and Think and 10% Happier. While these are not the only options on the market, they are great options for students looking to give mediation a try free of cost.
Journaling
Journaling is another common form of personal therapy. It is an easy habit to develop, and a healthy one to practice daily.
When we write our thoughts down, we are often able to understand them more clearly. One productive way to journal is to work on everyday prompts, as this helps to develop a level of consistency and builds habitual practices for the brain.
A few everyday questions are as follows: What are you looking forward to today, both academically, professionally and personally? What do you want to accomplish today, and how will you get it done? What are some of your regular everyday thoughts, both positive and negative?
It also can be healthy to work on long-term goals and questions in the journal. These questions aim to develop and harness goals that you would like to achieve in the future or over the course of life.
Some good long-term questions are as follows: What are your goals for the year? Where do you see yourself in 5 years? What are 5 things you would like to accomplish by the time you graduate college? Important tip: When journaling, write in the present tense and begin sentences with strong "I statements."
Personalize your own self-care practices 
While these are some common habits to practice, they by far are not the only ones out there.
Take it from University senior Emma Note. Note values self-care on an extreme level but uses different methods than the ones described above.
"I truly think self-care can mean something very different for everyone," Note shared. "The things I love to do or anything that is a solo activity I really enjoy is what I make a priority. During lockdown, I would find a new baking recipe I was really excited about and try it out. I really dove in; I was making eclairs from scratch and also homemade lava cakes!"
Baking can be extremely therapeutic and a fun everyday habit to get the mind stimulated and cleared.
"More recently, I set time aside every day to work out," added Note. "It truly gives me something to look forward to every day. It is that one practice that is always just for me. Being stuck inside with family members can get very overwhelming, but splitting up the day and getting excited about the small self-care things that are in my control makes the biggest difference." 
While the changes to life because of COVID-19 may have caused negative feelings or emotions, there are many healthy habits to practice in order to combat them.
Working on some or all of the above forms of self-care, as well as using University resources, can help students create a healthy heart and mind!