The performing arts makes its return to New York City with restricted capacity
Gov. Andrew Cuomo announced that on April 2, arts and entertainment venues in New York City will be allowed to operate at 33 percent capacity, a major relief to an industry that has had none in over a year.
After more than a year in the dark, NYC's performing arts are beginning the long road to recovery, but this comes as a surprise given NYC is still a hot spot for COVID-19.
The restricted capacity will include strict precautions and protocols for guests of performances such as social distancing, face coverings, and others requirements appointed by public health agencies.
People will also need proof of a negative COVID-19 test (which can be done on an app, Empire Pass) or proof of vaccination.
With these guidelines, smaller venues that often host live music, like The Mercury Lounge and Bowery Ballroom, are holding off on opening.
Broadway theaters are still expected to open around Labor Day this year, but there are still many live shows occurring in the city.
University junior Lauren Quattrochi has been anxiously awaiting live performances to return and said, "I am so excited for performances to be coming back! I'm excited to see them because I love the experience of going to see a show and also there are so many I wanted to see now that I live in NYC but couldn't because they were closed!"
With the announcement of performance venues reopening, artists have been quick to announce various shows.
Comedy acts, one-person shows, plays, musicals and other performances have been put together for April and the coming months. The news comes as a relief to many comedians, as many comedy shows have been scheduled.
The Comedy Cellar has shows scheduled on each of its four stages. There are a dozen shows lined up for the venues and tickets can be found here.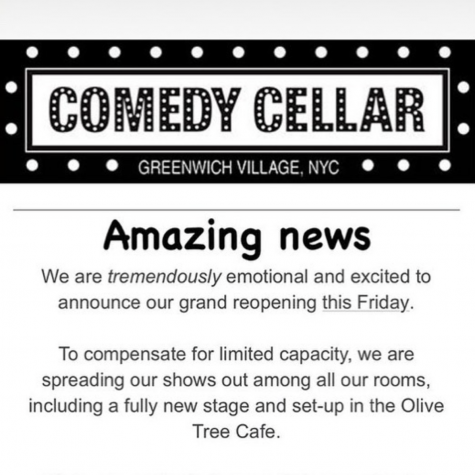 Stand Up NY, located in the Upper West Side, also has quite a few upcoming comedy acts and pop-up shows that are partnered with Unhinged Comedy.
There are currently shows on April 16, 18, 22, and May 6, 9 and 13. The shows will include COVID-19 protocols and precautions. Tickets are available for many shows and can be found here.
The Shed at Hudson Yards is another venue opening its doors this spring with performances from musicians and comedians.
The Shed is known as a fantastically built, exhilarating place of art and culture and is a welcomed return of city entertainment.
In order to get into an event, one must show a negative COVID-19 test. People will also sit in socially distanced pairs and each performance will only have 150 audience members.
The venue also has incorporated a whole new MERV ventilation system to combat the spread of illnesses.
The Shed has begun its series "An Audience With…" which features various musicians and comedians each night of the five-performance series. It began on April 2 with singer and cellist Kelsey Lu.
Musicians of the New York Philharmonic will be performing various shows on April 14 and 15, and soprano Renée Fleming will stun audiences with her vocal performance on April 21.
Renowned comedian Michelle Wolf will perform on April 22 and to close out the five performances, comedian Zaine Johnson will be making audiences laugh on April 23. Tickets for these performances can be found here.
An exciting and inventive new light and sound show are occurring at the Daryl Roth Theater in Union Square directed by Walter Meierjohann called "Blindness."
The show ran in London last August and is based on the novel of the same name by José Saramago. The theatre's website states that, "attendees in New York will hear the narrative unfolding around them through binaural headphone technology while surrounded by immersive lighting and atmospheric design and experience together, safely, the importance of community in our present moment and a reminder of the hopeful end that lies ahead."
The spectacle is a new and intense form of immersive theatre that is intent on providing a safe space with COVID-19 protocols. Tickets can be found here.
University junior, Esther Sutton, an avid theatre-lover, said, "It's definitely gonna take time for the industry to fully recover. But I think it'll be interesting to see how theaters handle the opening back up"
"I know that tickets will be coveted due to a limited capacity, so I wonder how much price will be an issue with Broadway shows opening up. I am really excited to not only start seeing live theatre but also comedy and music," Sutton added.
While indoor performances begin to resume, there are still plenty of outdoor performances people can attend as the weather gets warmer.
Public Theater is going to resume "Shakespeare in the Park" this summer which comes as a joyous piece of news to New Yorkers that have made it a tradition.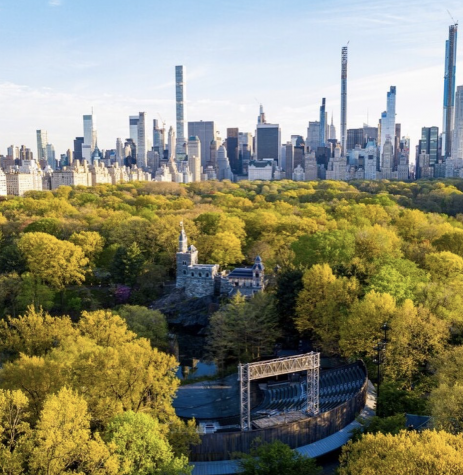 The Lincoln Center has also announced outdoor programming for the summer, including 10 outdoor performances and rehearsal spaces.
Along with Lincoln Center's own screenings, concerts, and workshops, they will partner with organizations across the five boroughs to create new programming.
Some organizations include The Bronx Academy of Arts and Dance, Harlem Week, and the Harlem Arts Alliance, as well as many other organizations and groups.
There are plenty of opportunities to attend a live performance for the first time in over a year and support the struggling entertainment industry in NYC.
As more and more artists get vaccinated and initiatives are made to help the arts industry recover, it is exciting and important to see various live performances occurring.
There is still an extremely long and difficult road to making the arts industry as strong as it was, but steps are now being made in the direction to rebuild the industry.