Five NYC ice cream shops perfect for summer in the city
As this semester draws to a close, it's important to take time to de-stress and relax, especially approaching finals week. With summer quickly approaching, students can enjoy the opportunity to explore the city and grab a treat along the way. How about some refreshing ice cream?
While it's difficult to find outdoor and socially distanced seating, some of these businesses are close enough to public parks to accommodate your ice cream social.
Whether you're looking for a celebratory scoop after finals or you simply want to treat yourself, here are some of The Pace Press's favorite socially distanced (and delicious) spots to grab ice cream this summer.
Established in 2016, this shop has popularized the culture of taiyaki, which traces back several centuries in Japan. When translated, taiyaki means "fried fish" and symbolizes good fortune and prosperity; the tai fish symbol is often gifted to families for celebrations. Served in custard-filled tai shaped cones, their ice cream is perfect for a photo-op with your friends and family. Grab any of their signature cones and take a short walk to Collect Pond Park to enjoy the weather with this treat! For students outside of Manhattan, there are also locations in Williamsburg, Brooklyn and Flushing, Queens. Equal parts delightful and delectable, Taiyaki NYC, is a fascinating shop with a rich history to expand your palate.
For any students looking for vegan alternatives or simply looking to try out dairy-free options, Whipped Urban Dessert Lab is a perfect pick. Marketed as the world's first oat milk soft serve shop, this black and woman-owned business features crumb coat and sauce toppings that are sure to be nothing short of heavenly. Most notably recognized on TikTok, it's a no-brainer why this shop has become so popular. Whipped Urban Dessert Lab is open on the weekends, ready for you to try out signature fusions like Strawberry Shortcake or Chocolate Peanut Butter Pretzel to satisfy your sweet tooth.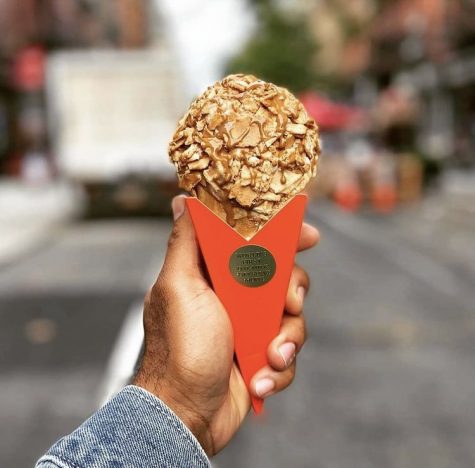 Mikey Likes It (East Village, Manhattan) – Dairy-free options
Michael "Mikey" Cole, founder and owner of his namesake shop, has sought to create an experience that bonds diverse communities together through ice cream. Cole originally served a short prison sentence for marijuana possession and has since rewritten the narrative that ex-felons cannot be successful. Inspired by pop culture and hip-hop, even having created a flavor for rapper-producer Jay Z, Mikey Likes It is sure to win over any ice cream connoisseur with its charismatic outlook alone. With names like Pink Floyd and The Brady Bunch and equally unique flavor combinations, prepare to go back for a second serving! Enjoy a cone of any of their famous flavors and take a five-minute walk to Tompkins Square Park to relish in the soon-to-be warm weather.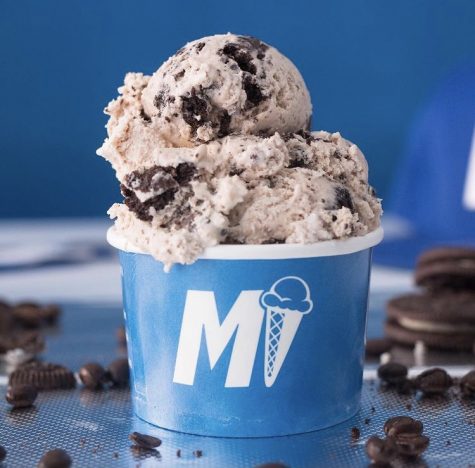 Minus Celsius Ice Cream specializes in instant ice cream rolls, which originated in Thailand. Using your preferred ice cream base and ingredients, Minus Celsius mixes the two on a subzero pan until it forms an ice cream consistency. When ready, the confectioner then scrapes the mixture into small rolls in an oddly satisfying fashion and serves with your choice of unlimited toppings. You can even get a warm Hong Kong egg waffle to pair with your dessert! A fan favorite at this shop includes their Matcha Madness creation, including green tea powder and Oreos. Minus Celsius also serves boba milk teas for any students who might enjoy these drinks as well. Hop on the Brooklyn-bound J train to Bowery, pick up a cup, and get ready for an interactive ice cream experience!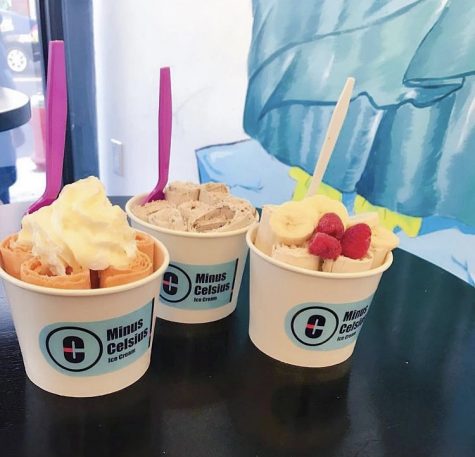 Morgenstern's Finest Ice Cream (Greenwich Village, Manhattan) – Vegan options
For those looking for the classic ice cream experience, take a trip to Morgenstern's Finest Ice Cream to indulge in some seriously exquisite desserts. This shop serves up 88 flavors of ice cream that can be concocted into classics like the banana split or one of Morgenstern's Delights like their Vietnamese Coffee Tiramisu. This shop also serves cakes, pies, shakes and floats; whatever you crave, Morgenstern's is sure to have it! You can even order online to pick up a pint of your favorite flavor and take it home for any midnight cravings. Whether you're looking for a quick treat or a late-night snack, take a short walk to Washington Square Park to catch up with friends, people-watch and view some park performances this summer!