Graduating in 2021, a look from the student perspective
In another semester filled with obstacles due to the ongoing COVID-19 pandemic, seniors celebrated their accomplishments and graduation in various ways. There is no way to make up for the usual Radio City Music Hall ceremony or the past year and a half of virtual learning. Still, seniors ended up having a memorable close to their four years of dedication and hard work.
Going through undergrad is a fantastic accomplishment. The Pace Press wants to highlight some of the impressive students who graduated this year and how they celebrated the end of their undergraduate careers! 
In a unique turn of events, the University hosted a graduation celebration and walk across the stage at Seaport. Pier 17 at South Seaport was decked out with Pace signs and yellow and blue, along with a large stage for graduates to walk across. 
The footage of the walks was used for the virtual Commencement ceremonies on Monday, May 17. The virtual Commencement ceremony began with an intriguing and well-put-together promo that showed both campuses stunningly and intimately.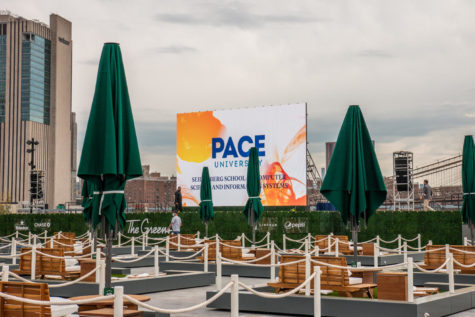 The Commencement ceremonies were hosted on YouTube with pre-recorded videos and speeches. The lack of a "live" aspect to the ceremony was a bit impersonal and less intriguing to watch, but it made for exciting footage towards the beginning of the ceremony.
President Krislov then made a speech to celebrate the accomplishments of graduates and reflect on their time at the University. The final quote from Krislov sums up his speech that requested students to reflect on their time both in-person and virtually at college: "When you look back at your time in college, I want you to remember this year and what you learned, but I also want you to remember the good times you had at Pace," 
He continued: "You can, and you will make a difference in this world, each one of you. You will use your pace education to make a better and stronger world for all of us."
The Commencement ceremony displayed footage of students that were able to attend the in-person walk across the stage. In between this footage, however, students who did not get filmed for the walk across the stage had photos shown and their names announced by an automatic voice recording.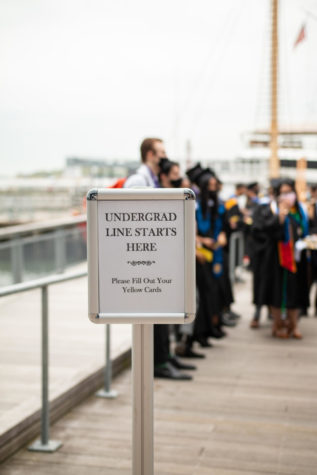 We asked those who graduated this year to give a bit of insight into how their virtual school years have gone, how they celebrated graduation, and how they believe the University graduation went.
Jessica LaFrance, a Pace Press alum, graduated from the Pforzheimer Honors College with a degree in Art with a focus in Graphic Design and a minor in Art History. The newly graduated artist stated:
"I feel bittersweet about my entire senior year being online. At first, and like most, I was completely against it and was having thoughts of taking a break (or honestly dropping out) if things continued how they left off in the spring 2020 semester. I think what kept me going was being able to laugh (and drink) the pain away with my friends and fellow vengeful seniors, which led to my eventual acceptance that this was how it was going to be.
LaFrance went on: "I know the options were limited, but I wish Pace showed that they cared more through financial and emotional support instead of, like, saying that they cared a suspicious amount of times and not really doing anything else. This was represented perfectly through our graduation ceremony that premiered live on YouTube, started with professionally filmed speeches, and then ended with a text-to-speech robot calling out our names for about 1-2 hours. Not even drinking vodka cranberries on a sunny rooftop made that easy to get through.
But hey, we did it! Not a lot of people could say they graduated in a pandemic! Except, y'know, last year's class. Shoutout to them too, congrats all!"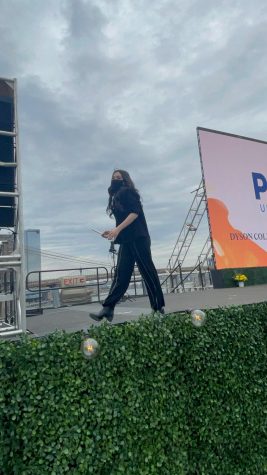 Another Pace Press alum, Dylan Share, offered his thoughts on graduating during such a difficult and tumultuous year. Share graduated from the Lubin School of Business with a degree in  Marketing with a concentration in Advertising and Integrated Marketing Communications and a minor in Art.
Share attended the University-run commencement activities and said that Commencement was " nothing short of a cluster-f*ck. The 1:00 pm Lubin commencement on May 4th was poorly executed. Apparently, Lubin didn't order the medals for students who graduated with a 3.5 or higher GPA. When we finally reached the venue, they did have faculty ensuring we were six feet apart. However, that was quickly abandoned after those filming realized they weren't actually recording– after one-third of the graduating students had already walked across the stage. The overall recorded commencement was also a mess. We had no idea when we would be shown, and those lucky enough not to walk across the stage had their names butchered by the automated voice butchering our names.
All in all, it felt very representative of my past four years. Shout out to my roommate who submitted a picture of herself dressed up as Guy Fieri."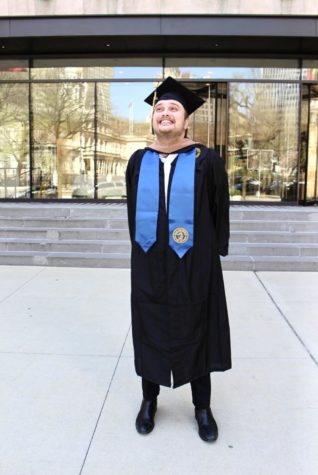 Yet another Pace Press alum, Brooke Sufrin, graduated with BA's in both English and Communications Studies, and is a part of the Publishing Masters program as well. Sufrin shared: "I participated in the virtual walk and then watched the live stream from my bedroom TV with my family. Although I'm grateful I got to celebrate with my loved ones and walk, I still think more could have been done on Pace's part to make graduation a safe in-person celebration, especially with NYC opening back up. Nonetheless, I'm happy I still got to enjoy some of the aspects of a typical graduation."
Graduated student Sarah Pernicaro also agreed to give The Pace Press a look into how students celebrated graduation in their own ways. Pernicaro graduated from the Pforzheimer Honors College with a degree in English Language and Literature and a minor in Creative Writing. The graduate stated: "It was surreal to have my 4 years at Pace University culminate in an impersonal slideshow with my name read out by a voice I'd describe as a mix of the announcer for the LIRR and Wall-E. At least I got to finish my undergrad with my dog on my lap and my parents firing off confetti poppers: an experience I don't think I could have had under normal circumstances!"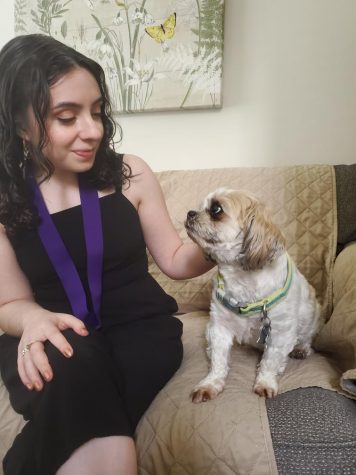 Former Pace Press staff writer Brooke Salamone graduated with a BA in Communications Studies. Salamone commented: "I can't believe I finally made it to graduation! While having a virtual graduation was not completely ideal, I was able to celebrate with my family all in one place, which was super nice. We set up a projector in my living room and all gathered around it to celebrate. It made me feel really special to be surrounded by loved ones and to hear them cheer me on as my name was called! It was emotional, in a good way. We also went to a celebratory dinner afterward!"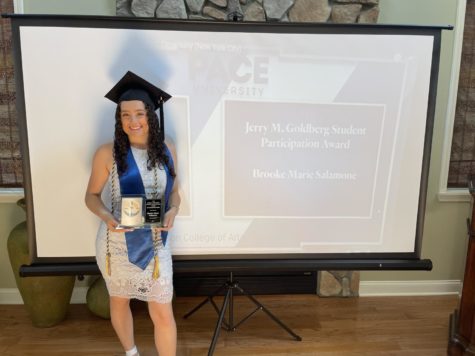 Another impressive graduate, Shea Donnelly, also gave insight into graduating in 2021. Donnelly graduated from the Pforzheimer's Honors College with a BA in Women's and Gender Studies and Peace and Justice Studies and a minor in Queer studies. They stated that their time at the University "was challenging, but I cannot emphasize how much I've grown as a person. The people in the LGBT+ center, WGS and PJS departments, and honors college were so supportive and encouraging while still pushing me to view myself and the world in new ways and I'm so grateful."
"Finishing college online was really isolating and anticlimactic after 4 years of working hard, but also it's made me more adaptable and resilient, and it gave me a chance to completely reset my expectations for myself and my future. I celebrated graduation in Prospect Park! My girlfriend and I had talked about how I still wanted to celebrate even though it was virtual so we brought a picnic and her iPad to the park and watched the virtual ceremony. It was a beautiful and perfect day for it and made the whole experience feel so much more personal."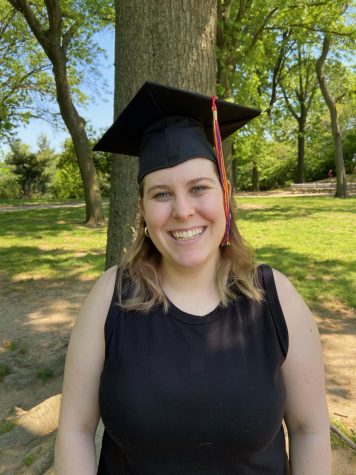 While each experience was different, each graduating student this year deserves recognition and celebration for all of their accomplishments, especially getting through school during a global pandemic and some of the most difficult times for preserving ones' mental and physical health.
The Pace Press congratulates the Class of 2021 for your unprecedented achievements and wishes you luck in all of your future endeavors!