The Strokes play first full-capacity concert in New York City after 18-month darkness
On June 8, 2021, The Strokes quietly announced they would perform the first full capacity indoor concert for mayoral candidate Maya Wiley since the initial shutdown in New York. The concert itself took place on June 12th and required all concertgoers to bring proof of COVID-19 vaccination and was held at Irving Plaza, which closed for renovations in 2019 and had its long-awaited grand reopening after an indefinite hiatus.
Boasting an impressive roster of guests (including Representative Alexandria Ocasio-Cortez, comedian John Mulaney, and musician Blood Orange), what resulted was a thrilling and jubilant night that can only be articulated in stupefied gasps of amazement.
Despite the travesty that was 2020, The Strokes portrayed this melancholy and confusion perfectly in their sixth album, "The New Abnormal," ending an elongated hiatus from their last full-length project "Comedown Machine," seven years prior. As one of their best and most inventive albums to date, fans were happily satiated but pined for the return of live music to experience their new material in its rawest form.
The Strokes typically play to sold-out music festivals and arenas at this point in their career, notably playing a New Year's Eve show at the Barclays Center in 2019. Given that Irving Plaza can occupy a mere 1,200 people, the intimate space harkened back to the band's earlier days, playing gigs at the Luna Lounge and Mercury Lounge, making this concert even more memorable.
For those who worry that live music won't be the same, it's not; it's better than ever before. It's rowdier, louder, crazier, and pure joy for anyone clawing at the chance to get back to their first show. 
The usual irritations that accompany concerts almost felt sentimental and sweet. Shoes stuck to the floor from miscellaneous beverages, sweat from other people clung onto you and mixed with your own, being accidentally elbowed in the jaw by some obscenely tall person you could barely see over, even the sheer fact that after 18 months of social distancing that 1,200 people surrounded you didn't matter. Being robbed of live music for so long left people ravenous, and it all resulted in the beautiful chaos that occurred on June 12 at Irving Plaza.
Beginning the night was comedian John Mulaney, who, after leaving rehab earlier this year, sported a more casual look instead of his usual meticulously tailored suit. Appearances aside, Mulaney maintained his spark and animated mannerisms when discussing public service announcements on the subway, the insurrection at the Capitol Building in January, or even poking fun at his time in rehab. Fans of the comedian can expect that he is as witty and intelligent as ever. 
After a brief intermission, Maya Wiley emerged onto the stage to thank the crowd for coming out and to discuss her mission and goals she plans to accomplish as mayor. Eventually, Representative Alexandria Ocasio-Cortez, who recently endorsed Wiley, joined her onstage to further vouch for the candidate. 
"Thank you to The Strokes and John Mulaney for sharing your gifts to support positive change, and thank you to ALL artists who do the same, no matter how big or small. We need you now more than ever," AOC wrote later in an Instagram story. "NYC is BACK, baby! Rank Maya #1, and let's get our city rocking again."
The crowd was practically buzzing at this point in the night, reaching the fever pitch frantically, waiting for the concert to begin. Suddenly, the venue went pitch black and an endless void and a cacophony of excited screams. 
You would think that a tectonic shift was occurring during the bass-heavy opener "Juicebox" or that the room was going to catch on fire from sheer excitement during the chorus of "Take It Or Leave It." During the 16-song setlist, not a moment was spent resting until you exited the venue doors. Even Maya Wiley and AOC were seen on the balcony dancing to songs like "Hard to Explain." 
While difficult to pare down to an arbitrary list, highlights of the night included songs "You Only Live Once," "Ize of the World," and the woozy yet show-stopping "Ode to the Mets." 
A slow burner of an apocalyptic song, the world could have ended the minute Fabrizio Moretti hit the final cymbal of the piece. Everyday annoyances that had weighed down on everyone had suddenly washed away during the outro of the track, feeling as though the entire room collectively took a deep breath and realized that this was the moment we had long-awaited in the last year.
Julian Casablancas's improved falsetto shined during an acoustic rendition of "One Way Trigger" performed alongside Dev Hynes, better known under the moniker Blood Orange. The chemistry between the band and Hynes was so authentic that even during his short cameo, it felt like you had just walked into the middle of a recording session and caught the group was goofing off during valuable studio time.
Steve Schiltz (filling in for Nick Valensi on lead guitar) was a showstopper during "The Modern Age" and its iconic guitar solo. On the other side of the stage, rhythm guitarist Albert Hammond Jr.'s bravado was ever-present throughout the show, especially during his guitar solo on "Last Nite." Nikolai Fraiture's effortless bass line on the song "Is This It" effectively complemented Julian's purposefully stony vocals.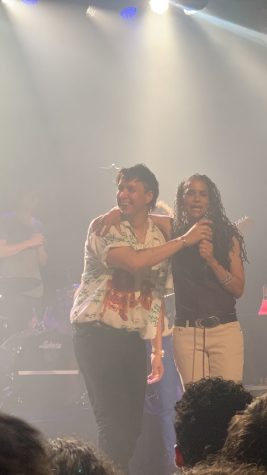 The night eventually came to a close, but not without the crowd favorite "Reptilia" from their second studio album "Room on Fire." Every last bit of energy one had left in them was spent chanting the iconic guitar riff in the intro and salvaged for the final verse, where it felt that the room itself could have ignited from the pure energy. 
At the end of the night, I spoke to a couple in the crowd as we reminisced over our favorite moments throughout the show. During our conversation, they told me that they were 15 when their debut LP "Is This It" was released. The realization then hit me that I was only a month old during the same time, only later discovering them from my older brother in 2011 during their most polarizing era. 
Despite generational gaps, The Strokes shaped and defined our lives in nearly the same ways. That's what makes them so timeless; they are one of few bands that embody something so quintessentially New York that it can be difficult to put into words. Making their way onto the scene in the post-9/11 and Giuliani era of the city and experiencing such extreme change at the onset of the 21st century altered the course of everything that everyone had previously mapped out for themselves. 20 years later, the COVID-19 pandemic is shaping a new generation and gearing us up for the darkness of the world. The fiery yet pessimistic sentiments of city-living displayed in "Is This It" still hold and will resonate with any listener regardless of age, location, or experience.
While the night did unfortunately come to a close, The Strokes reinvigorated the city in the matter of a two-hour show, which is to set to begin a larger wave of unforgettable first concerts back, properly rewarding music lovers after a year of patience.
About the Contributor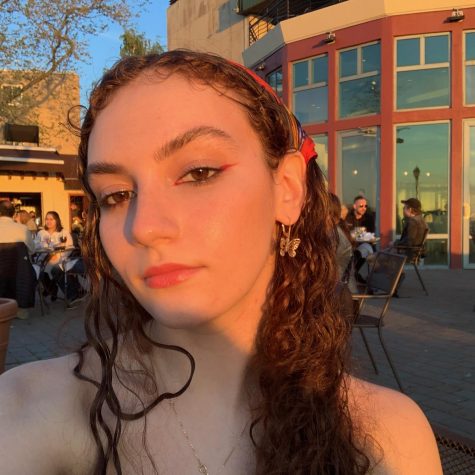 Jaeden Pinder, Arts Editor
Jaeden Pinder is currently a junior at Pace University studying English with a concentration in Literature, Culture, and Media. Beginning as a staff writer...