University students host private screening of their award-winning short film, 'INDIGO'
"Happy Hunger Games! And may the odds be ever in your favor."
Many will satirically mock Effie Trinket in Suzanne Collin's The Hunger Games, but University students Matthew Hennion and Chris Angelis have quite literally used the odds of the pandemic in their favor to direct and produce their suspenseful short film, "INDIGO."
On April 17, Hennion and Angelis hosted their first private screening of "INDIGO" at Syndicated Bar Theater Kitchen, located on 40 Bogart St., Brooklyn, NY 11206, taking place over three different screenings as per social distancing regulations. After a year of anticipation, 75 of their closest friends, family, cast, crew, and industry professionals joined to watch the final product of their short film.
"INDIGO" will officially be available for public consumption on Oct. 8 at noon. Click here to watch!
While the pandemic has taken a toll on Hollywood's movie industry, it has opened a door of profound opportunities for short filmmakers, such as Hennion and Angelis, in ways that didn't seem feasible until now.
Since the initial screening, Hennion and Angelis have submitted "INDIGO" to participate in the festival circuit, being awarded "Best Narrative Short" at the IndieEye Film Awards in Sacramento, California, ranked as a Finalist at the Vesuvius International Film Festival in Naples, Italy, and a Semi-Finalist at the London Indie Short Festival in London, England.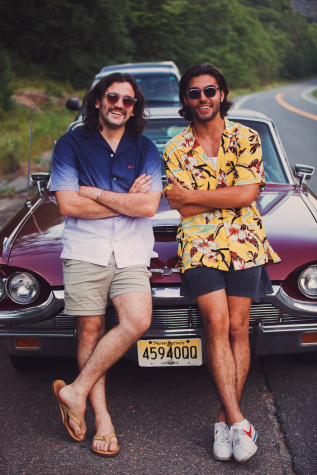 Hennion, a senior majoring in Film and Screen studies at the University, is the director, producer, and co-screenplay writer of "INDIGO" and the Founder of The Matthew Hennion Production Company LLC, a community for passionate filmmakers.
The synopsis of the short film on the Hennion Production Company website reads as follows: "Indigo – the young, psychotic yet strong female assassin and her male counterpart, Casey, receive an interesting hit to kill a high-profile mobster… sent from his brother. As Indigo discovers her true meaning through her sadistic love for her job, the duo's hit goes downhill, putting the lives of many on the line." His website can be found here.
Angelis, a senior studying Art and Entertainment Management at the University, is the co-producer, co-screenplay writer, and lead actor of "INDIGO," playing the role of Casey.
Casey is "definitely the beta male," said Angelis, whereas his co-star, Taylor Karin, playing the role of Indigo, is his alpha counterpart.
The Pace Press Secretary, Mandi Karpo, sat down with Hennion and Angelis to discuss the inspiration for "INDIGO," the process of casting and filming the short film, some favorite moments on set, and the advantages and disadvantages of creating a short film during the pandemic.
What was the inspiration behind the creation of "INDIGO"?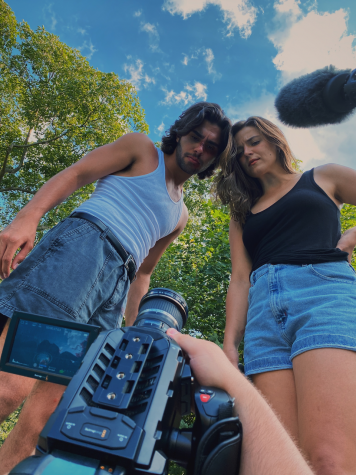 Matthew Hennion: We got the name indigo first based on the character traits because we wanted kind of a free-spirit, hippy, 1970s vibe, and it just fit because it was this bold indigo-colored lettering for the title of the film. We made "INDIGO," one to show off what we could do, especially given a pandemic. Two, what we could create with a micro-budget, and three we can now use the short film as a marketing tool or sales pitch to turn us into a feature film, or series, or even go to a production company and say 'hey, help us with the next one, help us fund the next one.'
Chris Angelis: The way the plot came about was it started completely different. Over the span of three months, it went from these two homeless boys living out of their car and doing petty crimes to get by and went in the complete opposite direction to a guy-girl, hitman duo that gets caught up in the Spanish drug cartel. Kind of like a modern-day version of Bonnie and Clyde, but with a twist.
What did the casting process look like?
MH: We put up an open call on Backstage.com for Indigo, Diego, and Caesar's role because we already had the role of Casey filled. We got over 700 submissions. We looked through every single one, and sometimes you can know immediately that they don't fit the description. All 700 people were supposed to have a headshot and a reel attached. So, if they fit the look, we would watch their reel, and sometimes we would be 20 seconds in and say 'no, that's not it,' and the group just got smaller and smaller. We reached out to each actor individually and told them what their pay was and the dates for filming. If they were still interested then we would have a follow-up meeting. And then one day, one Saturday during the summer, we had at least five to seven people for each role, about 20 people, that we auditioned and interviewed through Zoom. We did it for seven hours straight. As an added bonus, we had our dads play the henchmans' at one point in the film.
Hennion and Angelis became an unstoppable duo once on set, which became essential in order to ensure their time was used efficiently.
CA: It was actually kind of cool, like the pairing. Matt wasn't too worried about the actors, number one, because they were talented, and number two, I was able to talk to them too, so Matt and I were able to bounce off of each other really well.
MH: We were just racing against the sun because we needed a lot of daytime, and we were just running out of time. On the final day, Chris and I just decided to spend the extra money to shoot another half-day and make things work instead of just rushing it all out cause we knew we would get a better product. A month later, we met up for literally half a day for a couple of hours of filming just to make up for some stuff.
CA: Bottom line, if you try and rush it, it will 100 percent look rushed.
How did you find set locations?  
MH: [The film] was shot between Morris County, New Jersey, and Rockland County, New York and we were going back and forth between there. One, we rented out a Mexican-themed restaurant in [Chris's] hometown. You know, in the middle of the pandemic, struggling for business, we were like 'hey we can fill this place (abiding by the rules) and we can get you, 40 customers, if you want. They ran with it and we had the place booked out for the first half of the day.
CA: We went to Harriman State Park, a part of Seven Lakes Drive for the final shot. It was gorgeous.
MH: They film a lot of stuff there like The Sopranos filmed a couple of scenes up there.
CA: We were supposed to film a good chunk of the beginning there, but on the last day of shooting, I'm driving the [Ford] Thunderbird back from Morris County, and on the way back it overheated so, I had to pull over. We had a three-hour layover of us on the side of the road waiting for this car to cool down in 95-degree heat.
Within the industry, it is a known fact that color scheme plays a crucial role in setting the mood and conveying an emotional response from the audience. Hennion and Angelis kept this in mind during the production and editing of the film, purposely displaying warm undertones.
What is the reasoning behind the color scheme you chose to display throughout the film?
MH: The blue connects to Indigo, indigo is a bluish-purple color, and then we tried to go for a lot of brighter or warmer tones because we wanted to have that summer feel type of movie.
The color scheme was accounted for in every detail of costume choice and specific location. One scene of the film was shot at Hacienda Don Manuel Restaurant in Suffern, New York. According to Hennion, the owners were more than willing to offer their services given the lack of business amid the pandemic.
CA: But definitely the Spanish restaurant too. I think that's the best coloring in the whole film. That scene is just all warm tones, the walls were all yellow. Color was kind of huge, in our heads. It's cool that you picked up on that, color symbolizes so much and even when it came to death. Definitely lookout for it, because whenever somebody dies in the film, there's something that stands out, color-wise.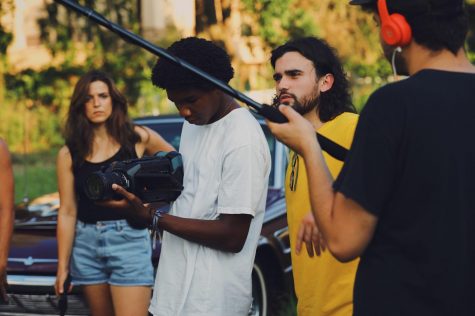 How long did it take to film?
MH: It took three and a half days to film and traditionally, in terms of a script, each page of the script was, give or take, a minute that you'll see in the film. So, our script was 35 pages, and the film was 35 minutes, it worked out nicely. Traditionally, in Hollywood, they film four pages a day. We did 12-13 pages a day. We would wake up at 7 a.m. and go to bed at 4 a.m. We were filming all day long just to get everything done, it was cheaper that way. I finished my edit in October 2020, then I had to get it scored because we got everything with an original score. So, we reached out to somebody we've worked with twice now, Chris went to high school with him, Matt Krane, and then we needed someone to mix the sound. But next time, I would do it differently. I would have someone mix the dialogue and all the audio from the film simultaneously while someone's scoring it, and then Matt could mix the sound with music afterward. Cause that added a whole other two months to it. It was finally complete by late January, early February.
What were some of the challenges the cast and crew had to go through given the pandemic?
CA: Definitely planning. We asked our cast and crew to try their best not to encounter anybody else two weeks prior to filming because, by law, we can't force anyone to get COVID tests. Luckily our cast members complied because they wanted to stay just as safe as we did and everybody was socially distant for two weeks prior and they all got negative tests.
MH: Again, traditional Hollywood for right now, I believe the full cast and crew have to be tested every three days, and that can get expensive very quickly. They can spend a couple million dollars each week on just COVID tests. A third of their budget is allocated for COVID, so luckily we shot it in three days and didn't have to worry about anything like that.
CA: Most of our scenes were outdoors, so the only other challenge was making the restaurant scene look like it wasn't during COVID. There's one shot of somebody wearing a mask in the background, but you would have to sit in front of the film and really look for it in order for it to be obvious. 
MH: On the other hand, the pandemic opened up opportunities. Screen Actors Guild (SAG) is the union that actors are under so they can get hourly pay depending on the size of the film production. It's like the HR department of the film industry. Because of the pandemic, larger film productions got put on hold so a lot of actors shifted over to the independent film side, so we really lucked out with getting Mike Taverna, Taylor Karin, and Frankie Ferrara.
What are your plans for future short films? Any projects you're working on now, or in the future?
MH: We had a production team, Chapter 02, come to the screening, and nothing's set in stone, but they took an interest in us and we're hoping to work on several projects together, something that's going to be even larger than "INDIGO" was.